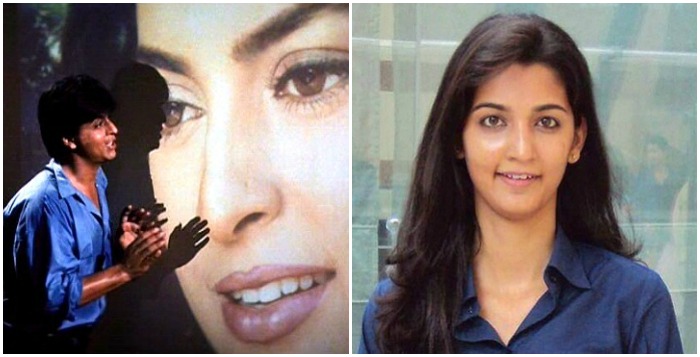 Dipti Sarna was abducted while going back home from her Snapdeal office. There was an elaborate stalking procedure that was employed prior to the abduction that involved the purchase of two autos, following Sarna, and keeping a tab on her schedule, ensuring that her auto gets a flat tyre and finally, the kidnap. However, Dipti fled and returned home.
The police, while labelling her stalker Devender a 'psycho', confirmed that he was inspired by the Shah Rukh Khan starrer Darr. His careful plotting included the involvement of his four friends Pradeep, Mohit, Fahim, and Majid, who had no idea that he was obsessed with the girl. The story that had them convinced for the kidnap was that Dipti had a lot of Hawala money that they could gain access to if she was held on ransom.
The logic that Devender had provided was that because it's Hawala money and therefore, illegal, Dipti would never report the crime to cops. Dipti's escape foiled those plans.
But this isn't the first time Bollywood has inspired criminals to plot their crime in accordance with a film. Barring the post-Shaktimaan generation that grew up with the notion that jumping off buildings and waiting for Shaktimaan to rescue was sane, there have been many others who've resorted to calling Bollywood their true inspiration for carrying out crimes.
Here are some.
The true Drishyam of crime
Earlier this month, on 5 February to be exact, the story of a 38-year-old man in Bihar who tried to hide evidence of murder came into light. Except, his modus operandi was based on 2015 Ajay Devgn starrer Drishyam.
Rajnish Singh from Vaishali invited a girl from Indore to his house on the promise of discussing marriage with her. He then allegedly shot her dead. Rajnish then tried to cover it up by throwing his phone on a passing truck, just like Ajay Devgn did in the film. Except his phone, not made of Bollywood quality, broke. That's not all -- he then got his Royal Enfield thrown into the Ganga with the help of a boatman. Fortunately, Patna Police nabbed Rajnish.
From Lokhandwala to Meerut
A 2007 film starring Vivek Oberoi, Shootout at Lokhandwala, was the inspiration for a 15-year-old's kidnap and murder in Meerut. His classmates abducted him, demanded Rs 50,000 in ransom and then brutally murdered him. According to police, the boy accused of murder had the movie saved on his mobile phone and would obsessively watch it every day.
Dhoom series to crime series
The Abhishek Bachhan-Uday Chopra fixture Bollywood series Dhoom has been a manual for heists for many Indian thieves.
From bank robberies in Kerala and Haryana to chain snatchings in Mumbai and Delhi, Dhoom has been held up by many criminals as their reason for thinking crime was a good idea.
One major heist that was pulled off, based on the Dhoom Manual of Bank Heists, was back in December 2007 in Kerala. The gang entered Chelembra Bank, drilled a hole through the floor, and fled with Rs 8 crore, in cash and gold. The ring leader later confessed to being inspired by the 2004 edition of Dhoom.
And a Special robbery
In January 2014, Special 26 was upheld by a gang of 10 men as their excuse for robbing a Nashik gold firm of 15 kgs of gold. The men, who posed as cops to pull off this heist, also took Rs 3 lakh in cash.
A Wednesday gone awry
Back in September 2011, a 14-year-old boy from Mumbai dialled the police and tipped them off about a bomb on a Chattrapati Shivaji Terminus bound train. After thorough searches, nothing was found. As it turned out, it was a prank call made by a Class XI student inspired by Naseeruddin Shah's A Wednesday.
The Bunty-Babli ripple effect
The 2005 hit Bunty aur Babli was another Dhoom, except these were Bonnie and Clyde-esque couples in need of some fast cash.
From Kishore Kumar and Kavita in Bengaluru to bhai-behen duo Kancha and Gappu in Kanpur, Bunty and Babli gave birth to many a criminal who found conning rather sexy and convenient.
Old films and new
In September 2013, an ex-employee of a warehouse in east Delhi scaled the walls of his old workplace with three friends at night with the intention to rob.
However, when they reached the roof, they were stalled by the guard Mukti Paswan, whom they unthinkingly killed. The four then got in, broke into the locker and made it away with Rs 10 lakh. Their inspiration? The 1972 Amitabh Bachchan-Shatrughan Sinha starrer Bombay to Goa.
But can films be blamed?
For a country that is viewed as degenerate, especially with a Tasmanian court letting off an Indian man for stalking, it doesn't help when we turn to our films for inspiration. The man in question here, 32-year-old security guard Sandesh Baliga, stalked two women in Australia in 2012 and 2013 and called himself their 'boyfriend'. Baliga claimed that he thought it was okay to relentlessly pursue women and not respect consent because Bollywood taught him so. Bafflingly, the court let him go scot-free.
Now while this doesn't bode well on how India is perceived, it is important to note that criminals, as deranged as they may be, have this great tool to fall back on -- Bollywood.
As I see it, these criminals may have adopted the method of carrying out their intended crime after having viewed a film. However, their intention to commit the crime, as in the case of Devendra and Dipta Sarna, was entirely their own.
Had the films not given them a step-by-step tutorial, the lengths to which they have all gone to suggests that they would have hatched a plan on their own. As frightening as the prospect is.
Sure, the visual media is extremely compelling in terms of how much it involves the consumer. But, in no way can it be the only excuse for a crime, or for the intention of committing one.
-- Edited by Aishwarya Yerra