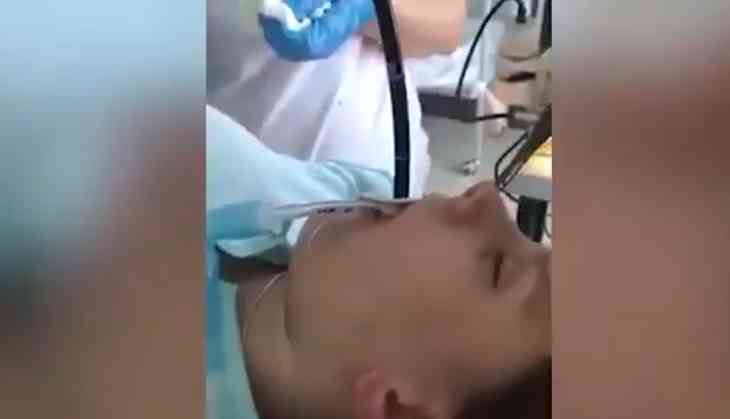 A terrifying video has surfaced the Internet which showed a woman lying inside the operation theatre while doctors performing an operation. After a few seconds, a doctor can be seen pulling out a long thread-like creature from a woman's mouth.
Guess what, it was a snake. The video of the incident has gone viral.
The bizarre case was reported in Russia where the woman was in an unconscious stage in the hospital while the doctors were performing an operation and pulled out the snake from a woman's mouth. After which doctors understand that it was a reptile that caused trouble to the woman.
The nurse's reaction shows that she got terrified after pulling out the object from inside the patient's mouth. The nurse also jumped away for a few seconds and then put it in the medical bin.
Watch spine-chilling video:
زحف عبر فمها أثناء نومها.. فيديو مروع للحظة سحب ثعبان من حلق امرأة https://t.co/6iUSk3oU2U#البيان_القارئ_دائما pic.twitter.com/3Q1YiYdV7R

— صحيفة البيان (@AlBayanNews) August 31, 2020
However, it has not been ascertained for how long the snake was inside the woman's body. Also, how the reptile went inside her body.
The woman hails from Levashi village in Dagestan. The woman didn't aware about the snake was in her body as well.
According to the Daily Mail, locals called it a bizarre incident. However, children and older citizens are advised not to sleep outside due to the fear of a snake crawling into their mouths.
Meanwhile, the video has garnered over 9.7k views on Twitter.
Also Read: Scary! Man finds snake in toilet bowl; know what happens next