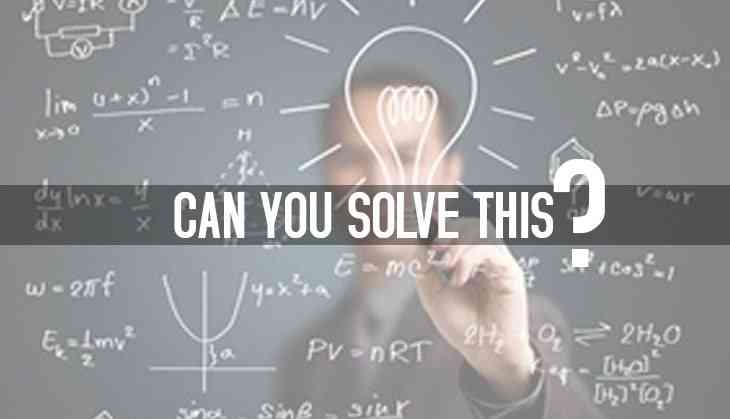 Netizens always want to do some interesting things that can bring them to light or make things viral. Recently, social media users are busy in solving a Mathematics equation which can freak your mind.
Do you want to join the users who are busy in solving the equation? If yes, then check out the question given below:
What is 8/2(2+2) =?
The above equation was posted by a Twitter user named em @pjmdolI.
oomfies solve this pic.twitter.com/0RO5zTJjKk

— em ♥︎ (@pjmdolI) July 28, 2019
Meanwhile, tweet has been shared over 3,000 times and garnered around 12,400 likes and over 16K people are talking about this equation.
Twitter has been divided over the correct answer of the equation. Someone is saying 1 is the answer while some have said 16 is the right answer.
Let's have a look at how social media users tried their hands in finding the answer:
it's 16 omg the replies embarrassing...

— ✰ (@gcfssea) July 28, 2019
July 29, 2019
hunny 🤭 pic.twitter.com/DVfOpuQKhi

— Just Naeema (@Gotta_Be_Naeema) July 29, 2019
(2+2) 4
8/2(4)
According to PEMDAS you need to get rid of parathenses first so
2(4)=8
8/8=1 answer is one.

— koook (@SoWhAT9000) July 28, 2019
ok let me try again..

step1- bracket
step2- indice
step3- multi/divide
step4- add/sub

8/2(2+2)

step1-bracket
8/2(2+2)
=8/2(4)

OH!!

— « 유나버스 🦋 » (@yuunaverse) July 29, 2019
But you still have parenthesis. While PEMDAS works from left to right your not considering one of the most important things in math. You can't not do anything if you don't get rid of parenthesis first. (Algebra) pic.twitter.com/IV8AW56EHo

— koook (@SoWhAT9000) July 29, 2019
Does anyone not know BODMAS - pic.twitter.com/agq8oMVfwr

— Eleni Zahou ⏳ (@zahou_e) July 31, 2019
In case, you are unable to solve this equation then, user has also shared the solution on the micro-blogging site.
(2+2) = 4
8/2 = 4
4(4) = 16

— em! (@jimnlvr) July 28, 2019
Many users have used the BODMAS rule to solve this equation.
What's your formula to solve it? Share with us....
Also Read: Insane! UP man bites snake into pieces after the reptile attacked him