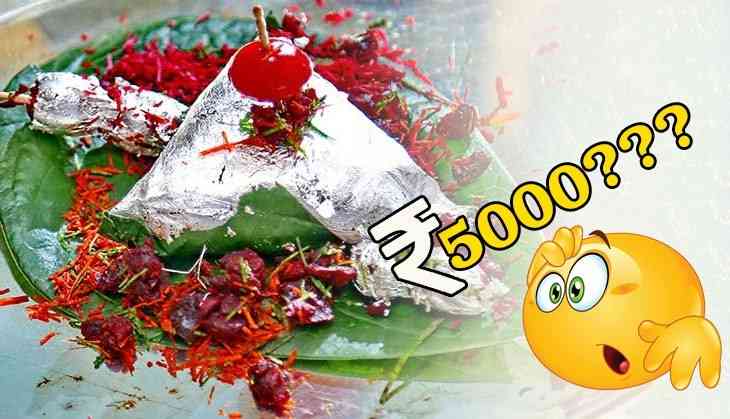 Are you a paan lover? Hopefully, your answer will be yes because who doesn't love to chew it. But we bet on you that you have never thought about a pan which cost Rs 5,000.
Yes, there is a special Kohinoor paan which costs this whopping amount. This paan is having some amazing qualities which are sold at Tara Paan Centre in Aurangabad. However, this paan shop is 50 years old shop in the city.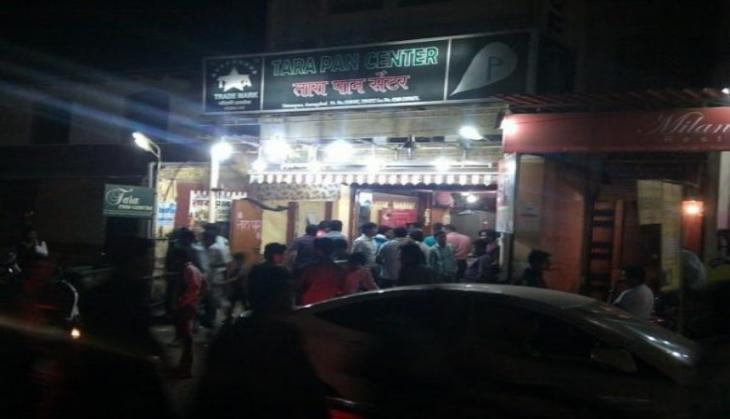 You will also find a menu card at this paan shop on which different kinds of names have been written. However the minimum price of the paan started at Rs 5 only and the maximum Rs 5,000.
See below:
Paan prices ranging from Rs five to Rs five thousand at 'Tara Paan Centre' in Aurangabad, Maharashtra pic.twitter.com/zlvVgOCINP

— Mateen Hafeez (@Mateen_Hafeez) February 14, 2017
The speciality about this paan is that is sold only to the married couples. Also, it has some aphrodisiac effects that will remain for two days. Even you will be amused to know about its packaging which attracts the married couple too.
Its packaging is colourful, having three compartments. The other speciality is that paans for male and female have different versions.
For men, paan includes saffron (approximately Rs 2 lakh per kg), musk (Rs 70 lakh per kg), agar (a liquid fragrance found in West Bengal only) and rose (Rs 80,000 per kg). There is also a secret ingredient which knows only by the vendor and his mother.
For a female, it contains white musli (a root that costs around Rs 6,000 per kg), rose, saffron, etc.
The portrait of Oner Sarfu Bhai of Aurangabad's Tara Paan Shop, mentioned by Asad Saheb in his previous statement. pic.twitter.com/oVAnbL6E5f

— Zubair Khansab (@ZubairKhasab) December 6, 2017
This famous paan shop has been run by Mohammed Sarfuddin Siddiqui and he is running Tara Paan Centre for about 30 years. In fact, he has even exported his paans to other foreign countries, such as Dubai, Kuwait and Saudi Arabia.
Siddiqui's paan shop has variety of paans that you even can't imagine.
However, the social media users also amused to know about this Tara Paan Centre shop.
Here's how Netizens reacted:
If you have not tasted #paan at Tara Paan Centre, you have never had paan. Look carefully at the prices. pic.twitter.com/lt3VhUQT9N

— Nitin Naik Photography (@NitinNaik5) April 18, 2017
Bhai M bhi lekr jaonga Aurangabad se Tara paan shop se https://t.co/Qypxze00dD

— AZHAR. SRKIAN (@MohammadAzher12) September 11, 2017
Tara Paan Shop 9595026464/9881481181 https://t.co/ov47gfqJFg via @YouTube

— memaharashtriancom (@memaharashtrian) September 25, 2017
The menu card at tara paan,worlds biggest baan shop. http://twitpic.com/xhlk0

— DT (@DTHAPAR) January 10, 2010
Tara Paan Shop Se ₹5,000 ka paan kaho, tan tana tan tan ho jao? https://t.co/hyQ8XSg0gK

— Srikanth H Ramakrishnan (@rsrikanth05) January 1, 2018
Most Expensive Paan in the world | TARA Paan centre Aurangabaad: https://t.co/oh6E9zE6z1 via @YouTube

— TRAVEL & FOOD (@CworldwithSamy) November 22, 2017