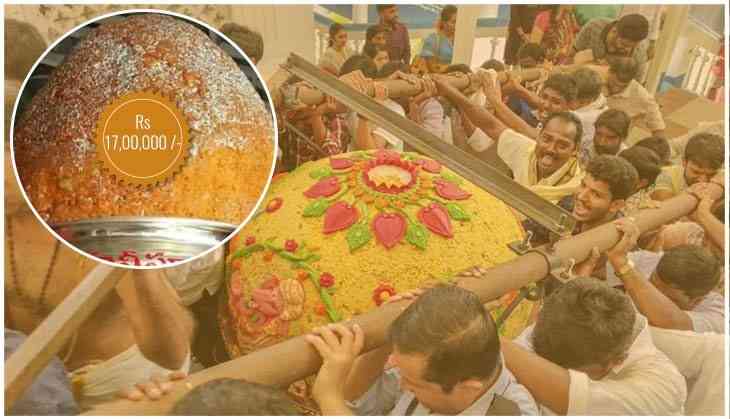 Laddu is the favorite sweet dish of Lord Ganesha and devotees offer this dessert to praise the almighty. On 12 September, the idol of Lord Ganesha was immersed on the occasion of Anant Chaturdashi. Ahead of the idol immersion, a gold-coated laddu was auctioned for Rs 17.6 lakh.
Yes, you read right! In Hyderabad, the Balapur Ganesh laddu was bidded at Rs 17.6 lakh and the man who purchased the laddu is the local resident named Kolanu Ram Reddy and emerged as the successful bidder, reports said.
Balapur Ganesh Nimajjanam 2019 || Balapur Ganesh Laddu Auction || Ganesh Nimajjanam 2019 https://t.co/abZ6QmSHhS #BalapurGaneshLadduAuction #GaneshNimajjanam
Balapur Ganesh Nimajjanam 2019 LIVE || Balapur Ganesh Laddu Auction || Ganesh Nimajjanam 2019
Balapur Laddu 2019 Auctio…

— Telugu Wirals (@TeluguWirals) September 12, 2019
Around 19 people have participated in the auction ceremony ahead of the Ganesh idol immersion.
Reportedly, the laddu was gold-coated weighs 21 kg. The organizer of the show offered the laddu to Reddy on a silver plate, Mumbai Mirror reported.
After winning the auction, Reddy jumped onto a vehicle carrying the idol of Balapur Ganesh and also held the laddu on his head as a mark of respect and love.
Basically, Kolanu Ram Reddy is a businessman and agriculturist. However, Reddy's family is a consistent participant in the auction ceremony held in the past few years.
In 2018, the Balapur Ganesh laddu was sold at Rs 16.6 lakh. Teretipalli Srinivas Guptha, President of Balapur Mandal Arya Vaishya Sangam, had emerged as the winner of the auction last year.
Also Read: Passengers at 400 railway stations to soon be served tea in kulhads