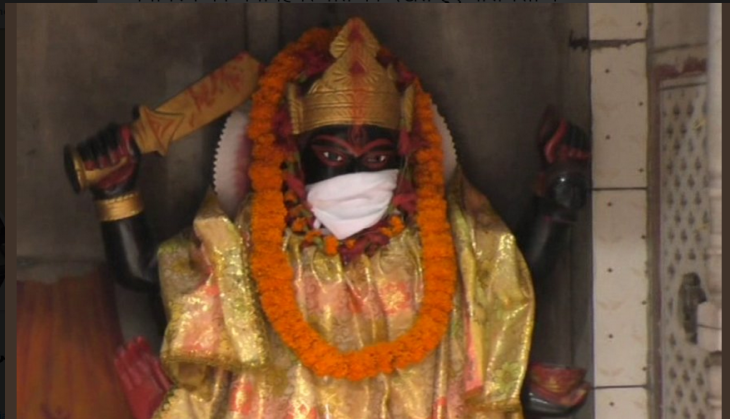 Delhi-NCR and most parts of North India have covered with the thick layer of smog due to which the air quality has been deteriorated and people were facing difficulties while breathing. Not only humans but Gods have been impacted due to air pollution.
Yes, you read right! In Varanasi, Prime Minister Narendra Modi's Lok Sabha constituency is also dealing with air pollution. In Varanasi, PM 2.5 air touched 500 this week, media reported.
Due to bad air quality, devotees at the famous Shiv-Parvati temple have covered the faces with an anti-pollution mask of Lord Shiva, Goddess Durga, Goddess Kali, and Sai Baba to protect them from toxic air.
Check out some pictures:
पर्यावरण की भयावह स्थिति को देखते हुए वाराणसी के सिगरा स्थित मंदिर में पुजारी हरीश मिश्रा और भक्तों ने बाबा भोलेनाथ समेत देवी दुर्गा और काली माता समेत साईं बाबा का पूजन कर मास्क पहनाया..#Varanasi #Pollution #VJpriyaJ pic.twitter.com/VyFOFdIhu5

— Priya Jain | پریا جان | પ્રિયા જૈન (@VJpriyaJ) November 5, 2019

A priest Harish Mishra told news agency IANS, "Varanasi is a place of belief. We treat our idols as living deities and take pains to make them happy and comfortable. In summer, the idols are slathered with sandalwood paste to keep them cool and in winter, we cover them in woolens. Likewise, to save them from pollution, we have put masks on their faces."
But covering the face of Goddess Kali proved to be tedious. He also added that they didn't cover the face of Maa Kali as she is an angry goddess and it is believed that her popped out tongue should not be covered.
After seeing the god and goddess wearing masks, many devotees have also started wearing anti-pollution masks.
Also Read: Odd-Even Scheme in Delhi: Twitterati shares hilarious memes over air pollution in capital