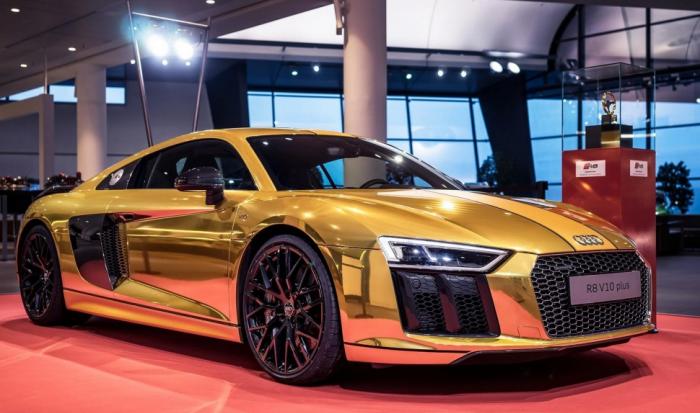 German luxury car maker Audi launched the new R8 V10 Plus, which will have an ex-showroom price (Mumbai and Delhi) of Rs 2.47 crore.
The firm also unveiled the Audi A8 L Security - that it claims has been introduced with class VR 9 ballistic protection standard, considered the most stringent requirement of civilian high security sedans at the Auto Expo.
The car manufacturer also showcased the new Audi A4 among other vehicles adding that it will launch at least 10 new products in India this year.
Audi AG Head of Sales Overseas Terence Bryce Johnson said said India has proved to be a "promising" market for Audi. He said:
"Audi India has demonstrated consistent growth in the past 8 years and we are extremely pleased with the response we have received in India. By 2020, Audi AG intends to expand its product range from the current model to 60 models".
Audi India Head Joe King said: "We have kick started this year on an exciting note by launching the fastest production Audi ever - Audi R8 V10 Plus - here. We also launched the secure Audi A8 L Security as well as unveiling the most successful model the A4 for the first time in India".
"We will continue to provide the best to our customers in India and will launch at least 10 new products in 2016."
Other launches: Audi Prologue, RS 7 Performance, A6 Allroad, S3 Cabriolet
Audi also unveiled its two-door coupe Prologue, RS 7 Performance, A6 allroad, S3 Cabriolet, SQ5, Q7 and the TT Coupe.
Year 2016 will also see the kick start of Audi India's year-long celebration to mark its completion of a decade in India, the company said. King said:
"The journey of the first decade for Audi in India has been an exciting one. By bringing in the right product that the customer wants, a wide area network and after-sales service, profitable dealer partners and a strong customer connect, Audi has laid the foundation for the next decade of dynamic and profitable growth in India".
Going ahead, the firm will introduce products in new segments, with new body styles, design language and technology. Audi will also focus on strengthening its dealer network by introducing new customer touch points and innovative concepts like Audi Mobile Terminal which is already a success in tier II and III cities, he added.