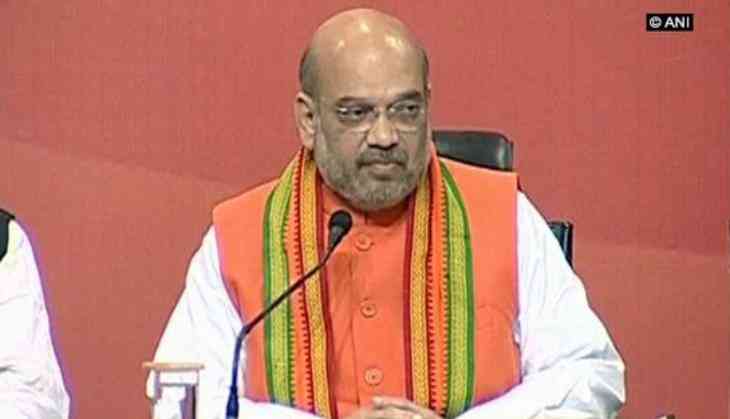 Riding high on the feat of securing more than 300 seats in the Uttar Pradesh Assembly, Bharatiya Janata Party (BJP) chief Amit Shah on Saturday thanked people for giving a "historic mandate" and asserted that Prime Minister Narendra Modi had emerged to be one of the most favoured leaders in the Independent India.
Shah also pointed out that the saffron party won because the people accepted politics of performance and rejected the politics of castiesm, nepotism and policy of appeasement.
"People have negated the politics of casteism, nepotism and politics of appeasement and has accepted the politics of performance. I believe it has heralded a new process, whereby people will, henceforth, vote the party which advocates the policy of development," Shah said.
"After Independence, for the first time, people belonging to the poor, backward community, including the Dalits have imposed their trust on Prime Minister Modi. He has emerged to be one of the most favoured figures in the country; a fact not only recognised by our party, but our enemies too," he added.
Thanking people for acknowledging the work undertaken by the government, Shah said, "Not only did Prime Minister Modi-led government, in three years, formulate policies for the welfare of the poor, but also successfully executed them on the ground level. It is a stamp of victory marked by the people for the works undertaken by our government."
Shah said the policies like demonetisation, Ujjwala yojana, construction of toilets, and providing electricity helped in gaining trust of the people. He assured with the kind of trust imposed upon them, the government will implement all those promises which were made during the elections rallies.
When asked as to when the party would disclose its chief ministerial face for the state, Shah said, "There will be a parliamentary meeting tomorrow where we will decide that."
Uttar Pradesh saw an intense political battle between the BJP, the ruling Samajwadi Party-Congress alliance and the Bahujan Samaj Party (BSP).
The BJP is slated to win more than 300 seats in the Assembly and secure a clear majority in its stake to form the government in the state.
The likely outcome seems to be a personal triumph for Prime Minister Narendra Modi who staked his political capital on an election that some had seen as a vote on the November 8 invalidation of high-value bank notes.
-ANI