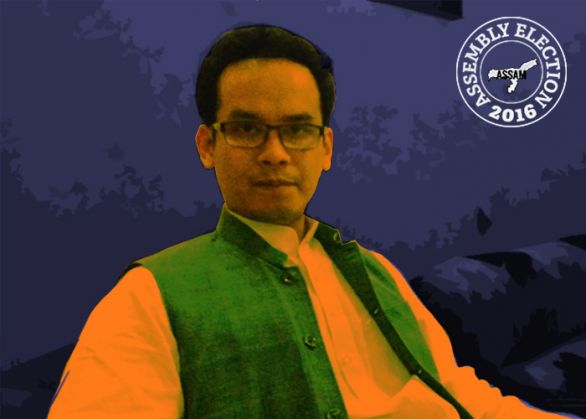 Gaurav Gogoi has a tough battle ahead of him. The 34-year-old has to withstand the Modi wave for the second time in his two-year-long political career.
Despite personal popularity, anti-incumbency and illegal immigrants may be game changers
When you ask Congress MP Gaurav Gogoi to introduce himself to the national media, he proudly announces himself as one of the 45 Congress MPs who managed to withstand the Modi wave of 2014. He is convinced that his party will return to power in Assam with his father Tarun Gogoi (whom he prefers to call the chief minister) at the helm for the fourth time. But it is not going to be an easy win (presuming Congress wins). And it is certainly not an easy fight.
With just two years' political experience, 34-year-old Gaurav has been thrown into a battle that is being seen as one of toughest in his father's 50-year-old career. Educated in the United States, Gaurav returned to India in 2011 to focus on the social sector. Three years later, it was decided that he would stand for the Lok Sabha elections. He managed to win but his election landed up nearly wrecking the Congress party in Assam.
His father's confidante and the party's chief poll strategist (and could-have-been successor) Himanta Biswa Sarma revolted and left the Congress to join the BJP. Sarma never openly admitted that Gaurav was the reason for his departure, but it is an open secret in Guwahati's political circles.
In a conversation with this reporter, Sarma claims Gogoi ignored his 20 years of contribution to the party to promote his own son and that too, overnight. "I was a Cabinet minister and he wanted me to take instruction from a first time MP," he says.
However, the first-time MP has managed to make a mark for himself in Delhi in just two years. Considered close to Rahul Gandhi, Gaurav is often seen initiating debates and intervening in Parliament on behalf of his party. As an AICC spokesperson, he is also a prominent face on prime time TV debates. But the question that must be haunting Gaurav this election season is whether he can also prove his mettle at the grassroots level.
The day Himanta Biswa Sarma addressed two massive political meetings in Titabar (Tarun Gogoi's constituency since 1997), Gaurav was silently at work. Away from the media glare and braving an unseasonal rainfall, the Gogoi scion was seen addressing multiple small gatherings. "His personal popularity remains intact but tackling 15 years of anti-incumbency isn't easy," says a local journalist.
In his own parliamentary constituency of Kaliabor, it is difficult to find a voter who wouldn't praise him. His pre-politics career in the social sector has helped him make inroads and gain acceptability with a range of people. However, things are quite different when you ask the same voter about the party.
A social entrepreneur who works in the Kaziranga area, and doesn't want to be named, says the sitting Congress candidate will lose not because of the Gogois but because of his own unpopularity. Not just the party or the leader but the performance of local candidates is a factor in this election. And that's something no amount of campaigning by the Gogois can change.
Plus, in the last few days before the elections, the BJP has very smartly changed its poll strategy. It is no longer attacking the otherwise popular and respected Tarun Gogoi. Instead, it has raked up the issue of illegal immigrants. Such a fear factor with a subtle dose of Hindutva works in Assam but how can the Congress challenge such a rhetoric? Gogoi had himself refused to tie-up with AIUDF when Badruddin Ajmal proposed a Bihar-style secular alliance to take on the BJP. But the message seems to have been lost.
Instead, we see Gaurav highlighting his father's achievement in the last 15 years, including normalising a state which is hugely effected by militancy. He talks about the education sector and the health sector. And then he goes on to attack the Narendra Modi government on a range of subjects including Vijay Mallya and foreign trips. His father has repeatedly said that Assam Election 2016 is a fight between Modi and him. In a conversation with this reporter, Gaurav said, "This is a mandate for 15 years of good governance by Tarun Gogoi versus two years of Modi."
Is it a fair comparison? Also, is it fair to compare Gaurav's two years in politics with Sarma's 20 years? Or is it fair to make Gaurav answer for his father's 15-year-rule?
We sat down with the young MP in Guwahati for a detailed discussion. Watch:
Part 1