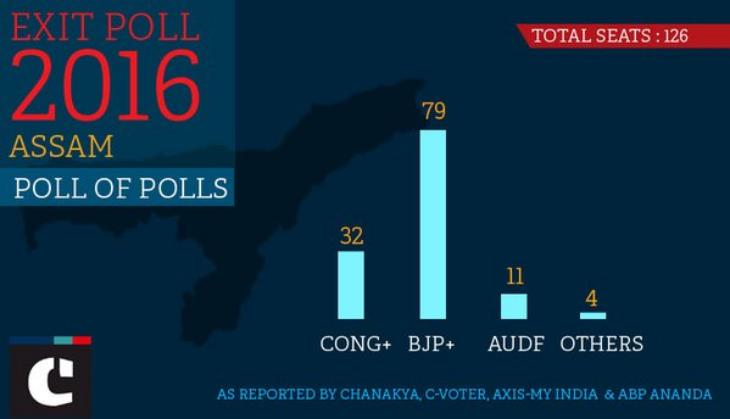 Three of the four major exit polls released on Monday, 16 May, have predicted a landslide victory for BJP and its allies in Assam.
While Axis-IT, Today's Chanakya, and ABP-Nielsen forecast an absolute majority for the three-pronged NDA alliance, CVoter has predicted a hung assembly in the state.
All the three exit polls favourable to BJP have projected Congress' seat share to shrink to less than half of the party's share in 2011.
CVoter, however, forecasts 41 seats for Congress, 57 for BJP and 18 for the All India United Democratic Front (AIUDF).
An average of the four exit polls puts BJP as the frontrunner to form the government in Dispur later this month.
While the NDA alliance's average figures stand at 79, Congress, AIUDF and other parties and independent candidates are projected to win 32, 11 and 4 seats, respectively.
Axis-IT Exit Poll
NDA (BJP, AGP and BPF): 79-93 seats
Congress: 26-33 seats
AIUDF: 6-10 seats
Others: 1-4 seats
Today's Chanakya Exit Poll
BJP+: 90 ± 9 seats
Congress+: 27 ± 7 seats
AIUDF :9 ± 3 seats
Others:0 ± 2 seats
ABP-Nielsen Exit Poll
BJP+: 81 seats
Congress+: 33 seats
AIUDF : 10 seats
Others: 2 Seats
CVoter Exit Poll
BJP+: 57 seats
Congress+: 41 seats
AIUDF: 18 seats
Others: 10 seats
Average projections
BJP+: 79 seats
Congress+: 32 seats
AIUDF: 11 seats
Others: 4 seats
2011 results
2011 results
Congress: 78
AIUDF: 18
BPF: 12
BJP: 5
AGP: 10
Others: 3