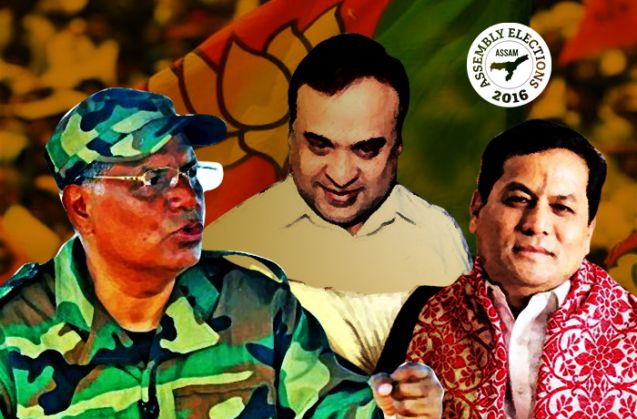 With 10 days to go before the first phase of Assembly elections in Assam, Paresh Barau's faction of ULFA has once again popped up the sentimental issue of secret killings. Political commentators aren't surprised. Upper Assam, which was the stronghold of ULFA, votes on 4 April. Of the three leaders accused by ULFA of secret killings, it is BJP's Chief Ministerial candidate Sarbanada Sonowal who is expected to suffer most if this issue blows up.
Sonowal is a former Assam Gono Parishad minister, who has been accused in the past for using ULFA cadre to target political opponents including the murder of Dibrugarh University student Saurav Bora in 1986. However in 2012, Sonowal was acquitted by the Guwahati High Court of murder charges. This of course, doesn't mean much as the election season heats up in the Brahmaputra valley. Assam Chief Minister Tarun Gogoi, who is seeking a fourth term for Congress, has demanded murder charges to be framed against Sonowal.
Another significant ULFA connection for Sonowal is Majuli. Once considered a stronghold of the insurgent group, the river island is symbolic to the Ahom identity. And perhaps the reason for BJP's Assam face to choose this particular seat. Question remains if electorates would pay heed to this issue.
What else did ULFA say?
Barua faction has also accused former Congress minister and now BJP's chief election strategist Himanta Biswa Sarma and Sonowal of using ULFA cadres to carry out murders of Congress leader Manabendra Sarma, journalist Kamala Kalita and social activist Sanjay Ghose. Former Chief Minister Prafulla Kumar Mahanta has also been accused by the insurgent group for being involved in the secret killings which occurred during his term in the government.
ULFA versus BJP
The clash between ULFA and BJP began when the latter offered a ticket to former member of the insurgent group, Bhaskar Sarma, from Margherita constituency. What further infuriated ULFA was Sonowal canvassing for Sarma, who it accuses of being a 'traitor' and involved in the secret killings.
Will this have any impact on the elections?
Probably not a lot, say political commentators. "Secret killings are raised before elections and then forgotten. It is sad that no political party is really interested in finding out the truth, " says political analyst Arupjyoti Saikia.
What are "secret killings"?
At the peak of ULFA insurgency in Assam, friends and relatives of ULFA members were picked up from their homes and often they never returned. The Saikia Committee which investigated 35 such murder cases found many similarities and concluded that these wouldn't have been possible without the complicity of the state government, which was then headed by Prafulla Kumar Mahanto. Surrendered ULFA known as SULFA were used to execute these extra-judicial killings.
-- Edited by Abha Srivastava