Asad Ali
| Updated on: 26 September 2016, 17:38 IST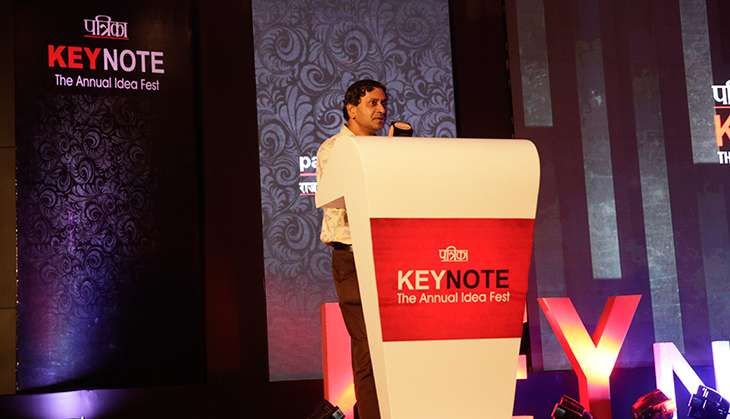 Patrika group's flagship event Keynote - The Annual Idea Fest 2016 wrapped up its first day, in Raipur, Chhattisgarh on Sunday. The first session appropriately revolved around something that's an intrinsic part of the state's identity - tribal people. Titled Tribal Tunes, the session saw Ashok Bhagat and Soumya Dutta take the stage and give an incisive insight into why the music of development is often out of tune with the aspirations of Chhattisgarh's tribal people.
Ashok Bhagat, called Babaji by many, has been working in the region for over two decades now. He's at the helm of an organisation which has its roots in the RSS, an NGO called Vikas Bharti. He received the Padma Shri in 2015 for his work in the social sector. Bhagat himself had been an RSS pradesh sangathan mantri (Organising Secretary) in Azamgarh for quite some time. Irrespective of his ideological leanings, his views on the plight of adivasis seemed strongly rooted in the experience as he revealed how he first started work in the region in 1983 among the tribals.
Ashok Bhagat speaks at the annual Patrika Keynote, 2016
"I thought that all the tribals needed was practical education." Bhagat went on to try and teach them technical/science knowledge. However, he soon realised that all the tribals wanted, was the freedom to live as they wanted. "There have been a lot of NGOs who've clicked photos of how they live and made money off it," alleged Bhagat as he said that we as a society need to stop telling the tribals to live according to our ideas of progress and development. Making an important point, Bhagat said that, "We say that industry is needed for their progress, but first we need to stop defining progress in our terms". Furthermore, Bhagat continued driving the point home, "We are looking to build smart cities, but until we learn to understand our villages better, our cities cannot be smarter."
Patrika
Soumya Dutta too echoed similar views. He spoke about how we view the idea of happiness and progress vis-a-vis tribals. The National Convener of the Indian people's science group Bharat Jan Vigyan Jatha and the Convener of the Climate and Energy Group in the Beyond Copenhagen Collective in India, Dutta has been involved in various projects that explore sustainability and science movements that impact people's lives directly.
The people connect was apparent in how Dutta articulated a simple idea of happiness and connected it to the larger narrative of urban-tribal conflict. "Just before Diwali or Holi we notice a huge rush for people to take the train or flight to go home. Because people want to be close to where they belong, their roots. Yet, we don't do anything to stop the uprooting of tribals from their lands. To them every tree is a kin, and yet we cut them down."
Nature, in vocabulary of the modern progressive, has come to mean resource, and nothing more. Dutta also pointed out that though we keep discussing sustainable development goals, what's equally important is to sometimes talk about sustainable consumption. Dutta rounded off his views by observing that India has slid down the most in the gross national happiness index in recent times.
This despite the fact that we've done everything we could to achieve our definition of happiness - be it rapid industrialisation, building dams etc. Our race to achieve a bigger GDP has perhaps been encouraging along the way, sometimes, but on most occasions our happiness index seems to not agree with our idea of what progress should be - and that's what really needs to be addressed if true development is to be achieved.