Catch Team
| Updated on: 11 February 2017, 5:46 IST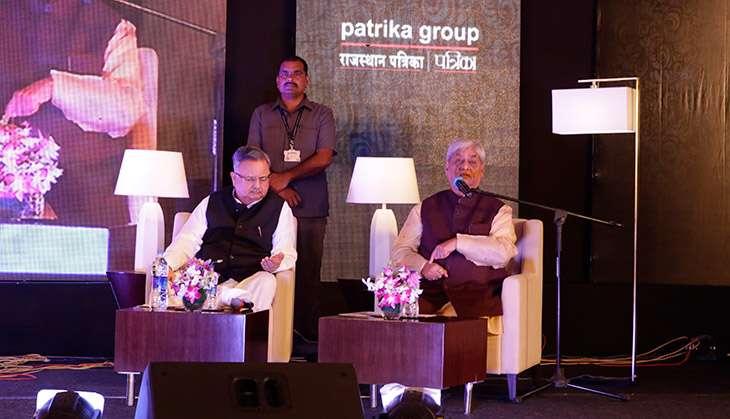 The final day of the Patrika Group's Annual Idea Festival 2016 saw a jam-packed auditorium listening in on a session titled "Happiness in Cities and Villages." The speakers were the events' big draw - Chief Minister of Chhattisgarh, Dr Raman Singh, and the head of the Rajasthan Patrika group, Gulab Kothari.
Media matters
Kothari articulated the role and relevance of the media industry, and the unfortunate state it has been reduced to in present times. "The word media is a foreign import," he said, reminding the audience that media is - or it should be, just another name for news.
Continuing on from this, he said that India had a rich tradition of smaller news outlets whose role was to deliver real news to people across the country. However, with the advent of 'media' that practice has been corrupted. Media has become indifferent to the masses, and has become, instead, just a participant in the mad rush for profit.
"Democracy gives three wheels to us - judiciary, executive and legislature. The media breathes life into that trinity... but the media today has become a sell-out," rued Kothari, adding that the common man is bound to catch on to the corruption. "If today I keep praising Raman Singh, at some point the reader will understand... and eventually I will lose credibility," said Kothari.
He also urged the people to be more proactive when it comes to engaging with the system: "If I don't reprimand my child for unruly behavior at a young age I won't be able to control it after five years. The same rule applies to the government."
Kothari rounded off his speech by saying that the role of 'media' should once more become one of news only. It should go back to being something that helps people and impacts their life in a better fashion.
"We keep hearing about Indo-Pak issues these days and we know that only dialogue can be an effective solution," he said and added that, "within our country too there are so many problems including Naxalism." The Patrika group, Kothari promised, can help be the space where dialogue is encouraged and shared on a regular basis.
The meaning of happiness
Dr Raman Singh acknowledged the need for a collaborative space where ideas and dialogue can be shared, and said that Patrika is well placed to be that platform in the near future. In the rest of his address, Singh chose to mostly dwell on the idea of happiness, what it can mean for different people and wove it into the progress of Chhattisgarh.
Patrika group head Gulab Kothari & Chhattisgarh CM Raman Singh talk media & happiness #PatrikaKeynote
"Some days back I was putting up in a nice hotel in Delhi where I was present for a business conclave. The room I was putting up in was huge and I actually had trouble sleeping. The next day I was in a Kerala state guest house by a waterfront or something...and I was put up in an 80 sq feet room with a small table and a bathroom. I can tell you that I've had far better sleep in that little room than in that Delhi hotel", said Singh.
Chhattisgarh CM Raman Singh speaks at the annual Patrika Keynote
To put into perspective what contentment can mean, Singh talked of his days as a youngster playing cricket against neighbouring districts - "The happiness of election results often pales in comparison of the happiness I experienced just by beating the other district in a game. The contentment of a bread pakora by the ground can hardly match the lavish food I have had much later," said Singh to a cheering crowd.
Kothari also spoke about how the education system system failed to produce happy individuals. "It has become all about how much money you can make," said Kothari, lamenting that the objective of youngsters has become to mechanically pursue high paying jobs. "This might feed you, but will it give any essential life skills?" asked Kothari, adding that human values too need to be imbibed to be a better part of the larger society, because "a person who lives just for himself can never be happy."
Singh continued to share anecdotes about what contentment can mean at an intimate level. Singh shared how the day an electric lamp got lit at his place, he stayed up to read even though he didn't have to - that's how fascinated and happy he was at this "progress," and that's when he realised the importance of electricity.
Credible Chhattisgarh
Singh bridged personal with the political, saying that the government is hence trying its best to ensure there's electricity in every little house across the state because that a bit of light can also be the source of immense happiness.
Singh gave the example of industrialists who "can be happy because he has made a power plant and his shares have gone up. On the other hand is the person in a small village hut who's happy because there's finally a 40V bulb lighting up his home."
Singh cued the anecdotes to speak on the policies that the government has in place for better infrastructure in the state. As he finished off his speech, Singh said that it's only a small section of people who've tainted Chhattisgarh as a backward, violence-afflicted state, when it's actually quite safe - especially for women.
He rattled off the achievements of the government from Special Purpose Vehicles to rail connectivity to electricity, saying that Chhattisgarh will only get better and the critics of Chhattisgarh will soon leave on their own accord.
Also Reads -
Annual Idea Fest 2016: Of Naxals, fake cases and lonely police officers
Happiness, progress and tribals - Soumya Dutta and Ashok Bhagat at Annual Idea Fest 2016