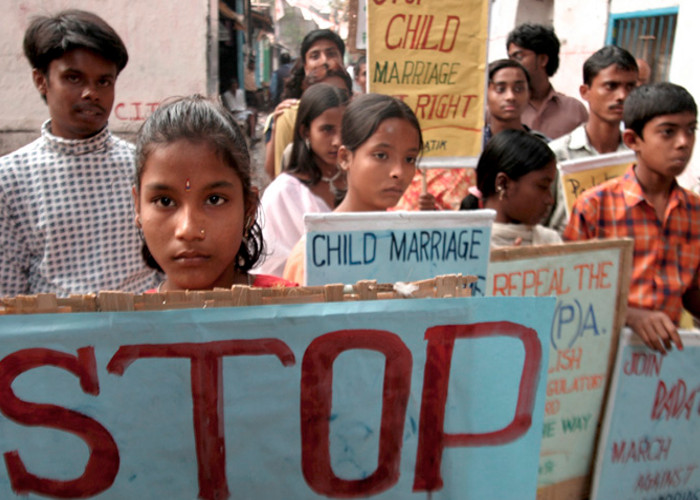 The Gujarat High Court has ruled that Prohibition of Child Marriage Act (PCMA) will apply to a Muslim person too, saying that those who obstructed changes in the Muslim personal law harmed the community's interests.
"Those who have not allowed to change the Muslim Personal Law have done a great disservice to the community," said Justice JB Pardiwala in the order.
The judge, however, noted that with the changing social conditions, education and economic necessities, Muslims too "have realised evil consequences of getting a girl married at a tender age of 16 or 17 years."
Yunush Shaikh (28), a city resident, had moved the High Court seeking to set aside an FIR registered against him for abduction and rape under Indian Penal Code and under Protection of Children from Sexual Offences Act, 2012.
Shaikh had eloped and married a 16-year-old girl living in his neighbourhood. The girl's father registered a complaint against him.
Shaikh argued that Child Marriage Act won't apply to him as he would be governed by the Muslim Personal Law.
The High Court rejected this argument. However, in a partial relief for Shaikh, it quashed the charges of abduction and rape and those under POCSO but directed the police to investigate and register a case under PCMA.
"The father (of the girl) would definitely be feeling very bad as his feelings are hurt. The father must have toiled day and night to take care of his family, more particularly, his two minor daughters and one day, the father finds that the daughter has left the parental home and has got married with a man who is 12 years elder to her. This is nothing but lack of maturity, understanding and education on the part of the girl," the High Court said.
"Most of the time, unfortunately, this type of marriages fail, and one day, the girl would come back to her parents," said the judge.
-PTI