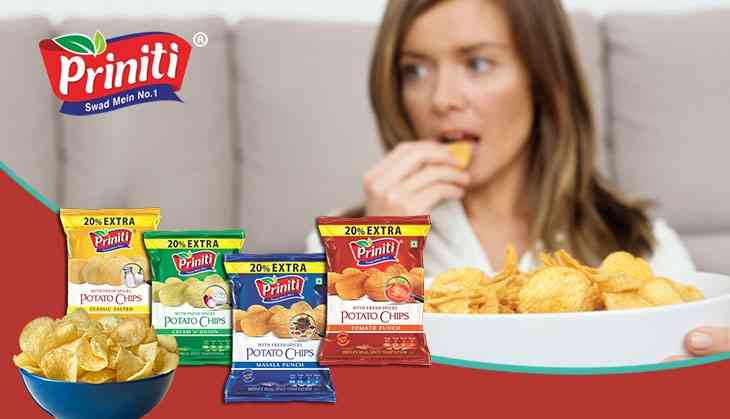 Priniti Foods Pvt. Ltd. is a Namkeen Manufacture in Delhi and is present all over India. The products manufactured by us are made to satisfy the Indian palate. We provide different types of products such as flavored chips, namkeens, and sweets. Some of the products include potato chips, Charchare sticks, Ringo stars, Rice puffs, different types of namkeens, popcorns, sweets etc. We, at Priniti, ensure that we make snacks as healthy as possible. We take care of the whole procedure of making the products and conduct all the operations in a hygienic manner. Due to the manufacturing of excellent quality products, we have made a good reputation in the market. All our food products are made out of good quality raw materials. We care about hygiene in terms of making the products.
Our packaging is done in an excellent manner and perfectly communicates about what is inside our product. A namkeen package might contain nutritional content, ingredients, and allergen information. It is the best way to communicate with a large number of customers and take care of their hygiene. We conduct all the operations in a professional way. Eating light and healthy snacks like Priniti namkeen, helps to prevent the hunger pangs that often become a cause of overeating later. We have different varieties of namkeens available such as Bikaneri Bhujia, Sev Murmura, Tasty Nuts, Aloo Bhujia, Punjabi Tadka, Moong Dal, Masala Murmura, Salty peanuts, Khatta Meetha, Navratan Mixture, Chatpati Dal, Hing Jeera Chana, Ratlami Sev, Nutkhat Nimbu, Mast Matar etc.
We use advance new technologies and machines for the production of our namkeens. The cleanliness of machines is done on a daily basis and all of our products are produced with the best machinery available in the market. We are consistently engaged in the production of a qualitative assortment of sticks, potato chips, rings, popcorns, Indian traditional namkeens and many more types of snacks. Our food array is loved and enjoyed by buyers of all ages. The way, we produce and distribute the namkeens made by us have made us the top namkeen brands in India.