Wishlist for Manohar: 11 things the new BCCI boss must do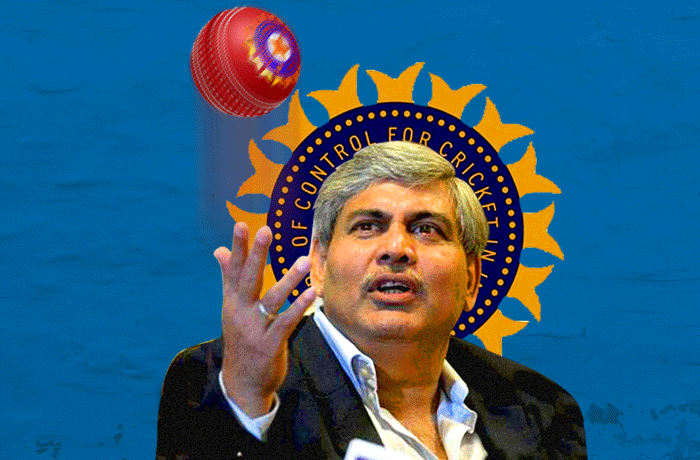 Shashank Manohar is back. Unassuming and unopposed, the Nagpur lawyer is going to clean up the BCCI. Or so we hope.
We don't have his ear, but if we did, these suggestions could help him create an aura that is more effective than the last time he was Board president, between 2008-11.
Manohar's normal countenance is of someone who had his wallet pinched. Or had the fender of his brand-new car dented by a rickshaw.
Manohar should realise that a smile gets much more done.
It is alright to look all stern and scary. But we know from past experience that Manohar's scary dude image alone wasn't enough to make the BCCI squeaky clean. Nor did it make him particularly popular with the other office-bearers, the media, or the rickshaw-wallah.
A smile unlike N Srinivasan's (which would do a hungry alligator proud), but like the one the dazzlingly cynical Dalmiya used to dethrone all opposition would be ideal.
The BCCI will never be a perfect system. Any sports body that forces the international federation to run two sets of rules for the same sport is not exactly perfect.
Manohar needs to acknowledge the internal malfunctions or genetic abnormalities and act accordingly. There are way too many irregularities in the entire system to sort out, and it is neither the brief, nor the ability, of one man to change it all. No one is Superman.
So stay logical and keep it on a balance. Don't try to do what cannot be done.
Is Manohar going to dismiss all the team ownerships cricket personalities hold in other sports? The commentary contracts which are in direct contravention of all normal conflict clauses? Will he then dismiss anyone who doesn't play ball?
It isn't that simple. Cricket is a ball game where many of those on the field and those off it are all playing parallel leagues for immense amounts of money. So irrespective of what he says, conflicts of interest cannot be wished away.
This is where diplomacy is needed. Which somehow doesn't seem to be Manohar's forte. But then, stranger things have happened.
Manohar thrives on telling anyone who will listen that he is different.
He makes no bones that he is almost a hermit, over, above and beyond anything worldly and corrupt. He is simplicity personified, a person who doesn't know the 'C' of corruption and a person who cannot be judged with the same yardstick as the other mortals.
He is a lawyer, for heaven's sake! It is a part of the deal to bend, if not actually break, laws to make things happen for your client. So this 'holy' image doesn't really sit well.
Past records suggest that being the head honcho of the BCCI doesn't go down well with being a hermit. You have to be a smart cookie, a businessman, and a ruthless one at that. The most successful ones were ruthless. Just take a look at the recent past and you will see how that works.
BCCI was in a lot of trouble in 2013 when Manohar decided he was a hermit, and that he shouldn't be included with the rabble who were being dragged over coal by the Enforcement Directorate with a slew of cases.
That really is a little over the top, don't you think? It's like taking the control of a train you know doesn't have brakes and then, when the gizmo threatens to go off the the tracks, jump onto a helicopter, James Bond style, and zoom off, blaming the brakeman, the guard, the track, the railway - everyone barring himself.
If you have taken up cudgels for a cause, you can't bug out when it is convenient, or when your hermitage is under threat.
There is a priceless story about one of Manohar's predecessors, Ranbir Singh Mahendra. He was once mobbed at the Dum Dum Airport in Kolkata after an email to him set off one more BCCI scandal.
Mahendra was surrounded as soon as he emerged from the terminal, but was clueless about what was going on. So he asked, and was told, about the email.
"Arre, how can I tell you about what mail came?" was his typical Mahendra answer. "Woh to Bhiwani mein aaya (That came in Bhiwani)."
Not knowing how to switch on a laptop would be fine if you were opening a Vanaprastha Ashram. It sounds a little silly when you're heading an important body, and more than a little naive when repeated often.
Better still, get a phone. All needs will be met. All you need is thicker glasses and thinner fingers.
This really is the biggest test for Manohar. It is also the only one, since all BCCI's woes began with the IPL. So here is where the fun will start.
Two franchises and some senior office-bearers need to go, and if Manohar has to even suggest he is cleaning up the Board, he will have to act decisively.
It is all very well to claim a lot of things. Real action will be as and when the IPL is actually brought under control. It is threatening to run away from the BCCI at a rapid pace.
India lost to South Africa at Dharamsala. JP Duminy was out lbw, twice, and not given out. Classic case of paying for not implementing the Decision Review System.
The BCCI's reasons for not opting for DRS have always been a little unclear. It can't be the money, surely.
Manohar says he is in favour of DRS, but not for "lbws from a certain angle" or some such. Excuse me?
DRS is DRS. You take the whole deal, or just drop it summarily. To say that you will use it for a left-arm chinaman bowler coming round the stumps, and not for a right-arm offie coming over, is silly. Either you take it, or you don't.
The only people not using DRS now are India and Kapurthala XI. The latter because they don't get revenues from their matches.
09
Address fast bowling issue
Why is it that fast bowlers have again disappeared from India's radar? Or why is it that they are injured more often than not?
The answers are simple. They are overworked - T20s, ODIs, Tests - and most importantly, the IPL.
Manohar really needs to do something about giving fast bowlers time to recuperate. If that means keeping them out of the IPL circus for a while, so be it. Surely there are enough players in every franchise to address this issue.
10
Address spin bowling issue
You will never have quality spinners so long as the younger ones are chucking them down flat and fast, IPL style.
Or till over-the-hills are included in squads because some new BCCI bigwig is a friend.
Spinners need to be kept in cotton wool. This is beginning to sound tediously repetitive. But so was the hermit thing.
This time at Srinivasan and Lalit Modi. Smile, and wave goodbye.