Why we must take India's win in Sri Lanka with a pinch of salt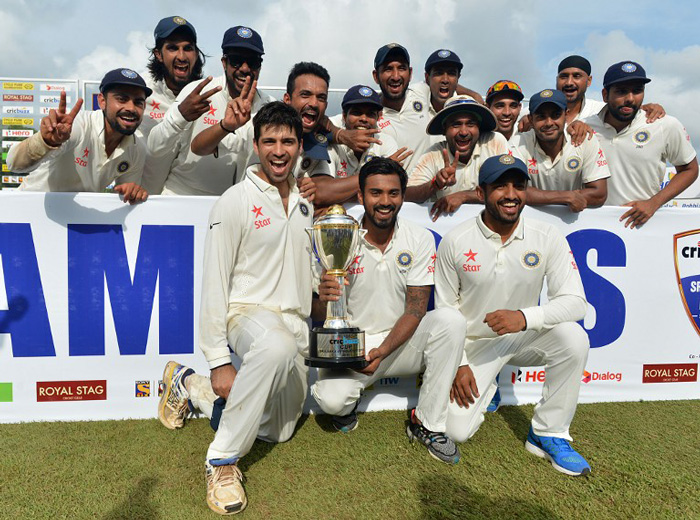 The record
The 2-1 series win over Sri Lanka is India\'s first in the neighbouring country in 22 years
It is also India\'s first series win overall since beating the West Indies in November 2013
Between the two wins, India have lost four successive away series and drawn a Test in Bangladesh
The reality
India have beaten a Sri Lankan team in transition
Virat Kohli\'s men were at full strength, while the hosts had an inexperienced line-up
The danger
India\'s next assignment is a series against the tough South Africans at home
South Africa have drawn their last two series in India
Though India will have home advantage, it will be a true litmus test for the young team
India's come-from-behind 2-1 Test series win over Sri Lanka is remarkable, for it has broken a 22-year-old jinx for the team in the Emerald Island.
However, while celebrations are certainly in order, Virat Kohli's boys and millions of India fans would do well to be a bit restrained. After all, the ground reality is that India have still had a terrible Test record in the immediate past, and there's a litmus test coming up against South Africa.
This advice may sound like swimming against the tide. But we would all do well to balance revelry with prudence, so that we aren't disappointed if India lose the next series.
Failures in the recent past
There can be no doubt that it was a well-deserved triumph. It was Kohli's first Test series win as captain, and the first time in nearly two years that India had won a Test series - home or away - since the 2-0 win over a weak West Indies in November 2013.
The 2-1 series win is India's first in 22 years in SL, and the first overall for the team since Nov 2013
The record looks even poorer when one considers only away series wins - the last one was registered well over four years ago, also against the West Indies.
The BCCI had organised the 2013 series against the West Indies at the last minute, to ensure that Sachin Tendulkar plays his 199th and 200th Tests in India, before his retirement.
After that 2-0 verdict, India lost four successive Test series - 0-1 to South Africa (away), 0-1 to New Zealand (away), 1-3 to England (away), and 0-2 to Australia (away). The only series that ended in a draw was the one-off Test against Bangladesh in June, mainly due to rain.
Despite the poor run, many people expected India to beat Sri Lanka. But the defeat in the first Test in Galle tempered those expectations. This is why it was amazing that the team won the next two matches to clinch the series.
Weakened Sri Lankan side
The triumph would surely boost the players' confidence ahead of the upcoming tough encounters against South Africa at home, starting this month. For 72 days, the unrelenting, in-your-face South Africans are expected to give the Indians a tough challenge.
That is why, dear die-hard Indian cricket fans, let us not miss the big picture. While rejoicing over the triumph in Sri Lanka, let us try and consider the reality, too.
This Sri Lankan team is in transition and most of its players have no great experience across formats, if you leave aside the veteran Kumar Sangakkara, who retired after the second Test.
They did not have batting powerhouse Mahela Jayawardene or spin king Muttiah Muralitharan, who retired long ago. The most experienced player among their ranks, Sangakkara, failed with the bat in the last two Tests of his illustrious career, thus making Indians' task a bit easier.
On the other hand, the Indian team, according to chairman of selectors Sandeep Patil, comprised the best available players. So, Kohli's team was expected to beat Sri Lanka, irrespective of the 22-year-old jinx.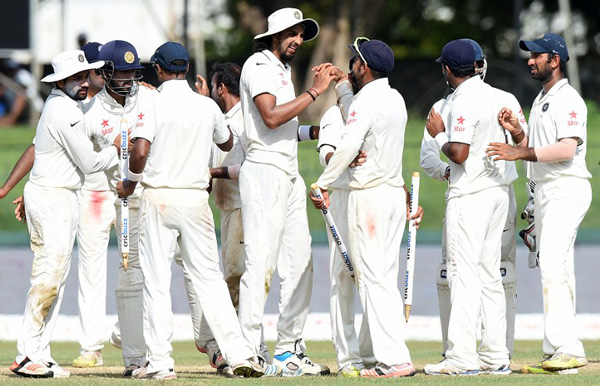 Ishant's rise and fall
The Indians began poorly as they lost the first Test in Galle, despite Ashwin's 10-wicket haul and centuries from Shikhar Dhawan and Kohli.
Let's keep our sentiments aside for a while and give credit to the Sri Lankans for bouncing back after conceding a 192-run first-innings lead. They were clearly more determined and Rangana Herath and Tharindu Kaushal cast a spin web around the Indians to eke out a remarkable win.
Then, Kohli's young boys roared back wonderfully and won the next two matches, to become the first Indian team ever to win a series comprising more than two Tests, after losing the first match.
Pacer Ishant Sharma rose to the occasion on a pacer-friendly Sinhalese Sports Club pitch in Colombo and led India's charge. But his high point also turned out to be his lowest as he was suspended for one match for indiscipline in the last two matches.
Ishant's suspension is another reason why one should not abandon logic and reason while going gaga over the triumph. The Delhi pacer's suspension for India's next match means he will miss the first Test against the South Africans in Mohali. The irony is that was India's best bowler in the third Test with eight wickets (Ashwin and Amit Mishra were the best overall with 21 and 15 wickets respectively).
South Africa loom large
Now, the onus is on Kohli and his boys to live up to the expectations they have raised with the triumph in Sri Lanka. The venue will change to familiar home pitches and the thrust of the bowling attack is likely to be spin, again. India's batting remains strong, especially on subcontinental pitches.
The South Africans are landing in India in 27 days' time to spar over four Tests, five One-Day Internationals and three Twenty20 Internationals. The real Test for Kohli and MS Dhoni - he is still ODI/T20 captain - comes against the Proteas, despite home advantage.
India have not won a home Test series against South Africa for 11 years, and Kohli and his boys have to rectify this anomaly too.
During these 11 years, South Africa remarkably drew both the series played in India. And with some of their star players like AB de Villiers having more than a fair idea of the Indian pitches, by virtue of having played in the IPL, the Proteas would strive to keep their record in India intact.
South Africa have always been a tough nut to crack, in India and especially in their own den. So, expect some tough and entertaining contests between 29 September and 7 December. If the Indian team passes this test, it would underline that the triumph in Sri Lanka was no flash in the pan.