Why France Vs Belgium promises to be the final before the finals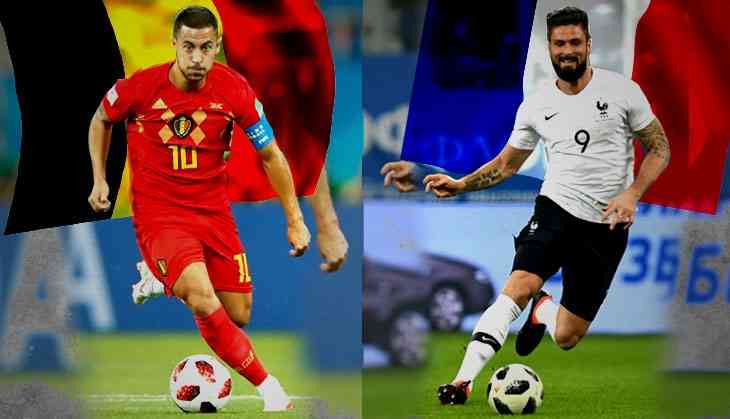 The World Cup has reached its penultimate stage and there's really no way to hide now. The semi-finals are that one last obstacle where teams bleed on the pitch to have a shot at glory. It's the difference between having a good run at the cup and a great one. And when you've reached the last four, you've already battled and bruised your way there. You are a veteran. You understand the pressure that comes with the occasion and you know what it takes to outlast your opponent. You might get lucky with the draw early on in the competition, but with only four teams remaining there is no easy way out.
The first semi-final between France and Belgium on Tuesday is a perfect example for the same. The two teams are, on paper, the best teams at the World Cup. They both have an unbelievable abundance of talent in their line-ups; they both have taken the rough route to the last four; and they both started off in Russia as one of the favourites and are under considerable pressure to at least reach the final.
This is the final before the final.
It's one of those premium World Cup games, the ones that are talked about before the tournament even begins. There'll be more megastars on the field on Tuesday, than there have been in any other game, till now. France and Belgium are equally matched when it comes to personnel, so it could easily come down to how they approach the game tactically.
A slow start for Les Blues
France had a somewhat slow start to the tournament and were far from finding their higher gears in the group stage. Bare bones wins against Australia and Peru were followed by an insipid goalless draw against Denmark. They had topped their group, but not in the way that was expected of these bunch of hyper-talented superstars. The criticism understandably fell at the feet of manager Didier Deschamps. A team adorned with Antoine Griezmann, Paul Pogba, Kylian Mbappe, N'Golo Kante, Olivier Giroud, Thomas Lemar, Nabil Fekir and Ousmane Dembele was yet to find its groove. France were performing like a Ferrari with a Hyundai engine under the bonnet.
Against Argentina in the Round of 16, France went full throttle. Mbappe grabbed the game with the scruff of its neck and ran with it. Argentina tried to mount a resistance, but it was too little too late. In a blaze of attacking flair, France scored four times. But, they also conceded thrice. In fact, they went down after taking an early lead. Mbappe's searing pace and sheer will to leave his mark on this World Cup turned the game around for them. Mbappe had arrived and so had France.
In the quarter-final against Uruguay, they put up their most complete performance yet. Uruguay were missing Edinson Cavani so their attacking teeth were definitely chipped, but defensively they were solid. Uruguay had conceded only once in the entire World Cup. The only non-clean sheet was in their Round of 16 clash against Portugal. France broke through their backline twice and kept a clean sheet to register a convincing win and reach the semi-finals.
Match #57 | #URU 0-2 #FRA #URUFRA pic.twitter.com/YRIrnZUXWJ

— FIFA World Cup 🏆 (@FIFAWorldCup) July 6, 2018
Belgium found their groove early on
Belgium's run hasn't been any simpler, but they found their groove early on in the tournament. They topped their group without a scratch and found themselves in the difficult side of the knockout draw. Their Round of 16 game against Japan was supposed to be an easy encounter but instead, it turned out to be their toughest test at the World Cup yet. Carrying great expectations, Belgium were shockingly two goals down and deep into the second half. But manager Roberto Martinez's substitutions paid off and Belgium staged a great World Cup comeback, with a last-minute winner to boot. The game didn't go as expected, but it was probably for the better.
Belgium had been tested and they passed, showing an excellent strength of character and depth in reserves. It was the perfect preparation for Brazil. Now, heading into Russia, Brazil were the favourites to the lift the cup. Five Thirty Eight had put them on the top of their power rankings and the Brazilian team was world class, from top to bottom. They too started a bit slowly, but picked up the pace as games came along. By the quarter-finals, they were looking sturdy and Belgium weren't, especially after their Japanese scare. But what followed was a tactical masterclass from Martinez.
Match #54 | #BEL 3-2 #JPN #BELJPN pic.twitter.com/hI6bTBNPTp

— FIFA World Cup 🏆 (@FIFAWorldCup) July 3, 2018
Roberto Martinez at his peak
Belgium shook things up, unshackled Kevin de Bruyne and deployed him as a false nine and put Romelu Lukaku on wide right. This took Brazil by surprise. Now de Bruyne, on the ball, is one of the best players in the world right now. He had been playing a deeper midfield role for Belgium, rather than his usual attacking midfield role at Manchester City. But against Brazil, he was given the license to run riot, and he did. Lukaku, who usually is the guy making runs into space, receiving the ball and finishing it crisply into the net, was instead linking up play from defence to attack, holding the ball up and then releasing it for Eden Hazard and de Bruyne in the attacking third.
They also switched from a back three to a back four and discarded their attacking fullbacks for more security in defence. The change worked out exceedingly well as Belgium took an early two-goal lead and defended well to keep Brazil from closing the gap down. It turned out that Belgium had been planning how to tackle Brazil way ahead of the World Cup itself and in the initial exchanges, they pulled the rug under Brazil's feet.
Roberto Martinez is the first Spanish manager to lead a different country to the semi-final of a World Cup.

Les Bleus up next. 🇫🇷 pic.twitter.com/9HsTM2uann

— Squawka Football (@Squawka) July 9, 2018
It's France's Mbappe versus Belgium's Hazard
It will be interesting to see if Belgium stay with the shape or decide to switch back to their usual formation against France. France are really good up front when Griezmann occupies the hole position and Mbappe is running at defenders head-on. And with the cushion of Kante, Pogba too is allowed the freedom to spring forward and join in attack. Giroud has been deceptively good with his hold-up play in the opposition half and he is the man around him the French attackers pivot.
So one could expect Belgium to shore up their backline again and look to trouble France on the counter, where they've looked vulnerable in the past as well. And if France have got Mbappe, Belgium have Hazard. The Belgian captain has been in scintillating form in the World Cup and is surely in running for the Golden Ball. He was rampant against Brazil, completing 10 take-ons with 100 percent success rate, the most by any player in single World Cup game since 1966. He already has two goals and two assists in the World Cup so far and has been Belgium's attacking fulcrum.
😆 @equipedefrance pic.twitter.com/LKg9ch45sM

— Kylian Mbappé (@KMbappe) July 8, 2018
If he is let loose with similar effect against France, he can be the difference between the two teams. A lot will also come down to player matchups. Most of these players have played with or against each other in the Premier League and know one another quite well. Kante and Giroud are Hazard's teammates at Chelsea and Pogba and Lukaku play for Manchester United. If Kante can mark Hazard out of the game, which he probably is the best equipped to do, the game will tilt in France's favour.
Both teams are enjoying a golden generation of players. For France, it is good news that they are peaking late, but Belgium have been more consistent throughout the World Cup. The latter are also a more mature and experienced generation of players who have already played in two major tournaments, losing out at the quarter-final stage both times.
Their best result was a fourth-place finish in 1986 and this time they are eager to play their first World Cup final. This tournament has seen traditional football powers on the decline and there are now two teams who could go on to win their first World Cup (Belgium and Croatia). The French squad is young and will definitely get a shot at World Cup glory again, but Belgium look primed. It might just be turn out to be their turn this time.