The world is in bedlam; the World Cup too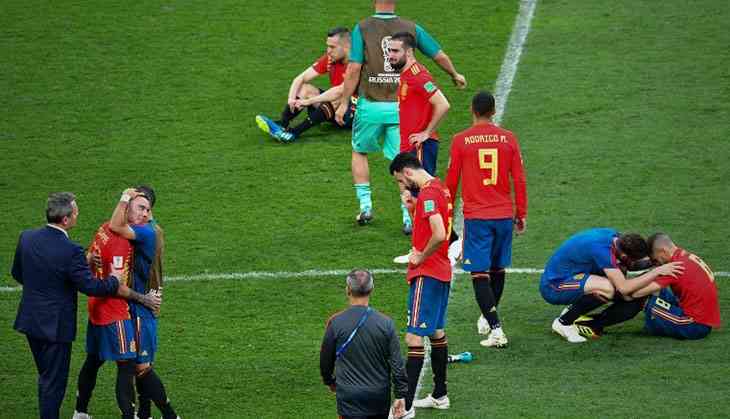 The hitherto history of the world has been about power and those who wield it. Power, that exchanged hands, did backroom deals and daylight invasions, that rose and fell and then rose again. The present is no different. The power broking continues; some traditional, some the product of a new age. It is then, only appropriate, that a football World Cup in a time of social, political and cultural turbulence reflects the world it exists in. Rise and fall of traditional football powers has its history too, but in Russia, a more clear and present shift is coming to fore.
Few would have thought that neither of the past three world champions would live to see the quarter-finals of the 2018 FIFA World Cup. Italy bowed out before it could even take the stage, Germany checked out early and now Spain exit in shock and awe. Hosts Russia pulled off one of the biggest upsets in World Cup history (twice that has happened this World Cup) and sent Spain packing on penalties. Russia were the lowest ranked team of the World Cup. They probably wouldn't be here if they weren't hosting.
Russia have left Spain in their wake
The group stage was supposed to be the beginning and the end of their journey. But they're now in the quarter-final stage, leaving Spain in their wake. Yes, Spain. The same team that dominated the world of football for a period of five to six years. The same that has a core of players who, just over a month ago, won the Champions League for the third year in a row with Real Madrid and went almost undefeated all season with Barcelona.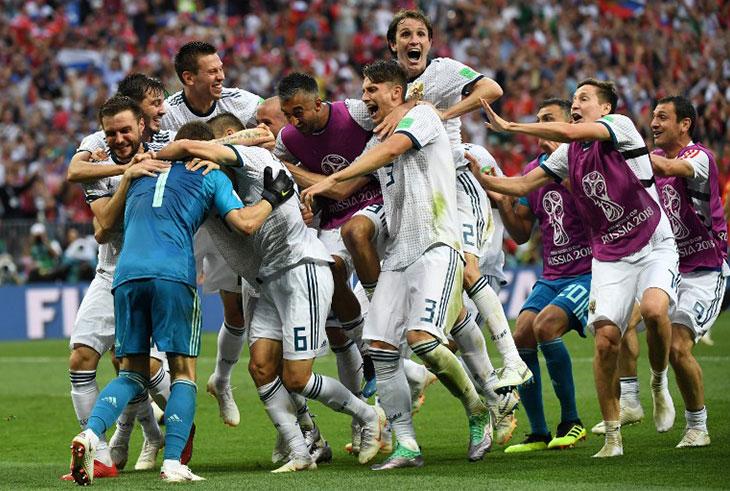 Yuri Cortez/AFP
The signs were there, minuscule though they were. In their entertaining 3-3 draw with Portugal in the group stage, Spain showed that they not only had attacking zest but the intent to score when needed. They were fluid, buttery and fun to watch going forward. They had ideas. They did, however, expose a few defensive fallacies, but nothing that could not be rectified.
The three goals they conceded were a penalty, a howler and a freak. But then they unconvincingly stumbled past Iran and survived a scare against Morocco. That did raise eyebrows, but they would surely get serious in the knockout rounds. How very wrong.
What was on display last night at the Luzhniki Stadium, was football distilled to its most insipid, draining and tedious version. A listless, numb passing of the ball hither and thither with none of the purpose and paragon that you associate with Spain, with their Tiki-Taka. Spain played over a thousand passes, 1114 to be precise, and not a single one of them seemed to have a thought behind it.
The Russians conveniently sat back, refusing to even test Spain on the counter. And why should they? They preferred to stay cocooned and bide time; Spain weren't in the mood to meddle with things themselves, why should Russia play the hero and take initiative. It could only harm them. And if Russia remained rigid on account of cunning, Spain did so on account of sheer naivety.
Spain were buzzing around the Russian box with zero sting
Like bees, buzzing around a hive, Spain hovered around the Russian box with zero sting. They literally ate up the ball, hogging it for the entirety of the 120 minutes, but barely created a clear chance to score. After a point, it all became a red blur against a green screen, mindlessly dissolving into inertness. It was, frankly, painful to watch. The goals that did come in regulation time were more a result of situational comedies than attacking prowess.
Spain took the lead early on through an own goal of farcical proportions. Sergio Ramos, waiting on a cross, backed into Sergei Ignashevich in the Russian box and they both fell like Siamese trees and Ignashevich inadvertently knocked the ball in his own net.
Spain decided to up standards of hilarity on display before the half ended when Gerard Pique jumped to defend a Russian ball in the Spanish box and raised his arms like a prepubescent at a Katy Perry concert. The result was a hilarious handball and Artem Dzyuba didn't hesitate from the spot.
The two teams never looked like they wanted to score, even when they did score. Spain kept passing and Russia, happily, kept watch from a distance. This wasn't even Tiki-Taka. Tiki-Taka is about passing quickly and incisively, with extreme purpose and prejudice, and creating spaces for your forwards to get in and score.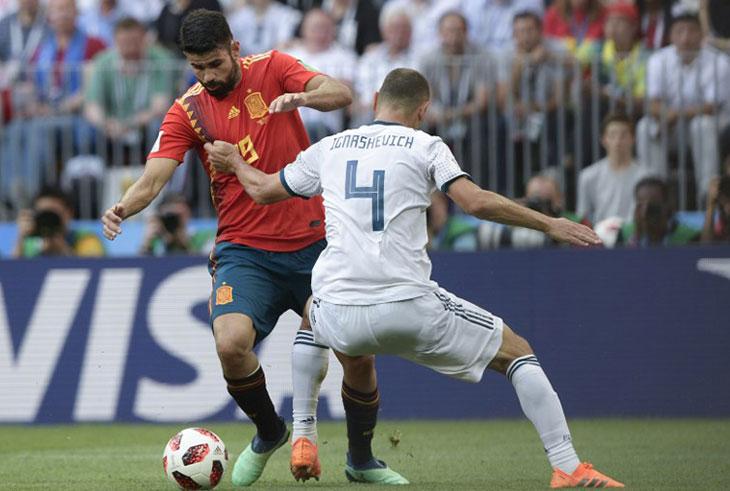 Juan Mabromata/AFP
1,114 passes, 120 minutes and 79% possession account for nothing
Spain created little more space than a shopping mart aisle on a Saturday sale. Diego Costa, their top-scorer this World Cup, cut a lone figure at the top, starved for service and reduced to a blunt instrument. Spain were cutting paper with a nail clipper and it was excruciating to watch.
After 1,114 passes, 120 minutes and 79 percent possession, it came down to a crude penalty shootout; probably the best way to decide a game such as this. Igor Akinfeev, a 32-year-old veteran, denied Koke and Iago Aspas; the latter was to be the winning moment. And it was a win by inches, as Akinfeev's trailing leg kicked out Aspas' straight spot kick.
His Spanish counterpart David de Gea, widely regarded as the best goalkeeper in the world, failed to stop even a single penalty. While his credentials are beyond doubt, his World Cup ended with a total of one save made and much left to be desired.
Spain offer little besides Costa upfront
It does seem absurd to play the way Spain did, but in hindsight one can point at certain problems with reason. There is, of course, the striker problem. The Spain team is full of creators but offers little beyond Costa when it comes to a pure number nine. And it seemed their outlet was clogged when Costa was nullified; there was no plan B.
Aspas was brought on as a substitute, but he too offered little. And of course, the elephant in the room is the sacking of Julen Lopetegui, the sword that hung over the Spanish team before the World Cup even started.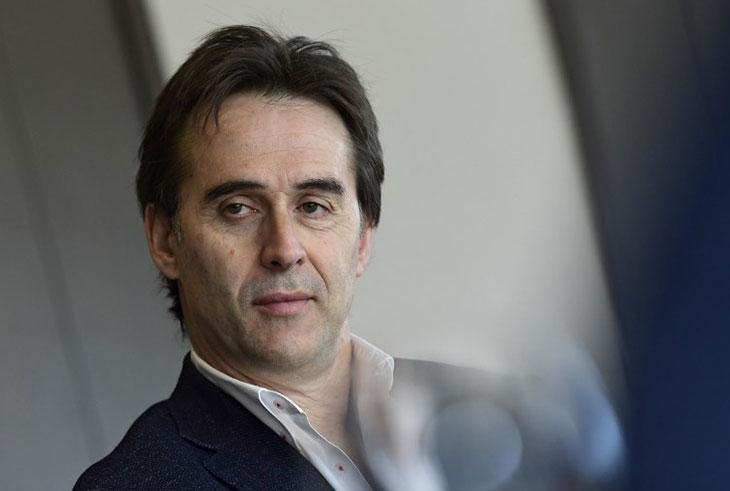 Javier Soriano/AFP
Lopetegui's sacking hangs large
Lopetegui had proved himself an intelligent coach who knew how to set-up this half-new, half-old Spain team. Isco had especially flourished under him, becoming more decisive in the national team setup. Yesterday, he made 132 passes and only 12 of them were in the forward direction.
Against Russia, Lopetegui's replacement Fernando Hierro, made some questionable team selection choices. One of them was leaving Iniesta out of the starting 11. And even when Spain failed to create over the course of the game, Hierro didn't think of utilising Thiago Alcantara, who was but a spectator for 120 minutes.
Lopetegui's departure, just two days ahead of Spain's opener against Portugal, will always remain a questionable decision. Spanish FA acted under the influence of pride; that often turns out to be a bad decision.
Yes, Lopetegui was unprofessional when he announced that he would be taking up the Real Madrid job just ahead of the biggest football tournament in the world. And he took the decision without discussing or confiding in with the Spanish FA. But, it's hard to refute, especially in the wake of this fiasco, that his departure clearly harmed Spain's preparedness and stability.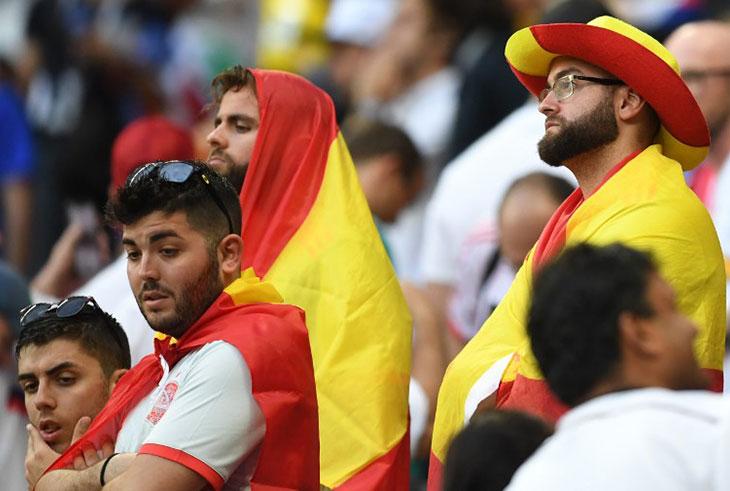 Francisco Leong/AFP
Russia, on the other hand, are in the quarter-finals and will face Croatia, who themselves survived a shootout to reach there. With their momentum and home support, they can dream a bit more, but so can their entire knockout pool. With Spain gone, one of Russia, Croatia, Sweden, Switzerland, Colombia and England are sure to reach the final. The world is in bedlam; the World Cup too.