The politics-cricket marriage, and how Anurag Thakur can take it forward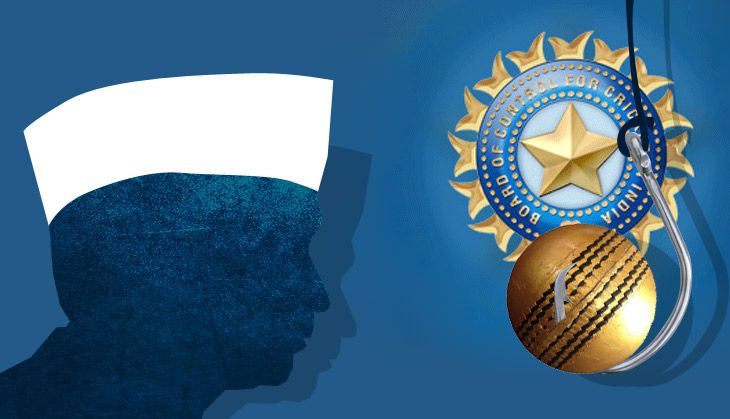 The new captain
Shashank Manohar recently resigned as BCCI president, in order to take over as \'independent\' ICC chairman

Anurag Thakur is set to be elected unopposed as his replacement, at the SGM on Sunday, 22 May
The way forward
The BJP MP is the latest in a long line of full-time politicians to hold power in the BCCI

Thakur\'s election could signal a new chapter in the long relationship between politics and cricket
Shashank Manohar's decision to quit as BCCI president and get elected as the 'independent' International Cricket Council (ICC) chairman within a few days was possibly the best display of timing and footwork we have seen in the recent past; something even Virat Kohli will struggle to emulate.
Manohar waited almost till the last minute before deciding that the conditions being imposed on the BCCI by the Justice Lodha Committee and the Honourable Supreme Court were way too much to handle, so he skipped town in a flash, to emerge at the ICC helm, before you could shout 'howzzat'!
Also read - Anurag Thakur as BCCI president: His main challenge will be finances
But this piece is more about what is it with the Board of Control for Cricket in India (BCCI) and politicians; why is it such an allure and an irresistible attraction, and what Anurag Thakur's impending unopposed election to the top post will mean.
The man who would be king
Thakur, the top man in the Himachal Pradesh Cricket Association, is currently the BCCI secretary and is expected to take over from Manohar after the Special General Meeting on Sunday, 22 May.
On Saturday, the BCCI announced that he was the only candidate, having been nominated by all six east zone associations, whose turn it is to nominate the president.
Thakur's entry into politics was something of a natural sequence.
It's a given in Indian politics and Bollywood that the children will follow their parents into the profession. So, Thakur was destined for politics from the day he was born to Prem Kumar Dhumal, one of the leading lights of Himachal Pradesh politics, and a former Chief Minister of the state.
Therefore, it's no surprise that Thakur is a BJP Member of Parliament today.
From social status to political power
One would like to assume that politicians' association with cricket is a little bit of a symbol of 'being there', dating back to the days of the British Raj, when Indian politics were limited to rulers of princely states attempting to please the colonisers by doing what they did - play cricket.
So we had the likes of the Maharaja of Vizianagaram (Vizzy, for those who couldn't pronounce it) and the Maharaja of Patiala, among many, getting to become cricketing characters, if not exactly stars.
But soon, being involved in cricket became something of a status symbol. It was very 'burra sahab' to be seen with the Lords and Ladies, and applauding those in white flannels over a cuppa tea.
Once the British left, they left cricket behind. The politics of cricket changed gradually, though the royal houses still held a clout.
The Pataudis showed their talents on the field, through the Nawabs Iftikhar Ali Khan and Mansur Ali Khan.
On the other hand, the Scindias took to administration, with Madhavrao Scindia finally emerging as the first royal/politician to be in the thick of things.
Or, let me rephrase, the first royal/politician to be of any consequence in the BCCI.
Every state had its own set of politicians who were involved with cricket. After all, this was something that was pretty popular and a definite vote bank.
So, cricket had transformed, from social 'cool' to a powerful political handle, which could give you more headlines and clout as a politician.
So you soon had politicians everywhere in the nation, from Sharad Pawar in Maharashtra, to Farooq Abdullah in Jammu & Kashmir, to Arun Jaitley in Delhi, the politicians in the fray were no longer just some fringe payers, they were big names in Indian politics. There was a time when even Amit Shah was in the BCCI picture frame!
Remember the pecking order
But full-time politics make it impossible to run things in the BCCI. That brought in the business gurus.
It all began with Jagmohan Dalmiya, and to a lesser extent, Inderjit Singh Bindra, who made the BCCI presidency more than just a prestige symbol. They brought in the money.
Then there was the infamous duo, N Srinivasan and Lalit Modi.
Modi's creation, the Indian Premier League, was a perfect example of politics and money coming together to create a money-spinner. His rise through the Rajasthan Cricket Association was in no mean terms thanks to his proximity to Vasundhara Raje, whose rise and fall in the state's politics was mirrored by Modi's.
With their respective falls from grace, Srinivasan and Modi have proved one thing - things will be fine between businessmen and politicians, so long as the pecking order is not forgotten. Both of them thought they were making too much money for too many people to be touchable. Wrong answer.
Two-way street
Things work the other way too. Many cricketers have turned to politics - Chetan Chauhan was among the first to take the plunge for the BJP, while Mohammed Azharuddin made a mark as a Member of Parliament for Congress.
Mohammad Kaif tried and failed for the Congress, while Sreesanth's foray into politics ended up in a debacle in the recent Kerala Assembly elections.
Navjot Singh Sidhu was in and out of favour with the BJP, beginning with Lok Sabha membership and then doing a pretty nifty two-step to get himself nominated to the Rajya Sabha recently.
Sachin Tendulkar's stats in Rajya Sabha weren't a tenth as flattering as on the pitch.
There is another cricketer-turned-politician too (sort of) - Bihar deputy CM Tejaswi Yadav! He was not a good cricketer. But he has a formidable father, and follows the normal politicians' son/daughter norm.
A new chapter
It could be that Thakur represents the new version of the politician in cricket. He's hopefully clued in enough to generate money. Or it could be that the BCCI's money-making is now in automation, so he can do both, full-time.
This is a relationship that will last. Money, power and publicity are the three things common to politics and cricket, so no there are no real surprises that one feeds off the other. It may not be a match made in heaven, but definitely not one you can ignore.
More in Catch - BCCI presidential elections: Why is it still a cosy club of politicians?