The Dalmiya I knew: a businessman with his heart in the right place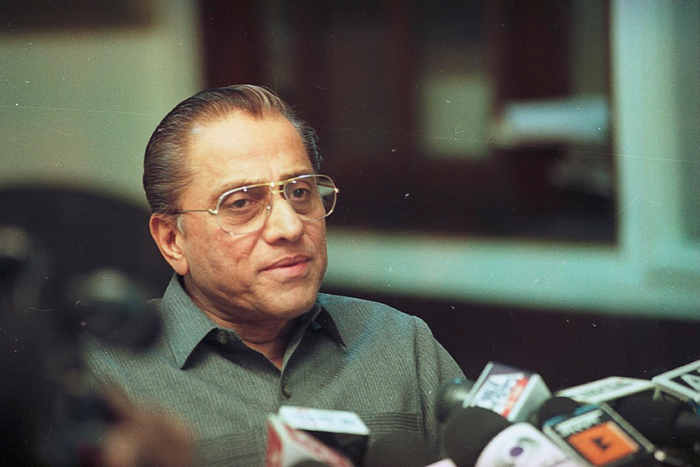 The administrator
Jagmohan Dalmiya was the first Asian to become ICC president in 1997
He was also instrumental in selling the first TV rights to Indian cricket - in 1992-93
This led the Board out of financial trouble and set it on the path to becoming a financial juggernaut
He served as elected BCCI president on two occasions and interim president once
He died in Kolkata on 20 September, after a heart attack three days before
The colourful character
Jaggu da was the ultimate players\' man - often fighting for them against the establishment
He disarmed journalists with his smile and never ducked a difficult question
He was controversial - often accused of corruption - but no charges ever led to conviction
Among the relatively lesser-known traits of Jagmohan Dalmiya was his routine of working late at night, scheduling his meetings at midnight, waking up late and jetting around on evening flights.
A vegetarian, he relished cottage cheese (paneer) and felt comfortable in a safari suit, and not in a tie-and-jacket, which he would wear only on formal occasions.
The colossus of cricket administration passed away on Sunday, 20 September, aged 75 years, after suffering a heart attack three days before.
The pioneer of telecast rights
Dalmiya is better known for helping the BCCI, which he headed twice as its elected president and once as interim president, overcome its financial difficulties by selling, for the first time, the telecast rights to a home series against England in 1992-93.
A Marwari, Dalmiya was sharp, intelligent, and knew how to do business.
One of the highs for Dalmiya was becoming the first Asian to head the ICC, in 1997 - an honour that he well and truly deserved. But the historic turning point, both for Indian cricket and Dalmiya, had come just before the 1992-93 home series against Graham Gooch's England team.
Before that series, Doordarshan used to squeeze the BCCI to pay for telecasting international matches.
The BCCI president died on 20 September at the age of 75 after a heart attack three days before
Dalmiya was instrumental in selling the three-Test and seven-ODI series against England for Rs 18 lakh to TransWorld International (TWI), while Doordarshan had to pay $1 million to TWI.
BCCI made a handsome profit, which helped it tide over its financial problems. Since then, the BCCI has never been in the red and, at last count, was worth Rs 4,000 crore.
But it is also not widely known that he picked up some crucial ideas from Ali Bacher, a former South Africa captain who later became director of the United Cricket Board of South Africa in early 1990s.
During his two visits to India in early 1990s, Bacher gave some suggestions to Dalmiya on how to sell the game.
"Dalmiya was very impressed with Bacher after his two meetings with him. Bacher told him how to monetise cricket. He suggested things like printing advertisements on the back of match tickets and installing electronic screens in stadiums from which revenues could be earned by showing advertisements," a close associate of Dalmiya told Catch.
On 7 October, a day before the India-South Africa T20 International in Kolkata, Dalmiya and Bacher were jointly scheduled to deliver a Gandhi-Mandela Lecture. That has now been cancelled.
The players' man
I interacted with Dalmiya and observed him closely for more than 23 years, including the numerous press conferences I attended while working with The Statesman and The Asian Age in the early and mid-1990s, and even after he became ICC president in 1997.
He would always call press conferences at around 4/5 pm, would talk to journalists briefly over a cup of tea after addressing them formally, and floor us all with his charming smile. He would then excuse himself, saying he had to catch the 6 pm flight to Kolkata. That was his routine in Delhi.
Dalmiya had answers to all the questions thrown at him; he would never struggle or duck any. At the peak of the Mike Denness controversy in 2001-02, over the suspension of six Indian players during a Test series against South Africa, he, as BCCI president, took on the ICC.
Dalmiya is credited with monetising cricket. But some ideas came from South Africa's Ali Bacher
When the ICC asked Dalmiya to name the Indian squad for the Mohali Test against England, so that it could know whether the banned Virender Sehwag was in it or not, Dalmiya wriggled his way out by saying if he did so, he would be inviting an inquiry by the ICC Anti-Corruption Unit for leaking the team beforehand. That was Dalmiya for you.
Although Sehwag was omitted for the Mohali Test, Dalmiya, with his sharp mind and help from his close friend and senior lawyer Usha Nath Banerjee, made life difficult for ICC and its match referee Mike Denness.
He was also compassionate - he decided to close the case against Denness, saying the former England player was too ill to be embarrassed.
Saving captain Ganguly
If Dalmiya took up a cause, he would ensure that he took it to its logical end. When ICC match referee Clive Lloyd banned India captain Sourav Ganguly for two Tests for the team's slow over rate during the BCCI's Platinum Jubilee ODI between India and Pakistan in Kolkata, Dalmiya ensured that the suspended Ganguly, his blue-eyed boy, got a reprieve.
A man in Delhi was ordered to take a copy of the video tape of the entire match from Doordarshan, which held the telecast rights, to Kolkata for a review. Former Bengal captain Raju Mukherjee and a couple of Dalmiya's trusted lieutenants scrutinised the tapes for an entire night at a Kolkata studio.
The next day, Dalmiya and Ganguly together watched the crucial portions, and a case was built: the Indian team's over-rate was slow due to excess dew at Eden Gardens and not due to Ganguly's captaincy.
The Marwari legacy
Although Dalmiya was born in Kolkata, he could also speak Marwari fluently. His forefathers hailed from the Sikar district in Rajasthan.
When he would interact with a Rajasthani - be it a member of the Rungta family that ruled Rajasthan cricket for decades or present BCCI co-ordinator Amrit Mathur - he would converse in Marwari.
"He would tell Mathur that he was the only one with whom he could converse in his mother tongue [frequently]," the close associate of Dalmiya said.
Dalmiya would function in a democratic manner. "He would hear out everyone's point of view. Everybody had access to him. His room [at his personal office] was always open," the associate said said.
Days of exile
I once met Dalmiya in the same office in 2007, which was also the first day of the now-defunct 'rebel' Indian Cricket League (ICL). Dalmiya was out of the BCCI in those days and was lying low.
"I'm not giving interviews these days, but you can come and have coffee and biscuits with me," he had told me.
When I reached his office on Shakespeare Sarani after the day's play in the India-Pakistan Test at Eden Gardens, he was alone watching the first ICL match on a large LCD TV in his huge office. He smiled and began with a teasing question: "What do you think of the ICL?"
During our long conversation over coffee, Dalmiya avoided questions on his BCCI comeback plans, but quipped: "In politics, hands count, not heads." I took out my notebook and told him that I would include this quote in the piece I intended to write, and he didn't stop me from doing so.
He also said that an inter-city tournament was to be launched around 2005, but a stalemate over the choice of broadcaster scuttled the idea. Lalit Modi was the brain behind that proposal, which saw the light of day in 2008 in the form of the IPL.
Failing health
Lately, Dalmiya had suffered from bouts of dementia, according to people who closely observed him.
One of his associates said that when Sachin Tendulkar walked up to him to during the 2015 IPL final at Eden Gardens in Kolkata in May to enquire about his well-being, the ailing Dalmiya asked the retired legend: "Which club are you playing for these days?"
That shows how ill Dalmiya was. Not only had he become physically frail, but it seems his mental faculties were not functioning all the time, as borne out in the tales that his BCCI colleagues narrate in private.
Dalmiya was forgetting things, was repeating sentences in meetings, and would ask people sitting next to him to help him recall what he was talking about.
Still, he was insistent on carrying on as BCCI president and keen to participate in all events, so much so that despite running 103-degree temperature, he insisted he would present the trophy to the winner at the IPL final, and did so.
As soon as he had presented the trophy to Mumbai Indians captain Rohit Sharma, two persons took him away from the stage at the centre of Eden Gardens. So, his question to Tendulkar should not come exactly as a surprise.
Everyone gets ill and no one has control over nature's ways. Before a combination of ailments affected Dalmiya, he had done enough work to qualify as one of India's best sports administrators, and not just in cricket.
Controversial but never convicted
Dalmiya was controversial too. His role as ICC president in the allotment of the telecast rights of the ICC Knock-Out Tournament (later renamed Champions Trophy), held in Dhaka in 1998, was suspect, but the issue died a natural death without anyone getting punished.
He was also alleged to have indulged in financial irregularities related to the 1996 World Cup, held in India, Pakistan and Sri Lanka, and his BCCI opponents tried their best to put him behind bars. But Dalmiya, who was once also suspended from the BCCI, wriggled out of that situation, struck a compromise, and the case was withdrawn.
Now that Dalmiya is gone, some of the same people might be in the race to replace him when the election for the BCCI president is held within 15 days, as per the Board's rules and regulations.