#ThankYouSehwag: they don't make cricketers like Viru anymore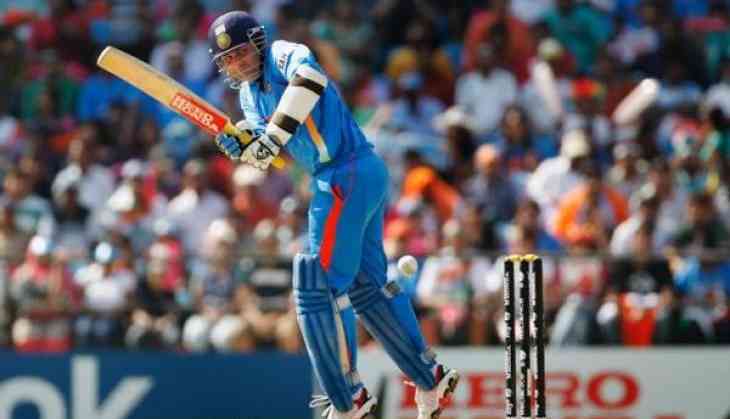 The announcement
Virender Sehwag has announced his retirement from international cricket and IPL
He turned 37 on 20 October
Sehwag hadn\'t played an international match since March 2013
The milestones
Sehwag scored 8,586 Test runs and 8,273 ODI runs
He had 2 Test triple hundreds and an ODI double hundred to his credit
More in the story
What proved to be his Achilles Heel in the end?
Two samosas during a practice session, what was that all about?
He hinted at it, then backtracked, then announced it on Twitter the next day. As he turned 37, Virender Sehwag bade farewell to international cricket and the Indian Premier League.
In doing so, he made it look like a tentative poke outside off stump. It was as un-Sehwag-like as it could be.
As we pay tribute to the retiring batting great, let's first get that image out of our heads. Sehwag is synonymous with stand and deliver. That's the memory of him we ought to carry.
Samosas in the time of professionalism
As far as professionalism goes, the Indian Premier League is a beacon of positivity. Players from across the world turn up for most practice sessions, sweat it out in the sweltering heat of April and May in all parts of the country and take it as seriously as international cricket.
It was a hot day at the Ferozeshah Kotla, circa 2012, and the Delhi Daredevils players were hard at it the day before a game. Most of them were practicing fielding drills, some were in the nets honing their skills, but the captain was missing.
Then, a portly figure in a white hat walked down the long flight of stairs from the dressing room, holding a samosa in each hand. He earned a glare from then-head coach Eric Simons, offered him one of the samosas, and drew a hearty laugh from the coach too.
That was just Sehwag being himself.
See ball, hit ball
Most cricket fans agree that Sehwag's mantra was 'see ball, hit ball'. Sorry, but that's a gross oversimplification. You don't score 8,586 Test runs and 8,273 ODI runs by just seeing ball, hitting ball.
The principle of his batting was the same as every great player's - an insatiable appetite for runs. Some, like Rahul Dravid, believed in accomplishing that with a surgeon's scalpel. Sehwag loved to do it with the butcher's blade.
Sehwag carefully constructed that bumpkin image for himself. It gave bowlers a false, sometimes true, sense of security, that they could get him out playing his shots. But unlike a certain Mr Afridi from across the border, Sehwag wasn't all about rushes of blood.
If anything, especially in Test matches, he behaved himself when the ball was being naughty and darting about, and then, like a firm parent, punished it later on.
One particular instance comes to mind - it was the opening day of the Boxing Day Test in Melbourne in 2003. India had just registered a rare Test victory in Adelaide, and were baying for the Aussies' blood.
In the small matter of 78.3 overs, India raced along to 311/3. Sehwag made 195 of those runs. Then, against the occasional chinaman bowling of Simon Katich, Sehwag holed out to mid-wicket off a full toss on leg stump. He had missed out on a historic double hundred.
At the end of day's play, Wasim Akram, freshly turned commentator, was interviewing him. He asked him about the disappointment of missing out on the landmark. "Dukh is baat ka nahin hai ki double century miss ho gayi; dukh is baat ka hai ki wo ball chhakka jaana chahiye tha (it's not disappointing to miss out on the 200; what's sad is that that ball should've gone for six)."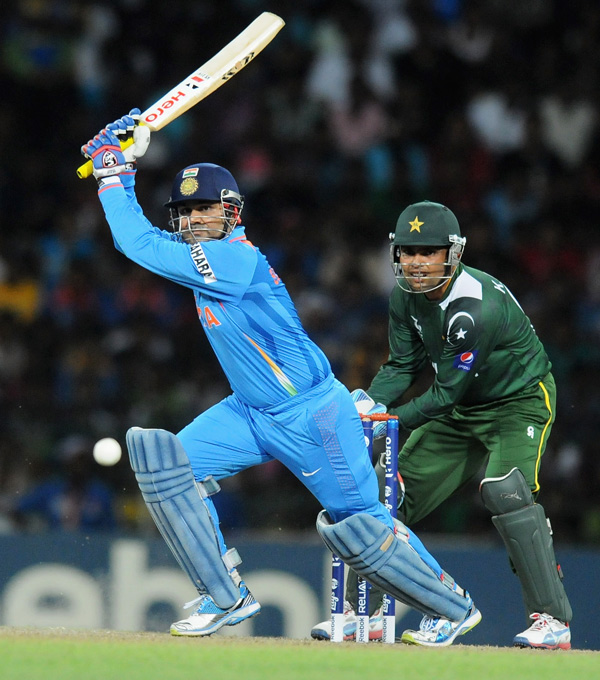 Akram looked flabbergasted, then amused. But it was classic Sehwag - the ball didn't deserve a wicket, landmarks be damned. India ended up losing that Test, and the finger of blame was pointed towards Sehwag, for batting too fast and giving Australia a chance to outscore India.
Triple centurion, almost three times over
Let's skip over the Multan 309 - the first-ever triple century for India. You probably remember it anyway - how Sehwag gave two hoots about landmarks and brought up the first and third hundreds with sixes.
Let's also skip over the Chennai 319 - the second triple-century on a national highway of a pitch against a quality South African attack.
Let's cut straight to the 293 against Sri Lanka at the Brabourne Stadium in Mumbai in 2009. He scored 293 runs in a day, and got out the next day before the public even had a chance to get to Churchgate station in the morning rush.
"Not many people have got two triple centuries and followed that with 293. So there is nothing to be disappointed about," said Sehwag.
India beat Sri Lanka by an innings and 24 runs, and secured the No.1 ranking in the world. Could the long hard journey, which started under Ganguly and went via Dravid and Kumble to culminate under Dhoni, have been possible without Sehwag the savage?
Sehwag made two triple hundreds in Tests, and an ODI double ton. So much for 'proper technique'
Stealing his master's thunder
It's ironic, though, that he was earmarked as a failure even before he had cut his teeth as Test opener. A man with a Test hundred on debut in South Africa was doomed to fail because his feet didn't move, and he was too aggressive to succeed as a Test opener.
Hundreds, double hundreds, triple hundreds. A double century in an ODI. So much for 'proper technique'.
Got any more doubts?
'He never scored in the second innings of Tests.'
Fair enough, he didn't. Well, not at anywhere near his first-innings rate.
But hark your mind back to the match where he stole his idol's thunder, and the man of the match award.
It was 2008, the 26/11 terror attack on Mumbai was barely two weeks ago, and England had come back for a Test series.
In Chennai, India were set 387 to chase on a wearing Day 4 and 5 pitch. They won, putting up the then-fourth highest run-chase in history.
One Sachin Ramesh Tendulkar steered the chase with an unbeaten 103 - an innings that Tendulkar-worshippers (like this writer) use as the defining knock to defend against the view that the master didn't win India many games.
He had walked in to bat on the final day, with 141 runs already on the board. All thanks to a stunning assault in the twilight of the previous day.
Sehwag whacked 82 off 68 balls, with 11 fours and four sixes. He even had the time to get out seven overs before the close of play.
He got the man of the match award. The Tendulkar-worshippers felt cheated. But even we'll admit, it was well-deserved. Sehwag had the biggest impact on the game.
Don't see ball well, still hit ball
An average of 50 in Test cricket is the threshold for greatness. Sehwag ends just short of that mark, with 49.34.
He shouldn't have, for he's a true great. But if you take 'see ball' out of see ball, hit ball, what are you left with? Hit ball, and not very well.
For a man whose game was based on hand-eye coordination and a lightning fast brain, falling eyesight was a death knell. He tried very hard to resurrect his career with contact lenses and glasses, but couldn't.
His bad form carried over to other formats and levels of cricket too. So much so that the Delhi Daredevils, the city and the franchise that Sehwag was synonymous with through thick and thin, cut him loose.
A day before the 2014 IPL auction, Sehwag was at a press conference. One hack asked him if he was worried about the auction. He inferred, correctly, that the question was about the price he would fetch.
"I have earned enough money and fame from the game to not think about financial aspects. I am not at all tense about the auction or the price at which I will be bought. For me, what is important is to play cricket, and the IPL gives me a chance to do so," he said.
Eventually, Kings XI Punjab saved him the ignominy of being unsold by raising their paddle for his base price of Rs 3.2 crore at the last second. Sehwag had a new home.
He kept failing all season, as Punjab went on a charge. Then, in the semi-final, or as it is known as in the IPL world, Qualifier 2, from over No.1, it was vintage Viru. One hundred and twenty-two of the finest Sehwag runs, off 58 balls, with 12 fours and eight sixes.
It takes a lot for a journalist to stop in the middle of writing a report and give a player an ovation. That night at the Wankhede, the entire press box - full of men and women between 20 and 60 who had travelled the world covering inordinate amounts of cricket - stood up as one to applaud a genius. Somehow, we all knew it was his swansong. We weren't entirely wrong.
They don't make them like him anymore
Sehwag made the game fun. Sehwag made the game excruciating. You never dared hope for too much, because inevitably, three successive boundaries would be followed by a wicket. When they didn't, you felt the hope rising that this was another Sehwag special. Maybe it was, and maybe it wasn't. He put butts in seats, and then kept them on the edge.
But more than anything else, Sehwag was a character. Probably still is, though one can't vouch for his off-field-away-from-media-glare antics.
In an era of minimal player interaction with the crowd and the media, most interviews and press conferences are predictable. Journalists ask obvious questions, players give pre-rehearsed answers, media managers cut off any approaches towards controversial topics, and that's that.
Sehwag was a breath of fresh air. Like his batting, if you asked the right questions, he would happily chat. And it was straight from the heart, never rehearsed. But one false step, and bang: you got hit out of the park.
He had recently opened up the Sehwag International School in Jhajjar, Haryana. During the training camp for the IPL, he decided to take his Daredevils teammates for a training session at the cricket ground there. Journalists also accompanied the team in a bus.
Having played a practice match with his teammates, he walked in for a press conference. Before taking questions, he indulged in a bit of good-natured ribbing directed towards this (overweight) writer sitting in the front row.
Once the conference was on, a TV reporter who had a reputation for rambling asked him a question that seemed to go on for more than a test series. He went on and on, but made a mistake as fatal as giving Sehwag a full toss. He ended his question with something as vague as: "so do you think [this or that, one can't really remember]?"
"No," was Sehwag's answer, followed by a grin. The kind you give your friends after cracking a particularly vicious joke at their expense.
That's Sehwag in a nutshell. Don't care who's bowling, what the pitch or the atmospheric conditions are like, don't even care what personal milestone might be around the corner. The ball is always there to be hit.
Happy birthday Viru pa. And thanks for these high moments.
(This story was updated at 4pm on 20 October)