Stop the witch-hunt: Gatlin is a sinner redeemed, not 'evil'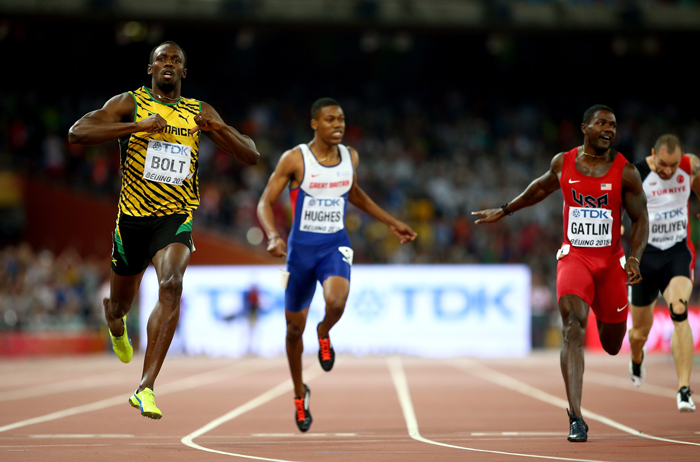 The sin
American sprinter Justin Gatlin was banned in 2006 for taking performance enhancing drugs
His eight-year ban was halved and he was allowed to return in 2010
The redemption
Gatlin has become Bolt\'s nearest rival over the last few years
At the World Championships, he narrowly finished second to Bolt in the 100m and 200m races
The witch-hunt
The media built up the battle between Bolt and Gatlin as \'good\' vs \'evil\'
Even world athletics head Lord Coe said a Gatlin win would\'ve made him queasy
It's somewhat understandable why people were hostile to Justin Gatlin on his return to competitive athletics after a four-year doping ban in 2010 (initially an eight-year ban that was later reduced).
But, even five years later, his presence seems to serve a constant reminder of the muck that exists within the sport.
At a time when athletics is trying hard to clean up the doping mess than perennially plagues it, Gatlin's return and success is viewed as a hindrance to that process, rather than an inspiring story of redemption.
In both the 100m and 200m finals at the World Championships in Beijing, Gatlin has been trumped by the legendary Usain Bolt. While in the 200m, the difference between them 0.19 seconds, in the 100m, it was less than one-hundredth of a second.
'Good' vs 'evil'
The media across the world has had a gala time previewing and presenting these duels between the fastest men in the world as battles between Bolt's 'good' and Gatlin's 'evil'.
Sensationalism is a way of life in a 24x7 media world. But is it fair to paint a man as 'good' or 'evil', just like the characters one would come across in the scripted world of professional wrestling?
Yes, Justin Gatlin took performance enhancing drugs. He then lied about taking them in a bid to save himself. He was still found guilty, and banned from competitive athletics in 2006. Therefore, he is evil. Logic, anyone?
The purpose of a ban
What purpose does a ban serve in competitive sport, or any field of life for that matter? It's a way to make the guilty party realise the folly of its actions, and seek to reform itself. It also serves as a deterrent to other people not to repeat the banned party's actions.
Has banning Gatlin helped the latter cause? No, the sport is still rife with the menace of doping. Has Gatlin come out of the ordeal stronger and more principled? Perhaps.
But unless one gives the man a chance to show the reform he has brought to his life and sport, how will he be able to prove anything? Is there anything to be achieved by continuing to make him the poster boy for all that is unholy in athletics?
The boss is queasy
Bolt is unequivocally good. He is probably the greatest sprinter in history already, and his hunger for gold medals only seems to be growing. That he has never even been mentioned in the same breath as doping makes him one of the few that the adoring public can look to for hope. But to cast Gatlin as the opposite of Bolt is simply unfair.
When Bolt beat Gatlin in the final of the 100m (on 23 August), there was a sigh of relief. The 'right' thing had happened.
Gatlin was banned in 2006 for doping. After a four-year ban, he returned stronger and faster than ever before
A few days prior to the race, Sebastian Coe, the former middle-distance Olympic gold medallist and British lord who heads the International Association of Athletics Federations, had suggested that the idea of Gatlin beating Bolt made him 'queasy'.
Did Lord Coe consider that Gatlin was not a drug cheat anymore? After all, under the rules of his own federation, the American is eligible to sprint competitively.
What does it say about Lord Coe's attitude? Does he not believe in the possibility of reform? Should every violation made by an athlete result in a life ban?
If you allow the athlete to come back, why not make him a shining example of reform, rather than a scapegoat at which you throw hypocrisy?
Faster, stronger
Gatlin is no average runner either. He has run the 100m faster than Bolt's World Championship winning time of 9.79 seconds five times this year. Bolt himself has been struggling for form, which is why this was seen as Gatlin's best chance of beating the Jamaican.
The race would have been a dead heat, had it not been for the taller Bolt's longer reach at the time of crossing the finish line.
Gatlin deserves plaudits for his attitude and tenacity in coming back a much stronger runner than when he had to cheat to compete. He also showed some grace in defeat.
"He's a gamer, he's a showman. Anyone who goes to the line to go against him has to be ready to go to work," he said of Bolt. "But I let things get away from me. I stumbled a little and it cost me the race."
It's high time Gatlin stopped being looked down upon in the same way that society reserves for convicts who have served jail time. Everyone loves to hate the bad guy, but there's no reason why a sinner cannot redeem himself.
If anything, Gatlin needs to be applauded for coming so close to the virtually invincible Bolt. And this time, he didn't even need to cheat to do that!
Let's stop the witch hunt. Lord Coe, are you listening?