See you later Sepp Blatter: eight-year ban for FIFA head makes fans rejoice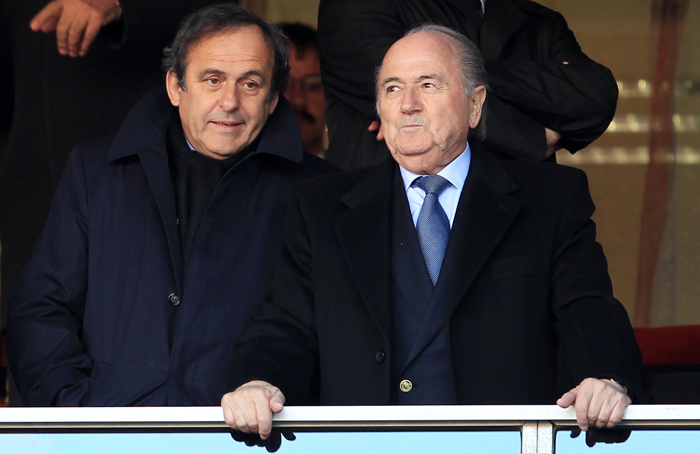 Decision
FIFA president Sepp Blatter and UEFA president Michel Platini have been suspended for eight years by the Independent Ethics Committee
Blatter made a \"disloyal payment\" of 2 million Swiss francs to Platini in February 2011.
The payment had \"no legal basis\".
What Blatter said
Blatter once boasted \"I am the president of everybody,\" as he was also a member of the International Olympic Committee
Blatter was ashamed the committee went against the evidence presented saying, \"I have never cheated with money.\"
More in the story
Both Blatter and Panini will seek an expedited process of appeal with FIFA and the Court of Arbitration for Sport
Blatter wants to be made honorary president while Platini wants to win the February elections
Will this clean-up at the very top benefit the game and its fans or will the two find a way back in?
How the mighty fall! FIFA president Sepp Blatter and UEFA president Michel Platini have both been banned for eight years by the world governing body's very own ethics committee.
The committee ruled that Blatter made a "disloyal payment" of 2 million Swiss francs to Platini in February 2011, which had "no legal basis in the written agreement signed between both officials on 25 August 1999". It had originally recommended lifetime bans.
Read: Criminal proceedings against Sepp Blatter: what's next for FIFA?
Football fans round the world obviously have mixed feelings about this. Blatter has long faced allegations that he's the fount from which FIFA's quagmire of corruption flows. Most fans would be thinking "good riddance to him".
But for decades, Platini has been a man that fans have respected and loved - first as one of the greatest players ever to grace the game, and then as an advisor and administrator. Though he has been a Blatter ally for a long time, it's still a bit difficult to digest that a player who was voted the sixth best footballer in history, was named to the FIFA World Cup Dream Team and won the Ballon d'Or three times, is now disgraced.
The payment
The money was paid to Platini shortly before he decided not to stand against Blatter in the May 2011 presidential elections. Just a month before the payment, Platini had met FIFA member Mohammed bin Hammam to discuss the presidency.
Platini had stopped working for FIFA nine years before the payment, and he claims the payment was made so late because of FIFA's financial situation in the late 1990s.
The committee obviously thought all the 'coincidences' lined up too conveniently.
Both Blatter and Platini were provisionally suspended back in October while their actions were being scrutinised. The judiciary committee, on Monday, ruled that there was no legal basis for the payment and there was a conflict of interest in agreeing to it. "His assertion of an oral agreement was determined as not convincing and was rejected by the chamber," the committee said.
Read more: Maradona launches scathing attack at Blatter and Platini; vouches support for Prince Ali
"Neither in his written statement nor in his personal hearing was Mr Blatter able to demonstrate another legal basis for this payment."
The irony is that the Independent Ethics Committee that has bitten the two men was constituted by Blatter himself. Earlier in the year, the president had told a FIFA congress that officials who were found guilty of misconduct would be thrown out of world football. Little did he know that he was talking about his own future.
Combative Blatter
Till recently, Blatter was the uncrowned king of international sport. Alongside being the president of the world's most watched sport, he was also an International Olympic Committee member, and had once boasted: "I am the president of everybody."
Upon hearing the news of his ban from the media, Blatter called a press conference. He sat with his tie slightly out of place and a big bandage across his right cheek, looking as though he had suffered a literal slap in the face. But he was visibly stirred up, and defended himself in English, French, German and Spanish, declaring that his four-decade-long career shouldn't end in disgrace.
'Top-level' sources reveal the plaster on Blatter's face follows the removal of a mole. Think there might be another one deep in FIFA.

- Martyn Ziegler (@martynziegler) December 21, 2015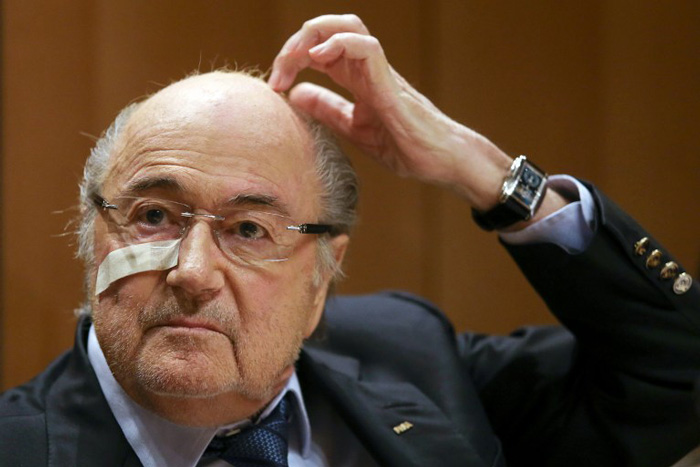 "I am sorry. I am sorry that I am still somewhere a punching ball," Blatter said. "I am sorry that as president of FIFA, I am a punching ball. I am sorry for football. I am sorry for the 400+ FIFA members. I'm sorry. I am sorry about how I am treated in this world of humanitarian qualities."
He said he should've stepped down after the 2014 World Cup. He didn't, winning a fifth term in May, only to decide to step down four days later. The next election is to be held on 26 February.
At one point, he questioned whether the ethics committee had a right to go after the FIFA president. He said he was ashamed that the committee went against the evidence presented, adding somewhat cryptically: "I have never cheated with money."
"I will fight for me and I will fight for FIFA. Suspended for eight years for what? I spoke with my lawyer this morning, who was not surprised the notification of the decision was first made to the media and later to those who should receive it. Communication in this ethics committee is an example of how you shall not do it."
"We thought we had convinced the panel about this situation about the payment by FIFA to Michel Platini for an on-going contract which was never terminated."
But Mr Blatter, if there was no written agreement anywhere, there is no tangible proof of the contract, and hence, surely, the payment has no basis?
"We are in a so-called oral contract or gentleman's agreement and this was made in 1998 just after the World Cup in France where Mr Platini approached me, and I approached him because we were together there, and said he would like to work for FIFA."
Not the only allegation
But it wasn't just the suspect payment of 2 million Swiss francs that brought Blatter down. Allegations have been floating around ever since he took over as president in 1998. The biggest ones were about the awarding of the 2018 and 2022 World Cups to Russia and Qatar respectively.
Also read: Banned FIFA president Blatter claims 2018 World Cup bidding process was fixed
Even back in 2006, he tried to stop a book on FIFA's scandals from being published.
In 2010, accusations of bribery and financial mismanagement were commonplace; even World Cup bid-rigging. Deals were cut by competing bidders to support each other and two members of the governing Executive Committee were suspended even before the vote took place. Both the men - Amos Adamu of Nigeria and Reynald Temarii of Tahiti - were caught on tape asking for money in exchange for their support.
In 2011, weeks before the FIFA presidential elections, one of the FIFA vice-presidents, Jack Warner, arranged a meeting of Caribbean soccer officials along with then-presidential candidate Mohammed bin Hammam of Qatar. These meetings were an opportunity for bin Hammam to seek out support, but one of the delegates, Fred Lunn of the Bahamas, received a payment of $40,000 and took a picture, reported the offer and returned the money. Almost three dozen officials were barred or suspended by FIFA. Bin Hammam dropped out of the race and Blatter won the elections. Many have wondered if there was arm-twisting involved.
Appeals to CAS
Both Blatter and Platini will appeal this verdict at the Court of Arbitration for Sport, and both have strong motivations to do so.
Blatter wants to leave FIFA on a high and be made honorary president by the 209 member federations.
Platini, on the other hand, wants to clear his name and be declared an official candidate in February's election, which he was the favourite to win. They are likely to seek an expedited process.
Blatter ended his press conference with words of optimism, saying "I'll be back" in true Terminator style.
But billions of football fans around the world would be hoping that if indeed they are guilty, CAS throws them out for life. FIFA and the game of football has suffered the ignominy of corruption allegations for decades now, and we've had just about enough.
If a clean-up is to start, it must start at the top. Two million Swiss francs may be peanuts compared to the value of the game of football, but even greater is the value of the emotions fans invest in the game. If Blatter and Platini are guilty, they must be made examples of. Enough is enough, heads must roll.
More in Catch:
Sepp Blatter and Michel Platini banned for 8 years by FIFA ethics committee
DDCA muck: the questions facing the Subramaniam panel and their answers
The Year in Air Miles: tracking PM Modi's flying visits to India in 2015
Who says we're intolerant: 15 times bigotry and idiocy thrived in 2015