Pro cycling has a new problem and it's not drugs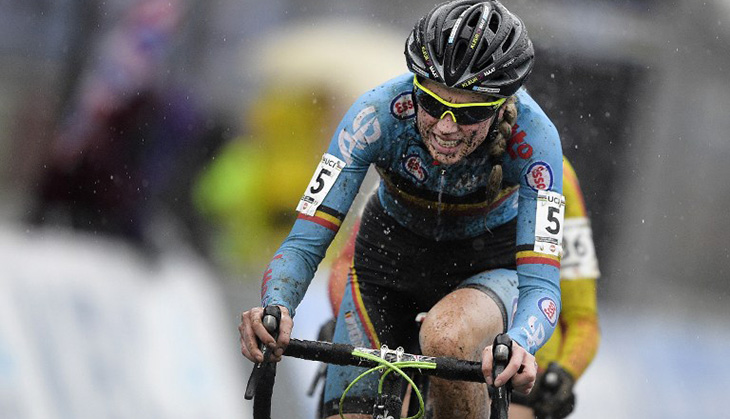 The rumours have persisted, testing done numerous times, cyclists have gotten mad and no one has been caught.
Until now that is.
19-year-old Belgian cyclocross racer, Femke Van den Driessche, lined up at the U-23 World Championships during the last weekend of January. A broken chain forced her to retire one lap from the finish. That's when it all went downhill, eventually ending in her being banned for six-years from the sport.
Before we get into the details, here's what's happened post her crash:
Her bicycle was inspected.
Cables running from the seatpost to a small hidden motor inside the crank was discovered.
"A hidden motor and battery inside the seat tube, controlled by a Bluetooth switch inside the handlebars."
Van den Driessche first claimed it was her friend's bicycle. The friend also confirmed it.
Many people, lead by cycling great Eddy Merckx, have called for a lifetime ban.
Bicycle manufacturer, Wilier Triestina, are suing Van den Driessche.
An in-depth and joint investigation was conducted by the Italian and French press.
They used "secret thermal cameras to film inside bikes" to get to the root of the problem.
Three months later, Van den Driessche was handed a six-year ban from the sport by the Union Cycliste Internationale (UCI).
The ban is retroactive. So it starts from October 2015 and ends just before the start of the 2021 season.
She's also required to pay a fine of 20,000 Swiss francs.
Van den Driessche's only defense has been to deny any knowledge of the existence of such a device in her bicycle.
The press and ruling bodies have been at it for years but haven't been able to find any smoking gun in the professional men's peleton yet.
Italy's Corriere della Sera and France's Télévisions Stade 2 used thermal cameras that were disguised as television cameras to carry out an insanely detailed investigation uncovering proof that seven-pro cyclists were moto-doping - as they are calling it - during two races in Italy last month.
What is motorised doping/mechanical doping?
The short answer is a motor hidden inside the bike frame. It could be underneath the seat, inside fake water bottles or inside the frame of the bicycle itself. These motors are controlled by a Bluetooth switch located inside the handlebars.
Apart from a hidden motor, the boosting of pedalling power can also be achieved by inserting electromagnetic wheels.
This one works by using tiny electromagnetic coils inside the wheel that in turn propel the bike further.
Is it worth the trouble?
Yes, if you want to win. Any advantage gained before or during the race is crucial. Like traditional methods of doping, mechanical doping can also provide a much-needed distinct advantage to the rider.
Electromagnetic wheels can provide a rider with up to 60 watts of pedalling power. Motors can add up to 5 kmph. Though the motors last for just an hour, they can provide a vital rest period for the cyclists to make a go near the end of the race.
How does the UCI find these motors?
For years, a host of methods were used to see if motorised doping was a reality. It started with x-ray and ultrasonic machines to find internal motors. Post that, the UCI turned their attention to thermal cameras, which were used to detect motors in motion. The UCI has also tried other methods including a magnetic resonance app and, previously, random testing.
Has this happened before?
Back in 2010, Davide Cassani accused Fabian Cancellara of motorised doping. His accusation was based on suspicious hand movements by the latter during 2010s Paris-Roubaix and Tour of Flanders. This seemed to indicate a motor hidden in the frame of his bike. Cassani alleged that "the Swiss rider speeds away from other riders after moving his hand over his right brake lever momentarily."
Cancellara, for his part, denied these allegations.
Then there was Ryder Hesjedal. Two years ago, after crashing during stage seven of the 2014 Vuelta a España, something strange happened to the rider's bicycle.
Instead of being stationary, as a bicycle should be after falling to the ground, this one seemed to have a life of its own. The wheels continued spinning and the bike continued moving. The UCI launched an investigation but found nothing.
Most recently, in 2015, Alberto Contador was at the centre of controversy. Philippe Brunel, writing for
L'Equipe
, claimed that Contador had "faked a puncture" in order to ditch his bicycle and swap it for a non-motorised one as to not get caught after the race. This was during his win at the Giro d'Italia in 2015.
Contador said the allegations were 'ridiculous'.
The UCI for its part is pushing for a lifetime ban for Van den Driessche. Tour de France director Christian Prudhomme is calling for the most "severe measures" to be taking against those who cheat. The UCI has now developed a scanning machine that tests for these motors. It is unclear whether this device discovered the motor in Van den Driessche's bike or not.
Lance Armstrong's use of performance-enhancing drugs rocked the world. But this is a new, potentially destructive strain in the world of professional cycling. After nearly a year of bicycle checks, a motor has finally been found. The fact that this is the first means it's almost certainly not the last.
Edited by Payal Puri