Manohar knocks Srinivasan off ICC perch, begins operation BCCI clean-up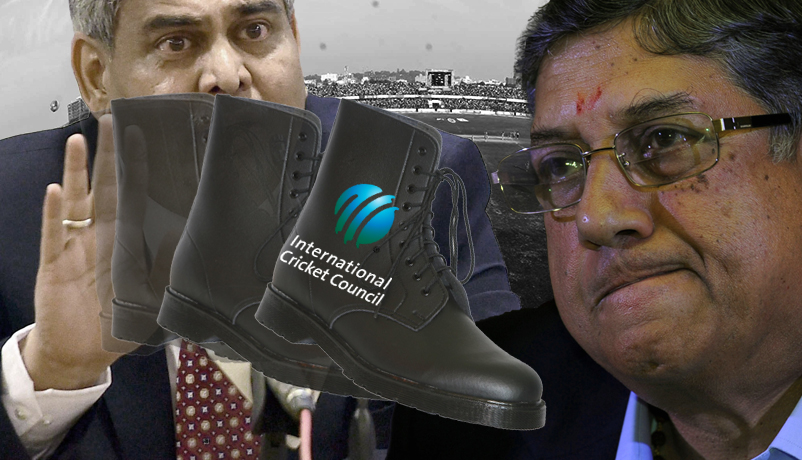 The changes
Shashank Manohar replaces N. Srinivasan as the ICC chairman
Roger Binny has been removed as national selector owing to son Stuart being an India regular
The signals
Manohar wants to show that operation BCCI clean-up has begun in earnest
Test status to Dharamsala, home of BCCI secy Anurag Thakur, is questionable
More in the story
Other important decisions taken at the AGM
Why Sharad Pawar has got an ICC position
After the BCCI AGM in Mumbai on Monday, the Shashank Manohar who interacted with the media was much the same as he's always been.
For starters, there was the rather acid comment that "contrary to the expectations of the media", the BCCI had unanimously passed new rules regarding the conflict of interest issue.
Of course, there can never be a consensus between the BCCI and the media regarding what is transparent and what is not. The BCCI has firmly believed over the years that a concrete wall, painted black and set in the middle of a dark room, is the paragon of transparency.
The media, most of the time rather naively, thinks otherwise, and laments the fact.
So for the BCCI president to be sarcastic about the media's observations wasn't such a big surprise.
Nor was there any surprise in the fact that N. Srinivasan was shown the door as ICC chairman. If he is not the BCCI boss, there's no way he was going to be ICC chairman.
More power to Pawar
So Manohar takes over till June 2016. But that isn't the interesting bit. Sharad Pawar is ICC chief as well!
Manohar takes over till June 2016. Sharad Pawar is ICC chief as well - albeit as a stop-gap
Well, not quite. He is more of a stop-gap, an additional director, for those who are interested in semantics. His brief is to attend ICC meetings as and when required, if Manohar is too busy with his BCCI responsibilities.
One must admit, there is ingenuity in winning over potential opposition. Pawar was possibly the only person who could potentially spell trouble in the future - as he has been in the past.
So it was a good move to give him a post and ensure that he isn't in town long enough to create said trouble.
But that's only for now, so watch this space.
Roger Binny and the conflict of interest
Conflict of interest is something that is present at every level of the BCCI, be it as commentator-official, a salary-earning member, an office-bearer, or a member of some IPL junta.
It is, in fact, one of the things that the BCCI has promoted and thrived on for decades now. Everyone is someone somewhere. So Manohar's effort is to create a situation where all such conflicts will be removed. And that's laudable.
Whether it is doable or not remains to be seen, since most things are done 'in principle' in the Board.
Much is being made of Roger Binny's removal as selector from South Zone (replaced by MSK Prasad of Andhra Pradesh), but ideally, it should have been done the moment Stuart Binny was given the nod for the Indian team.
But hang on a minute. Does that mean anyone who has a son who may play for India some day won't ever be considered for a BCCI post?
A little strange, this new-found righteousness about fathers and sons. But it's a new world...
Other important decisions
In other news, Ravi Shastri was sent packing from the IPL governing council. Which, given the stony silence from the normally thundering Mumbai man, isn't such a bad idea.
But good old Rajeev Shukla stays! For all the mud slung in and around the IPL, Shukla manages to hold on to his hat and the chairmanship. Impressive.
Dada is in action too! So much so that he couldn't get to the US for the Tendulkar-Warne all-star masala. Maybe we'll see him in the next game.
He replaces Anil Kumble in the technical committee. Slightly confusing all of this though - so Sourav Ganguly cannot now do commentary and Kumble can? OK. Juggling can be a fascinating thing.
We can also be sure that granting Test status to Dharamsala has no other motive than to spread cricket into the mountains. Board secretary Anurag Thakur just incidentally represents the region.
Also Indore, whose association president is Jyotiraditya Scindia. Scindia has also received a role in the IPL. All these are just steps to clean cricket of corruption and favouritism.
Well begun?
Manohar means well, that we know for sure. There is no question of doubting his abilities, commitment or focus. But the BCCI is a beast that can only be tamed to a certain extent. Beyond that, it tends to snap at all concerned, including those trying to make the said changes.
So let's see how it all pans out. Any changes in the Board are always interesting, though not necessarily welcome. But then, what would the media do if everything was hunky-dory?
We'll wait and see how things go. Like the Bihar assembly elections, the result is just the beginning. Many games still will be played. All of them may not be cricket.