Kohli's India No.1 again in ICC Test rankings. But does it really matter?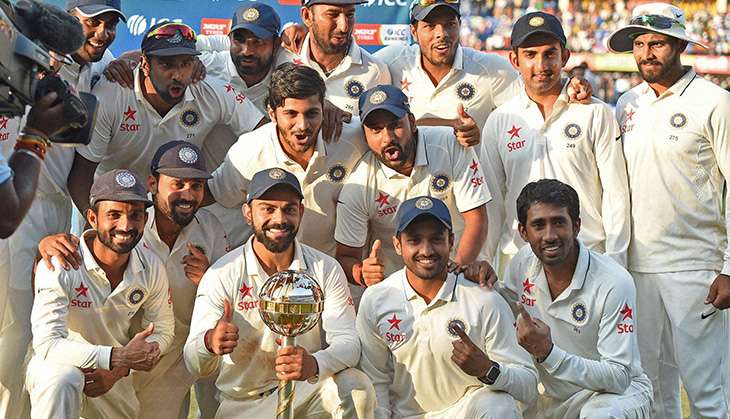 The mace presented to India Test skipper Virat Kohli at the end of the three-match series with New Zealand is quite a splendid thing. Rather in sync with the festive season around.
This is a season of weapons as good prevails over evil - be it the bows and arrows of Rama demolishing Ravana's regime, or of Durga driving her trident through the evil heart of Mahisasura.
This was also a time in the younger days when we cherished our own weaponry - swords made of plywood and silver paper; rather dodgy bows and arrows made of bamboo. And of course, maces.
In terms of effectiveness, however, those maces and the one handed over by the International Cricket Council are pretty much at the same place.
Do the rankings matter?
This discussion, on whether the ICC rankings matter or not, is almost as old as the ICC itself.
In truth, it depends. For example, I would put Pakistan's recent rise to the top spot ahead of India reaching the same landmark, simply because of where it was achieved.
That too, if I really had to compare, under duress.
It doesn't really matter. It is irrelevant if you are at the top of the ICC Test rankings or at rock bottom, since what matters is how the next match goes.
In cricket, you will always have one nation travelling to the other for long series. More often than not, the home side will prevail, since they own the place.
Unless, of course, the visitors are way too powerful. Or the hosts just aren't into it. Like we saw in the West Indies.
Would any win against the West Indies (in their current Test form) be even considered when it comes to finding out who the best side is in the world? If no, then the mace shouldn't be in India today, should it?
Also, what do the rankings do for you? The only way out from the top of the table is downwards.
All it does is add pressure. "Oh you are the top ranked Test team in the WORLD!" (Irrespective of if the world is basically nine nations. At times, barely that.)
So now you have the double duty of winning and also protecting your top ranking.
This would be fine if there was any threat of being relegated, like in football leagues. No such fun here.
Will add to courtroom drama
Cynical as it may sound, I suspect at least part of the fanfare surrounding the presentation of the mace to Kohli will be seen when the Board of Control for Cricket in India (BCCI) faces off with the Supreme Court again soon.
It would be quite the shame if the world's top Test team can't finance events at home! I can almost see that argument coming.
Cynicism aside, I'm not sure if the players are too bothered with these rankings either. It is just the fringe elements who go ballistic.
Not really worth the bother, this.
Ashwin's quest for greatness
Since 2011, when Ravichandran Ashwin made his Test debut, there have been heaps of discussions about whether he was good enough.
One of the biggest reasons for this question was that there was a time when anyone remotely associated with Chennai Super Kings and N Srinivasan had a fairly strong possibility of making it to the India team. Many did too.
So Ashwin's initiation, while merited, was a little less than appreciated all around.
Five years and 220 Test wickets down the line, we can safely assume that the arguments have been settled.
Figures can be misleading, especially in cricket. You can get 30 wickets in a three-Test series, but that series could be against Zimbabwe. They would still count as Test wickets.
So what really needs to be seen is how effective a certain bowler or batsman has been against the best.
As far as we can see, Ashwin has probably begun to flower as a bowler in the past couple of years.
He has been a lynchpin in the Indian bowling unit for these two or three years, while all the other comers, sadly including Harbhajan Singh, have fallen by the wayside.
Bhajji did get another shout, as we had all anticipated, once the new BCCI administration came into being. But he isn't half the bowler without Anil Kumble on the other end. And it showed.
Virat Kohli isn't a skipper who will sit back and give such bowlers a long rope. He is impatient to win, so it was just a matter of time before he opted for his best spinning and winning formula - Ashwin and Ravindra Jadeja.
Ashwin has it going for him right now, as the stats at the end of the New Zealand series speak for themselves.
At the same time, his wickets come mostly at home. This isn't a criticism, just an observation, since I think he is coming to that phase of his career when he will become quite the challenge, both home and away.
But before we go away, there's a slew of Test cricket to play at home. By the end of this winter, Ashwin may be aspiring to become a great bowler, not just a very good one.
Edited by Shreyas Sharma
More in Catch
SC vs BCCI: To put a silly point on a gully cricket match
Indian cricket gets Kumble as coach. And it's superb news
The time for mucking about is over: SC gives BCCI six months to clean up