Kohli and Shastri's tennis partnership: conflict of interest brewing?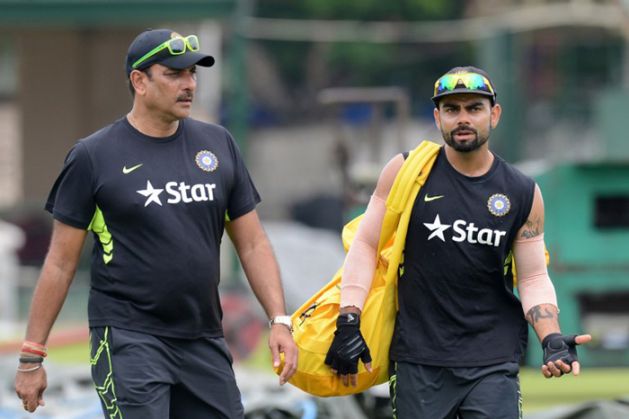 New partnership
India Test captain Virat Kohli has become a co-owner of the IPTL tennis franchise UAE Royals
Team director Ravi Shastri is an advisor to the franchise
Potential impact
Kohli and Shastri are the decision-makers in the Indian Test team
Their off-field partnership is unhealthy for the rest of the players, in the interest of fairness
Legal tangle
The Supreme Court-appointed Lodha committee is looking into a revamp of Indian cricket
This case of potential conflict of interest is another one it will need to investigate
This could put Kohli and Shastri in hot water
India's Test captain Virat Kohli and team director Ravi Shastri seem to have given the Supreme Court-appointed RM Lodha committee something new to ponder over.
The committee has been tasked with suggesting wide-ranging reforms in Indian cricket administration. And now, with Kohli and Shastri now coming together to run a professional tennis team, leading to a question of conflict of interest, it seems the committee will have one more case to frown upon.
It was revealed on 10 September in Dubai that Kohli was a new co-owner and Shastri an advisor of the UAE Royals, a team that would compete in the Mahesh Bhupathi-promoted International Premier Tennis League (IPTL). This league is to be played from 2-20 December in different countries, including India.
Not the first instance
Conflict of interest is nothing new in Indian cricket, and it has had the patronage of men who have ruled the BCCI, including senior politicians.
Some of the greatest players, like Sachin Tendulkar, Rahul Dravid, Sunil Gavaskar, Anil Kumble, Sourav Ganguly and Krishnamachari Srikkanth, have had the allegation levelled against them at one stage or another.
India's Test captain is co-owner of tennis franchise UAE Royals. The team director is an advisor
Apart from them, N Srinivasan, chairman of the International Cricket Council and former president of the BCCI, has also faced accusations of huge conflicts of interest as he held positions in the BCCI while also owning IPL team Chennai Super Kings. Former BCCI president AC Muthiah even filed a case in the Supreme Court against Srinivasan, but curiously withdrew it.
Is there a conflict of interest?
The coming together of Kohli and Shastri for a tennis team clearly has nothing to do with cricket, so it may not constitute a case of conflict of interest at all.
But the key contention is that they are an integral part of the national squad. Both are members of the tour selection committee that picks the playing XI, and key strategy makers.
It is here that it may lead to some discomfort for these two, the rest of players in the squad, as well as the BCCI. The Board must take a stand on this issue, as it involves the captain and the team director.
Moreover, Kohli, who is currently only Test captain, could soon become captain of the shorter formats of the game too, once Mahendra Singh Dhoni retires. Then, his association with Shastri could be more deeply scrutinised, as they would have more power at their disposal, something that his predecessor Dhoni enjoyed till recently.
The time isn't ripe
Either way, the timing of this news does not suit Indian cricket. The South African team is set to land in India in about two weeks for a lengthy 72-day tour, which promises to be competitive and intense.
South Africa are the No.1 team in the ICC Test rankings (India are 5th), third in ODIs (India are 2nd) and sixth in T20s (India are 4th).
It is the Test matches that are expected to be fought most intensely, and the Indian team needs to be at its peak - form-wise, physically and mentally - to succeed.
This will serve as nothing but a distraction for the other players in the team. A seven-day preparatory camp for 30 players is set to start on 21 September in Bangalore, and one wonders if they, especially the juniors, would be able to focus on the task at hand as this issue burns in the background.
Board cautious, committee suspicious
The BCCI has reacted cautiously, while sources close to the Lodha committee said it would certainly look closely into this case, adding to several similar cases it is already studying.
A top BCCI official conceded that Kohli and Shastri are not setting a good example.
"It is not good for Indian cricket and not good for players," the official told Catch. "People in general are becoming more and more shameless. The IPL betting-fixing case has not completely settled, and now we have a new controversy."
A source close to the Lodha committee said it was not healthy for the Indian team.
"If it is an academic question, that owning a team constitutes a conflict, I would say 'no'. Nothing prevents them from owning a team which has nothing to do with cricket. I don't know what their connection is," the source told Catch.
"But if Kohli and Shastri are in it and their ownership of the team is a partnership of some sort, it is very strange because one is the national captain [Kohli] and the other is essentially a team coach, though they may call it whatever they want.
"I think that is too cosy for comfort. It should be at an arm's length - the relationship between the players and those who are in management. That would be preferable."
A question of credibility
The BCCI is already preoccupied with a spate of court cases - at last count, there were 57 cases involving the world's wealthiest cricket body - and now it will have to address this new issue too.
The main reason why successive BCCI administrative set-ups have shied away from taking strong action against offenders is due to its internal politics.
But with the Supreme Court lately taking cognisance of the IPL betting scandal following a PIL, contentious issues cannot be swept under the carpet anymore. The Board must not only take punitive action against the transgressors, but must also be seen taking action in public. The time for a private rap on the knuckles is long gone.
When the Jagmohan Dalmiya-Anurag Thakur combine took over the reins this March, people hoped that they would bring administration back on the rails, after the Board was crippled for close to two years due to the IPL betting case in the Supreme Court. But this has not happened so far.
To be fair to Dalmiya and Thakur, they have an onerous task at hand and the court cases have tied their hands to a large extent. One hopes they would take a strong stand on the Kohli-Shastri issue and also tell the world what it is. Only then will fans' faith - and the BCCI's credibility - be restored again.