Kashmir's first female football coach Nadiya Nighat breaks gender stereotypes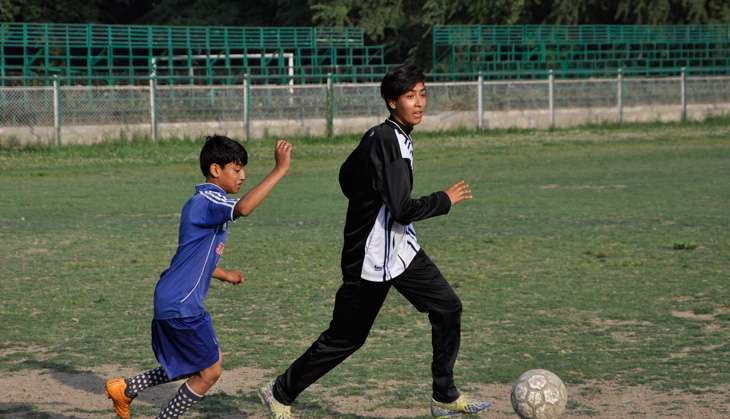 Breaking gender stereotypes and fighting routine taunts from neighbours and relatives, 19-year old Nadiya Nighat from Srinagar's Rambagh area, is now Kashmir's first female football coach-cum-referee.
Nadiya's dreams are big. She has the courage to dream and conviction to realise them. She is an all-out success story. Her dogged determination is an inspiration for other Kashmiri women who want to chase their dreams.
Idol Ronaldo
Since early childhood, Nadiya wanted to emulate Brazilian star footballer Ronaldo, and play exactly like him.
"Ronaldo's cuts, techniques and dribbles would inspire me while I'd envy the Argentinean star Lionell Messe for his speed on the soccer playfield," Nadiya tells Catch,while leading an enthusiastic group of 20 odd boys at Srinagar's polo ground, in the evening practice session.
For a young girl born in restive Jammu Kashmir's summer capital Srinagar, it was not easy to follow her dream. However, with grit and dedication, Nadiya didn't wait for things to happen for her; rather, she made things happen.
Bend it like Nadiya Nighat (Syed Shahriyar)
Family support
"It was very difficult for a girl like me to play football alongside the boys. Even some of my close relatives and neighbours felt that I couldn't play football. They thought that the girls were only meant for receiving education and raising a family," she says with a sigh.
In the beginning of Nadiya's journey, even her mother did not have much hopes, but she adds that "my Papa (father) always believed in my abilities and has been very supportive from day one".
"Without my family's support nothing was possible. Now even my Mom believes in my dream," she says.
Playing among the boys
As a 10-year-old schoolgirl, she'd practice football with 47 boys in the neighbourhood at Srinagar's Amar Singh College grounds, where a local coach, Mohammad Abdullah, trained her.
Nadiya's interest in the game of football kept growing with each passing day.
Two years ago, in 2014, she took basic coaching courses with the Jammu and Kashmir Football Association (JKFA). She also passed the D-Licence course.
Initially, it was "very difficult" for her to play alongside many boys, she says.
"In a male-dominated society like ours it's quite challenging for any girl to challenge the gender stereotypes," she says, adding that she played her first Nationals under the auspices of Jammu and Kashmir Youth Services and Sports at Nagrota in Jammu.
After early hiccups, Nadiya says that "everything is going fine for now" but for her "satisfaction is the death of desire". She wants to achieve more and live her dream.
Football coach Nadiya Nighat giving directions. (Syed Shahriyar)
Hungry for more
Nadiya has at least 10 national and state level awards in her kitty and has officiated as a referee in a B-Division football league and also a soccer tournament organised by prestigious College of Women in Srinagar.
She is one of only two female representatives from the Kashmir Valley in the Jammu & Kashmir Women's football team for the year 2015/16. In 2015, the All India Football Association awarded her with the title of "Best Referee" for officiating in the Boys B-division tournament organised by the JKFA.
"Very soon I'll be officiating as a referee in another tournament being organised by the CRPF [Indian paramilitary Central Reserve Police Force], she says. Nadiya's next goal, she says with a confident smile, is "to become an international coach for FIFA".
Nadiya trains both boys and girls. Currently about 18 girls receive training from her.
However, owing to Ramzan, the months of fasting, not many girls are turning up for the routine practice. Their absence in the training session does not deter her from doing her job though.
"It feels great to train both boys and girls. I must tell you that our girls are hugely talented. Insha, Sabreen and Afsha to name a few," she says while recommending that "the parents and the society should be more supportive to make a difference."
All praise for Nadiya
She says that her coaching job gives her a "sense of achievement" but she expresses her wish that more and more girls should be coming forward to play soccer to make the Jammu & Kashmir Football team.
But it was not a smooth journey from the start. As Kashmir's first-ever football coach she felt scared on day one.
"Yes, I felt scared. I thought if I made mistakes as a coach I'd be ridiculed and mocked at. But once I asked for the feedback all the boys were all praise for me. Their responses overwhelmed me," she says.
Like many boys practicing at the Polo Ground, Burhan, 18, from Sonwar Srinagar is also attending Nadiya's coaching session.
"I feel very good to train under our coach Nadiya. My shooting and passing skills have improved greatly," he tells Catch while Nadiya lines up two separate groups of boys to practice the headers and straight passing.
Syed Mehdi, 17, has come all the way from downtown Lal Bazar to attend Nadiya's training session.
"She [Nadiya] is very humble and dedicated coach. I am fond of her frankness with which she communicates to us to improve our game and skill set," he says.
Speaking to Catch, another boy says that "Nadiya makes us practice with heart".
Nadiya's only worry is that "the conservative mindset of the Kashmir society deters many girls from pursuing soccer with passion".
Edited by Sahil Bhalla