It's time for women to shine: AIFF launch Indian Women's League
In a case of better late than never, Indian women's football will finally have a league of its own. With many sports getting their own professional leagues in an attempt to develop sports and cash in on their ever-growing popularity in the country, women's football has been left behind. Now, after the Indian women's football team have won the South Asian Football Federation Women's Cup (SAFF Women's Championship) for a fourth time, the All India Football Federation (AIFF) has finally organised the Indian Women's League (IWL).
However, thanks to inadequate planning and rushed implementation, the league will only be a short duration event, much like the Premier Futsal League that took place in 2016.
Juhi Shah, player, referee, coach, and the woman at the forefront of women's football in India tells Catch that the league is only being run for two weeks due to lack of planning and because the "AIFF needs to plan an India camp for the upcoming AFC Qualifiers". Furthermore, Shah says that the teams "were only intimated about the league around 10 January giving them less than 17 days to form a team, call players and figure out logistics/staying etc".
This despite plans for the league being announced all the way back in April 2016 by AIFF president Praful Patel.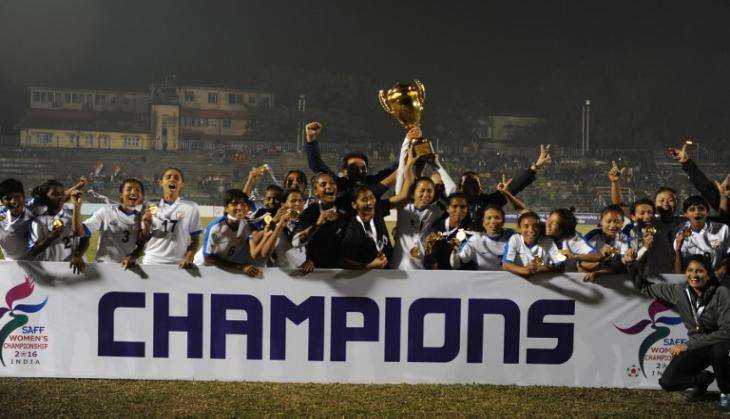 DIPTENDU DUTTA/AFP
The Indian Women's League
In October the preliminary rounds started. Now, on 24 January, the league schedule has finally been announced. The league will run from 28 January and end on 14 February. Six teams - Jeppiar (Puducherry), Eastern Sporting Union (Imphal), Rising Student's Club (Cuttack), Football Club Alakhpura (Haryana), Aizawl FC and Pune City FC - will take part in the inaugural edition. They will play in a round-robin format. The top four teams will advance to the semi-finals and all matches will take place at Delhi's Ambedkar Stadium.
The launch event had wrestler Sakshi Malik, Sports Minister Vijay Goal and chairperson of AIFF's women's division Sarah Pilot. There were also representatives from each of the six teams. AIFF president Praful Patel had this to say at the launch: "We at AIFF just cannot look at boys. In the last four SAFF championships Indian women's team have won. So we need to make women's team stronger. We need to make professional women football players and the IWL is a step in that direction. They are hoping this will inspire more women's footballers to take up the sport and work towards the goal of qualifying for the World Cup. Also, they hope that this league, once expanded, would keep Indian players playing in India and not in neighbouring countries such as Maldives and Nepal.
"This is a beginning for the women's football in the country. We are starting with six teams and hope to expand it to 16 in future. This gives our women footballers the option to take it up as a career," said Patel, adding that with the women's team ranked 54 compared to the men's 129, the former had a greater chance of being the first to qualify for the World Cup.
Catch spoke with both Malini Banerjee and Juhi Shah to learn more. Banerjee is a former media & public relations manager for ISL club Delhi Dynamos FC and now a freelancing and advising stakeholder in the sport of football (players, media agencies, clubs, academies) on various projects. Shah, meanwhile, has made her name on the pitch. She is a referee, player and coach and has long been associated with women's football in India. While both of them are mostly positive on the IWL, there are some issues where they disagree. They both agree that the league needs some time to establish itself before players can start calling it their home. Where the two of them differ is on the telecast of the league.
Edited excerpts:
SB: The idea for the women's league was floated around the same time as the ISL. Why do you think it took two years since ideating on a women's league for it to become a reality?
MB: Men's football in India has been professional for a very long time now. ISL was possible primarily because of that existing set-up. Players, clubs, training facilities, sponsors, the ISL was a result of all the hard work that the AIFF and the various clubs had put in for years.
The women's league, on the other hand, is the first attempt at professionalising football for women. None of the existing premier clubs in the country has a women's team, be it Bagan, KEB, or BFC. Bembem Devi, one of the very few professional women footballers of the country, used to play for a pro team in Maldives. Without sponsors, without infrastructure, in the absence of big clubs, it's a miracle that AIFF actually managed to pull this off in just 2 years!
JS: Since 2014 AIFF had been giving false hopes to the young female players in India. Every year they would talk about investing money and starting a women's league. Talking about conducting a league is very different than actually sitting down with its stakeholders (female footballers, coaches, teams) and discussing how to go about organising the league. If the AIFF Executive Committee had put in more efforts back in 2014, I am sure the league would have more than 6 teams playing as it currently stands.
SB: There have been many local women's leagues - Calcutta Women's League and one in Mumbai and Goa. So clearly the lack of female players wasn't the reason for the delay in starting a national league. What do you think it was?
MB: Yes, there is no dearth of talent in the country. But, the teams they all play for are amateur. There are no transfers, contracts, agents. You have to understand that talent alone is not enough. To start a professional league, a lot more aspects need to be delved into. Just starting a league is one thing. And, sustaining it is another. In order to create a sustainable property, preparation is of utmost importance. And, I will reiterate, this 'delay' isn't a delay at all.
JS: AIFF clearly wanted only I-League & ISL teams to take part in the IWL. If they had actually done some ground work they would realise that most of those teams don't have a women's team.
Most of the women's clubs across India are run by women coaches or a few men coaches who are passionate about the women's game. If the main IWL was opened for teams outside of the I-League and ISL we could have seen more than 6 teams playing and with many India U-19 & U-16 players who are, as of now, left without a team. As this league is more beneficial for the younger kids then compared to the senior players.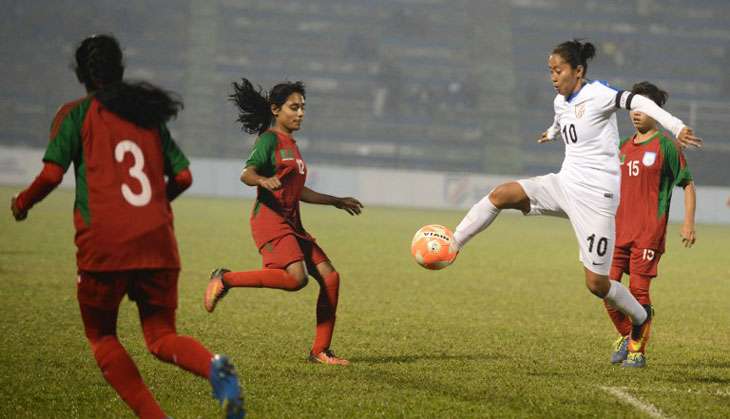 AFP PHOTO/DIPTENDU DUTTA
SB: Do you think viewers of the sport will be willing to give the women's league a shot? If not in the stadiums, on the television at the very least, that is, if it is telecast?
MB: As far as I know, it is not being telecast this season. But, I think it has great potential to get numbers. Not just on television, but in terms of pulling crowds to the stadium. I've seen some of these girls in action. They're incredibly good! The national team has just won the SAFF Cup again. Internationally, they're ranked about 70 places higher than the men's team. These are confident girls who love football and play very well! I have a feeling that, over time, the women's league will have a greater fan following than the men's.
JS: I don't think a telecast would help a lot. As telecasting the IWL could cost a lot of money and since it's at its initial phase it would be more fruitful to have live streaming on YouTube/Facebook. The money used of telecast could instead be used for either organising more international friendlies for the Indian Women's team keeping in mind that they are soon to play the AFC Women's Qualifiers in April 2017.
SB: Why do you think a league on the lines of the I-League and not the ISL was set up? Did they think it would be difficult to attract female footballers from outside the country?
MB: The I-league is the official top-tier football league in the country. It is recognised by the FIFA and AFC. And, foreigners have been playing in that league for YEARS now. So, firstly, let's not fool ourselves & believe that ISL has brought foreign players to India for the first time.
The intention, purpose of the women's league is very simple. For now, it is purely about professionalising the game for women in this country. Everything else will follow. I'm pretty sure that as the league progresses and succeeds over the next few years, international players will also be tempted to come and play here. It is up to people like us to encourage and support this league so that it reaches a stage where it attracts players, sponsors, and fans from the world over!
JS: The IWL is going to be played in a span of 2 weeks. Most of the teams that are going to be playing in the league do not have the finances to pay the Indian Women's Football team players, forget the local players on the team. Looking at it from that perspective I still feel that calling in players from outside could take a back seat for 2-3 years till we actually start running the league on a longer and more organised basis. I-League teams themselves don't have enough funds to be able to even put up a team for the IWL.
SB: With the league scheduled to last barely over two weeks, do you think the duration was kept short to maximise interest in the first season?
MB: I don't think so. The AIFF is, I believe, testing waters. The league is still in an experimental, nascent phase. It makes sense to keep it short and gauge the response it generates. Also, we have to understand that in order to run a longer league, more monies are needed. I'm sure as and when sponsors come in, the league will automatically get bigger and longer. In fact, Mr Patel mentioned at the launch that there are plans to have more teams next season.
SB: Do you think women footballers can make a living from the league within, say, five years or will they still have to keep playing in neighbouring countries such as Nepal and Maldives?
MB: Very difficult to comment, at this point. Let's see how this league fares this season and the next. For now, let's just feel happy about the fact that football is now a recognised profession for women in India. Girls can now tell their families that they've chosen football as their career. That's an achievement in itself, is it not?
JS: Yes, if the league is planned in a systematic and hassle-free manner along with the teams figuring out a solid mechanism to run a sustainable and yearlong program for the women footballers, then the women footballers in India could make a living out football. Though we must keep in mind that the league should not only be a platform for giving the players an opportunity after 5 years, but should be a league which helps India find quality footballers who are able to help India win medals at the international level. Only then will this league be of any use.
SB: With the women's national team ranked at 54, higher than that of the men's at 129, do you think it's fair to say that women would qualify for a world cup before the men?
MB: I'm the last person to make predictions. Also, internationally, men's football works very differently from women's. I, personally, think it's unfair to compare the two. Having said that, I do think that the women are a fantastic team, and I wouldn't be surprised if they make it to the World Cup sooner than later.
JS: I have mentioned this earlier and I will repeat this again. The Indian Women's Football team will have to work hard to try and qualify for the 2027 WWC. Only reason being AIFF doesn't pay attention to the women's side of the game. Starting the IWL is a great step forward. But this step needed to have been taken back in 2013/14.
The women's team hasn't played an International friendly since May 2013 which was played against Bahrain in their country. The IWL has many senior Indian women football players but we also need to ensure that the junior players get a chance to play and show their skills. AIFF should also make it compulsory for state associations to organise a women's league in their own state to attract women footballers.
SB: Malini, you've been with the Delhi Dynamos team, full of men. Has there ever been any talk of women's football, if not in India, then outside?
MB: Just to give you an idea, Dalima Chibber & her sister Akanksha were grassroots coaches employed with Delhi Dynamos. So, women's football was something very close to the club and its management.
SB: Lastly, reporting on women's football in general in India has been severely lacking. Do you think this league will change that trend?
MB: Nothing happens overnight. This league is a step in the right direction. It is a process that will take time, and this is the first step. The league organisers will need to publicise and generate ample interest in the league for the media to sit-up and take notice. Like I said, it won't happen overnight. But, it will happen. That I'm sure of.
JS: The IWL may not change the trend so soon but it will be a starting point for clubs around India as they will now think of investing in women's football. Luckily, since India has played the South Asian Games and SAFF Championship in India it has increased the viewership of the game. Many people in India don't even know who the captain of the Indian Women's Football team is yet. We need to take baby steps to improve women's football in India. If the league were to have some kind of live stream for the viewers to get to watch, it would help for people to identify the key players in each team. In the end, I feel it would at least take a few years before the IWL starts to trend in India or around the world.
SB: Anything you'd like to say about the Indian Women's League in general?
MB: As a woman who loves football and as one of the very few women that have chosen football as a career, this league feels like my own. It's a matter of immense pride and I have great hopes from the AIFF and the players. And, I sincerely hope that the media, football fans, and potential investors in the country will extend their wholehearted support to the league. These are some brave, talented women who have put in years of hard work and deserve all our support & encouragement. They chose football purely for their love of the game. For them, it's not about money, fame, riches. They've earned this league, and I couldn't be prouder!
JS: I would like to wish the players all the very best as they take on a new chapter in their life. We all know that the competition could be one sided but don't let that bring you down. Play tough and give your best because there will be scouts looking out for prospective players for the AFC Women's Asian Cup Qualifiers Camp to be held in February end or March beginning.