IPL 2018: CSK's Dwayne Bravo snatched the match from Mumbai Indians says, 'Wankhede Stadium' special as his best-ever knock; see video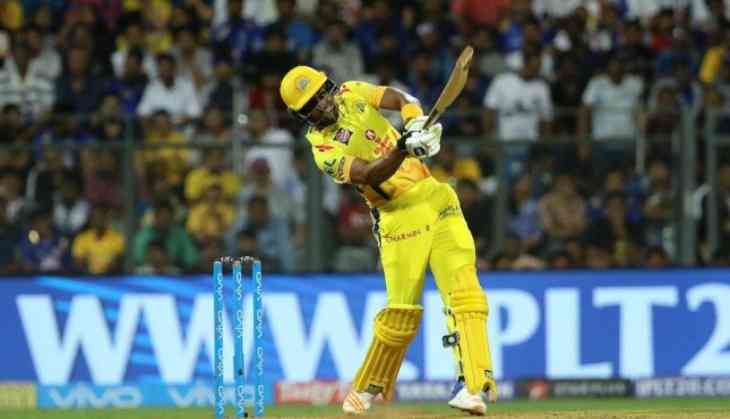 The opening match of the IPL season 11 was full of enthusiasm and fans just enjoyed watching their sides fighting bat-by-bat. The CSK's ballers didn't showcase their expected comeback in the tournament. The die-hard fans of the Chennai Super Kings have seemed gave up their hopes until the CSK's Bravo came on the ground in the 'yellow jersey'.
The CSK seems dead until Bravo took the charge and smashed the Mumbai Indians by hitting seven sixes and three fours in just 30 balling successfully cashing 68 runs and bagged the man-of-the-match title. Bravo himself rated his performance as his 'best-ever' with the bat and stated that Wankhede is special for him.
"This is my best-ever knock. I don't think I have ever played an innings like this in any format. So, this is a special one. As you can see, when I reached my fifty, I didn't even raise my bat. I knew the job wasn't finished. There was still a long way to go. I was in a zone. I was just focusing on trying to get the game done for my team. I was disappointed that I was out in the last over. But I played the innings that put my team in a position to win, and that is what happened tonight. I am just happy that I was able to contribute with the bat. It has been a while that I haven't been able to make runs. This one will always be special to me," said Dwayne Bravo after CSK won the match from the jaws of defeat and their return to the IPL after a two-year ban.
It wasn't the only time that Bravo ruled in the death overs of this match. Earlier in the evening, he had spoiled MI's slog overs, giving away just seven runs in his last two overs, including four runs in the 20th, to keep the Pandya brothers in check. Clearly, if there's one man who relishes the pressure of the business end of the match, it's Bravo.
"I think it's a challenge for me. I mark myself against the best in the world, so in moments like this is where it really matters. I don't enjoy bowling when there's not much pressure on. When there's pressure, I need to focus a lot more and in the nets, I prepare very well when I bowl to guys like MS (Dhoni) and Suresh (Raina) and these guys, who're good hitters. Even when I'm playing for the West Indies, I bowl to guys like (Andre) Russell and (Kieron) Pollard, so it gave me confidence. I don't just turn up in a game and it happens naturally. I prepare in the nets, I make sure I'm executing my yorkers properly, so whenever I call on those special deliveries, I deliver more often," he said.
"Bowling to Hardik (Pandya) and his brother, I prepare for these moments in the nets. So whenever it does occur, my body and my mind play it over and over. I practice the night before. There are days when I go out and execute it right, on another day it could be the opposite. I take each game step by step and I'm happy if we win the game, which is most important," he added.
Speaking about his effort with the ball on Saturday, the 34-year-old CSK's Bravo said: "Tonight was a little tougher, because I bowled the last three overs and the skipper asked me if I'll be able to do it, and of course, I said 'yes' and again bowling to these guys is a big challenge. I embrace it. I enjoy it, and tonight was just my night."
Talking about his blitzkrieg in 18th and 19th overs of the match, in which he plundered five sixes and 39 runs overall, Bravo said: "I wasn't thinking much actually. I was just trying my best to bat till the last over. I thought that if I bat deep and till the end, we have a good chance of winning the game because Wankhede is a ground where if you miss your length and yorkers, the ball can travel. So you mistime a few, a few edges go your way and the bowling team is always under pressure because the margin for error is so small in this format, you miss your yorker by an inch, it can go for six as you can see tonight. (Jasprit) Bumrah is one of the best bowlers in the world…it was just my day, I'll take that. It's always good to start any tournament with a win and this is a special win for us personally because our fans have been so loyal to us and they waited for this opportunity and people in Chennai and throughout India as well, our CSK fans and our captain MS (Dhoni)."
Also read: IPL 2018, MI vs CSK: Lions roar in 1st match ; Mumbai Indians lost by 1 wicket
This is the best inning I have ever played - Dwayne Bravo
At 118-8 CSK were looking down and out. But one man had other ideas. Bravo's scintillating 30-ball 68 swung the match around dramatically as CSK took the points home. Here's he talking to the media #MIvCSK pic.twitter.com/OQuhZrMifC

— Cricbuzz (@cricbuzz) April 8, 2018