Sports Illustrated just named Serena Williams Sportsperson of the Year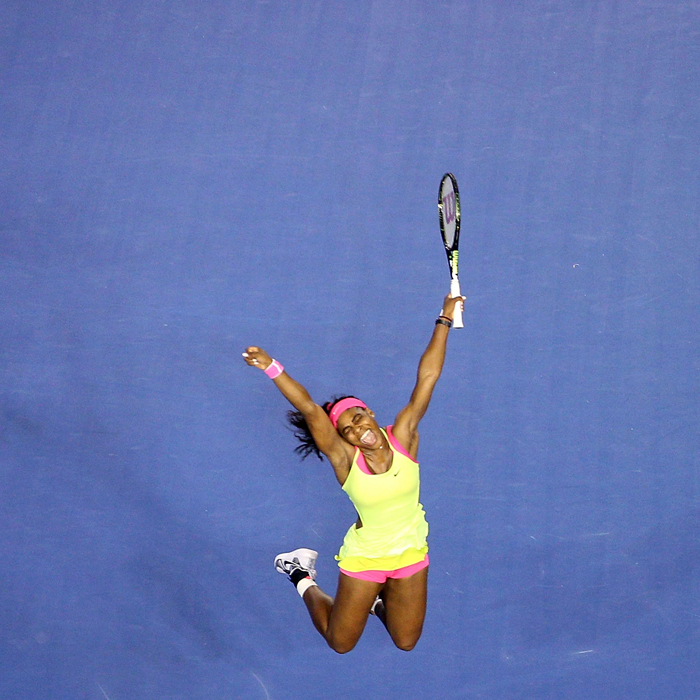 A force of nature - that's probably the most apt way to describe Serena Williams' impact on women's tennis. With her imposing presence on court and aggressive style of play, she certainly gives off that vibe.
Yesterday, Serena was named Sports Illustrated's Sportsperson of 2015 - the magazine's first lone woman athlete to be given the honour in 32 years. Serena is only the ninth woman to make the list. The last lone woman athlete to win the title was track star Mary Decker in 1983. In 1999, the US women's national soccer team won, while women athletes were awarded along with their male sporting partners in 1984 and 1994.
When it comes to any conversation about the greatest female tennis players in history, Serena is right up there in the conversation, alongside the likes of Margaret Court, Martina Navratilova, Steffi Graf, Chris Evert and Billie Jean King.
While prone to injury and illness, Serena nevertheless continues to earn the respect of the worldwide tennis community through her consistency, especially at Grand Slams.
In terms of sheer numbers alone, Serena seems well on her way to obliterating most of the standing records.
Serena may have failed to clinch her 22nd singles Grand Slam title at the recently-concluded US Open - but she did win 53 of the 56 matches this year. Here are some more interesting numbers relating to Serena.
That was the age at which Serena picked up a tennis racquet for the first time. A little over 29 years later, she is arguably the greatest female tennis player of all time.
The number of Grand Slam singles titles Serena has won in her career.
Of the four Grand Slams played every year, Serena has won the French Open three times, and the Australian Open, Wimbledon and US Open six times each.
Since professionals were allowed to compete for Grand Slams, starting in 1968 (called the Open era), Graf's 22 titles is the record. Court had won 11 of her 24 Grand Slams in the Open era.
That's the age at which Serena won her last Grand Slam title - this year's Wimbledon. This made her the oldest woman to win a Grand Slam. Martina Navratilova, the Czech-American great, was 33 years, 263 days old when she won the last of her 18 singles Grand Slams.
Eight of Serena's 21 Grand Slam wins have come after she turned 30 - one Australian Open, two French Opens, two Wimbledons and three US Opens. This is equal to the total number of titles that American legend Billie Jean King won in the Open era..
Serena owes the resurgence in her career to Patrick Mouratoglou, her coach and supposed boyfriend since 2012. She started to train with him after getting knocked out of the first round of a Grand Slam for the first time in her career, at the 2012 French Open.
The number of defeats suffered by Serena in 2015 before the start of the US Open, as opposed to 39 wins. Her only defeat was in the final of the Madrid Open to Petra Kvitova. That's a win percentage of 97.44, the highest for any female player who has played more than 10 matches this year.
Serena's overall career win percentage is 83.33, with 732 wins and 122 losses.
Since 2011, she has a 100% win record at the US Open, winning 21 matches and losing none.
That's the amount of money Serena has made in career earnings from tennis, since turning pro in 1995. She was placed higher than footballer Frank Lampard and sprint legend Usain Bolt in Forbes's 2015 list of richest athletes in the world.
She is the highest earning female athlete of all time, across all sports.
The speed of the fastest serve by Serena in her career. It is the third fastest in the history of women's tennis, with only Sabine Lisicki (131mph) and sister Venus Williams (129mph) serving faster.
This speed is almost half that of the fastest car ever made - the Bugatti Veyron Super Sport, which reaches a top speed of 267.8 mph.
In her semi-final match against Victoria Azarenka at the 2012 Wimbledon, Serena hit a record 24 aces.
The 2015 US Open would have been Serena's 5th consecutive Grand Slam tournament victory, and would complete a calendar Grand Slam. This achievement is colloquially referred to as the 'Serena Slam' in women's tennis, dubbed so when she achieved it for the first time in her career in 2002-2003 season.
Only Steffi Graf has won 5 consecutive women's singles Grand Slam titles.
Serena has played 64 majors tournaments in her career, compared to Graf's 54.