Hope floats: women's kabaddi still fighting for its place in a man's world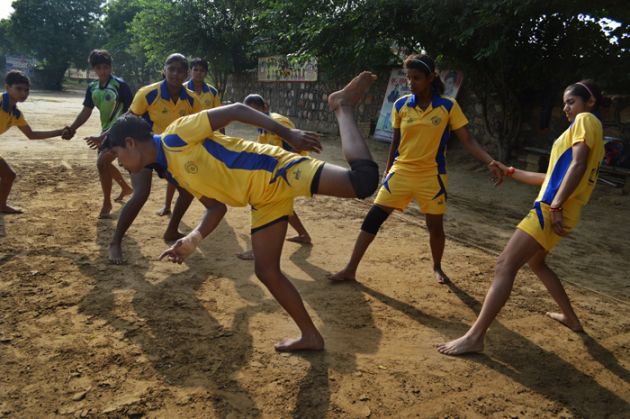 It has been three weeks since U Mumba beat Bengaluru Bulls to win the second edition of the Pro Kabaddi League.
It brought to an end a surprisingly successful campaign for the Star Sports and Mashal Sports-run league. It actually saw an increase in viewership - something only the Indian Premier League cricket tournament had managed so far.
Read more: Unlikely success: the Pro Kabaddi League grabbed more than just eyeballs
But here's the thing: despite some voices in favour of it, there seems to be no concrete plan yet to launch a women's kabaddi league along the same lines. And that's probably down to the undeniable fact that women's sport is somehow still considered inferior to its male counterparts.
If you are a woman playing sport in India and your name isn't PT Usha, Saina Nehwal, Sania Mirza or MC Mary Kom, chances are that most people haven't heard of you. And for India's women kabaddi players, who have fought innumerable social odds to get thus far, that's a reason to lose motivation.
The ray of hope
A couple of months ago, Radha Kapoor, the owner of the Dabang Delhi franchise of the Pro Kabaddi League, announced special training camps for women's kabaddi players. She also wanted other franchise owners to start a league for women.
For a bunch of athletes resigned to anonymity, even this small initiative is a huge boost.
Women's kabaddi players are still waiting for recognition. The men's pro league has given them hope
"We are happy that due to the Pro Kabaddi League, male players have gotten recognition and proper training. I think that Radha madam's initiative for women's kabaddi will help us. I hope we get some recognition too," says Sheetal, a budding kabaddi player and a silver medallist at the junior national kabaddi championship.
How they beat the odds
Sheetal recently enrolled for a bachelor's degree. Her father is a sweeper with the Municipal Corporation of Delhi, and his salary is certainly not enough to keep her around in training camps for too long.
But, being an ardent admirer of Rakesh Kumar, the captain of the Indian men's kabaddi team, Sheetal aspires to carry on. Over the last five years, her spirit and sporting zeal have made her play without proper diet or training. She even does an unreal 3,000 push-ups every day.
Sheetal practices kabaddi with about 20 other girls in village Hiran Kudna, on the outskirts of the national capital. The land belongs to the government, but hasn't been donated for the promotion of the sport. "It's a piece of barren land, so we just started practicing there," says Suman Shokeen, a gold medallist at the South Asian Games in 2010 and the Indoor Asian Games in 2013.
Suman's story is like so many others' - fighting a patriarchal society to accomplish a sporting feat, but forever destined to oscillate between hope and frustration.
"I was only four years old when my father passed away. My mother and uncle took care of me. The death of my father didn't halt my life, because I was too young to realise anything.
"The real problem started emerging when I showed an eagerness to play kabaddi. The sport required girls to wear T-shirts and shorts, which aren't encouraged in our society. But my mother came forward to support me and fought with the whole family and society to put me in a male-dominated sport," she says.
Tanu Dalal, at 14, the youngest player in the camp, speaks in a barely-audible voice. But the words she speaks have power.
"The stereotypical notion that girls are soft, sensitive and frail would be shattered if you play with us," she says.
"In school, my classmates always tease me that girls should not play. They say the game is meant for boys only. But they don't know I can beat them in kabaddi. Back kick, roll, jump, slip, thigh hold, knee block - I know all the techniques."
But there is a fear that without proper diet and training, she may not survive the hard road ahead.
Crying out for help and recognition
Many kabaddi-playing women land government jobs through the sports quota. But that's not their ultimate destination, says Kalpana, a class X student and player at the Kabaddi India Sports Club.
"We want to play Kabaddi for our nation. All across the world, there is a myth that women can't play combat sports, but we do, and we do it better than any other country," she says.
Shashi, coach at the National Institute of Sport and a gold medallist at the junior national championships, sums up the frustration of the girls. "If I ask you to tell me the names of at least two women kabaddi players, I am sure you won't have an answer. That's the pain we go through every day," she says.
"No other sport has brought so many medals and consistent success to the country in the last four years. We have won every big game. But still, people don't value us."
Joginder Dalal, coach at the Kabaddi India Sports Club, sums up the fear in the hearts of these players and coaches, by talking about the utter lack of facilities available to them..
"If you ask me, kabaddi is a religion, where you follow the sport's rituals like any religious ceremony," he says.
"I am taking care of their diet and training, which is free of cost for them. I have trained many girls who are playing for India, but my biggest concern is about the new girls who come here to play after overcoming social and cultural hurdles. What happens if they do not do well, just because of a lack of proper facilities? Can you imagine what people in our society will say?
"Our federation is helping us send our players to different tournaments, but when it comes to government aid, it's negligible. It's the high time the government took the lead in training these young stars."