Holes in the case: a blow-by-blow account of Sreesanth & Co's discharge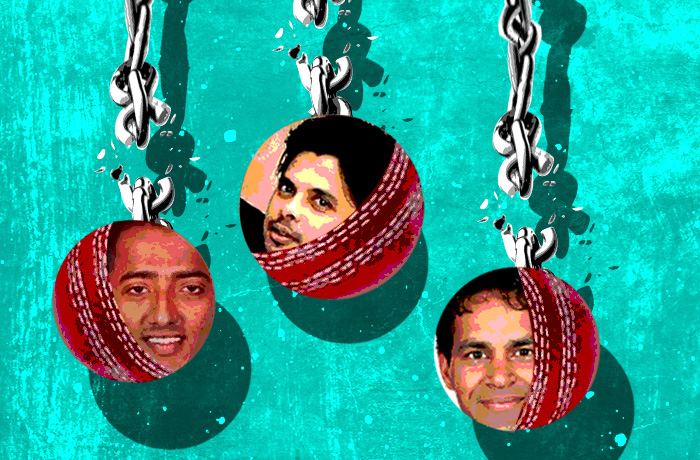 The chargesheet
Alleged bookie and Sreesanth\'s friend Jiju Janardhan persuaded him to get into spot-fixing
Sreesanth was paid Rs 10 lakh as advance in the first week of May 2013
He signalled the \'fixed\' over by tucking a hand-towel into his trousers
Calls were made by bookies appreciating the effort put up by Sreesanth
The rebuttal
Sreesanth\'s lawyer Rebecca John says there was no evidence against him
Claims police recordings actually found bookies talking about his refusal to indulge in fixing
Says he had been using the towel all day and not just for the \'fixed\' over
Not guilty - that was the surprising verdict delivered by a Delhi court in the IPL 2013 spot-fixing scandal on 25 July. Thirty-six accused, including former India pace bowler S Sreesanth and his ex-Rajasthan Royals teammates Ajit Chandila and Ankeet Chavan, were discharged without trial. Six accused, including underworld kingpin Dawood Ibrahim, are absconding
The Delhi Police's Special Cell had built up a 6,000-page charge-sheet against the accused, for accepting bribes to deliberately underperform in IPL-6 matches. But judge Neena Bansal Krishna threw out the case even before the trial stage, owing to a 'lack of proof'.
Sreesanth's defence
Rebecca John, Sreesanth's counsel, explained the loopholes in the charge-sheet to Catch, on the basis of which she and her team developed their client's case.
"Back in the day, when Sreesanth was arrested in May 2013, the sessions court had granted bail within a very short time - a month. It had come down heavily against the Delhi Police, for putting up a very loose and unsubstantiated case. After that they [Delhi Police] filed the charge-sheet, and the charge-sheet was no better than the initial case they had filed against him," said John.
Delhi Police claimed Sreesanth was involved in spot-fixing an IPL match between Kings XI Punjab and Rajasthan Royals on 9 May 2013. He was alleged to have, in exchange for Rs 60 lakh from a bookie, agreed to concede more than 14 runs in an over.
Police claims
The sequence of events according to Delhi police was:
1. An alleged bookie, Jiju Janardhan, persuaded Sreesanth, his close friend, to get involved in spot-fixing. Following this, Sreesanth was paid Rs 10 lakh as advance in the first week of May 2013.
2. As per the plan, Sreesanth was to 'signal' the 'fixed' over in which he would concede those runs by tucking his hand towel into his trousers.
3. The police claimed they had intercepted calls made by bookies appreciating the effort put on by Sreesanth. Subsequently, Sreesanth used the money he'd received from the bookie to buy mobile phones and expensive clothes.
Point-by-point rebuttal
John and her team punched holes in the Delhi Police's case by claiming that there was absolutely no evidence to show that Janardhan had 'persuaded' Sreesanth to participate in any act of match fixing.
"There is, in fact, not a single conversation between the two, which could help the prosecution to show that there was any talk with respect to the over in question, or that Sreesanth had consented to conceding more than 14 runs for the over in question," says John.
Delhi Police built up a 6,000-page charge-sheet, but the judge threw out the case due to 'lack of proof'
Nor, she adds, does the Delhi Police have any evidence of a phone call between Sreesanth and any bookie, or anyone else connected to the underworld crime syndicate that the investigators claimed was involved.
One conversation, in fact, was cited by Sreesanth's defence, in which a bookie is recorded saying to another bookie on the phone, 'usko bohot samjhaya magar maanta nahi (we tried to make him understand but he didn't get convinced)', talking about Sreesanth's adamant attitude to not get involved in fixing.
The police's claim of tracing the Rs 10 lakh that Sreesanth had allegedly received from the bookie was also challenged, with proof of his bank statements.
Sreesanth's defence has claimed that as far as using a towel was concerned, he had been using it through the day because the temperatures were high.
On him conceding the runs, John's team argued that bookies were recorded to have said that more than 14 runs needed to be conceded, while Sreesanth conceded only 13 runs.
"Not one illegitimate delivery was bowled. Off the first four balls, only four runs were conceded. There were two dot balls and one ball where only one run was conceded in the over," John said.
She added that the case was very tenuous to begin with and "it was a disaster by the time of the charge-sheet. This case needed to be thrown out at its inception, which is what the judge has done today."
Cops' counter-claims
A senior police officer connected with the investigation of this case, without willing to be named, reacted to the development.
"Are you saying that we have planted all this conversation to malign Sreesanth? Look, a thief need not only be caught while stealing items from someone's household, to be implicated. He may be on the run when he's caught with the stolen items, that still proves his guilt."
Another senior official, the special commissioner of Delhi Police's Special Cell, SN Srivastava, said the fact that the Supreme Court-appointed Justice Mukul Mudgal Committee had appreciated the Delhi Police's investigations in its report was a solid testimony to its quality.
"Two committees headed by eminent jurists - Justice Mudgal committee and Justice [RM] Lodha Committee - have seen our report and appreciated it. The Justice Lodha panel has made its recommendations after going through our report, so you can be sure about the quality of our work. On the question about the lower court's verdict, we haven't yet gone through the full order, so we need to see exactly what has been said."
Srivastava did not rule out the possibility of the Delhi Police appealing against the trial court's order.