Germany's historic exit from the World Cup represents a brave new world for football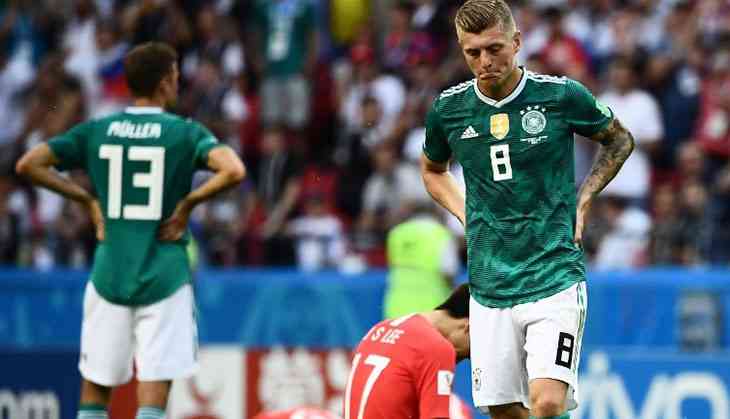 The great thing about football is that even with all the analytics, tactics, metrics, prediction models and data tools, it often doesn't make any sense. You can devise efficient set piece strategies, design play patterns and calculate 'Expected Goals', but you don't always get the expected results. No prediction model would have said that Germany will be knocked out in the group stage of the World Cup.
In fact, ESPN's data arm Five Thirty Eight placed Germany third on their World Cup Soccer Power Index (SPI), behind only Brazil and Spain, naming them as a heavy favourite to win the whole thing.
"They (Germany) don't face any particularly fierce challenges in this relatively soft group; they were rather lucky to catch Mexico in a down year, a tame Swedish side and a South Korean team that is one of the weakest in the field," Five Thirty Eight wrote just two days before the World Cup started.
On paper, they were right as rain. Germany was one of the most formidable teams coming into the World Cup playing uber aggressive football that was based on maintaining possession, playing quick passes and overwhelming the opponent's half. When it came to offence, Germany were basically all hands on deck.
Prediction models thrown out the window
Two weeks later, the World Cup has thrown the prediction models out of the window. Germany are dead fish in the first round, losing convincingly to Mexico and South Korea, on their way out. Four days ago, they had grabbed a last gasp win against Sweden, courtesy a Toni Kroos blinder. That free-kick in the dying seconds of the game seemed to have killed Sweden and their hopes of making it to the knockout stages. That win restored normalcy.
Germany had slipped on the Mexico peel, but the sentiment was they would definitely recover, especially after their comeback win against Sweden. They'll make a few changes, figure out a solution and reach the Round of 16. And with two wins from two games, Mexico, seemingly, were through already. South Korea wasn't even a part of the equation.
But football had other ideas. It was a night that goes down in history and will be studied, debated and discussed, many decades later. Documentaries are made about this kind of stuff. When most had written them off, Sweden scored thrice past a predictably unpredictable Mexico as South Korea played the game of their lives to beat a desperate Germany 2-0. Incredibly, merely four days after their fate seemed dead and buried in World Cup graveyard, Sweden have topped the group and Germany are dead bottom. South Korea's win meant Mexico finished second with six points. There are World Cup upsets and then there are World Cup Upsets.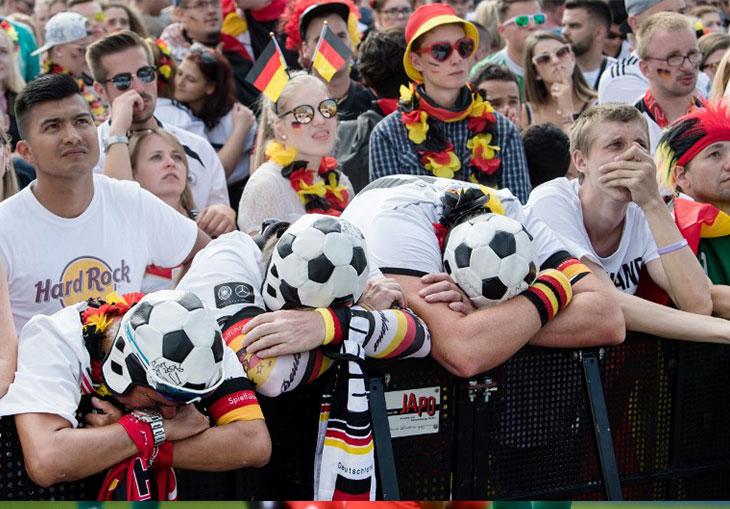 Bernd von Jutrczenka/AFP
The greatest World Cup upset
This one belongs to the latter variety. South Korea had struggled to create goal scoring opportunities and only found the net once against Mexico. In the dying minutes of the game against Germany, they found it twice in the space of four minutes. And more impressively, they managed to shut out the relentless German offensive. Germany were already finding it difficult to score goals, despite an abundance of attacking players in their squad. They have a guy - Thomas Müller - who had scored 10 in two World Cups.
But something was amiss.
Die Mannschaft threw everything forward and yet only managed to score twice in the tournament. After an unceremonious and early exit, the question that hangs over them is what went wrong? Well, a number of things.
Here's what went wrong for Die Mannschaft
Let's start with something they're usually good at: scoring goals. Before the tournament started, Five Thirty Eight had given Germany an offensive rating of 3.1, that's projected goals scored per game. They went blank against Mexico and scored twice against Sweden, one of which was a freak goal. considering their chance creation and possession, they should've had more. Against South Korea — who, by the way, were given a mere five percent chance of pulling off an upset — Germany again took 28 shots, 20 of them from inside the box, and had 74 percent of the possession.
Those numbers, by any metric, must give goals. If they aren't, there is something deeply wrong. ESPN's expected goals model tells us that number of chances created would yield 2.9 goals for a team over 90 minutes. Germany scored zero. South Korean goalkeeper Jo Hyeon-Woo turned in a man-of-the-match performance and made six saves, but it is worth noting that Germany managed only six shots on target out of a total 28. Those numbers are bad. They indicate a flood of missed chances and spurned opportunities.
The problem isn't chance creation, but chance conversion. Mesut Oezil, who returned after being dropped against Sweden, created seven chances from open play — the most by any player in a single game at the World Cup - but none of those turned into a goal. Clearly, finishing was the issue. It has been so all World Cup for Germany.
Benjamin Cremel/AFP
Some more statistics to help tell the story
Another mind-blowing piece of telling statistic: Germany has attempted 72 shots this World Cup, scoring only twice. That represents a complete strike failure, an utter inability to farm goals out of the chances you create. Get some more of this: Germany crossed the ball in the box an astounding 33 times against South Korea; 21.2 percent of them found a target.
That means, German attackers received a cross in the box seven times and somehow managed to not hit one of them into the net. Another big failure for Germany was something that has been a huge success for other teams this World Cup: set pieces. Germany had nine corners on the night. Once again, none of them ended up in the net.
The numbers will be analysed in detail, but it remains hard to believe that German forwards had such a hard time at the World Cup. Thomas Mueller is a World Cup veteran, a rare footballer who can manipulate space and time and almost magically appear at the end of a cross and score. He had a terrible World Cup.
With 10 World Cup goals already, not many would have doubted him to reach Ronaldo or Miroslav Klose's tally this time around. But his poor form saw him dropped against South Korea. He came on as a substitute, but yet again failed to impact the game. Timo Werner has scored 21 goals in each of his last two seasons with RB Leipzig, but was a disappointment all tournament. It is all very strange especially when you consider the fact that Germany scored an astonishing 43 times in 10 games in a rampant World Cup qualifying campaign. A first round exit, is truly incomprehensible.
German defence was a sore thumb
Germany's suspect defence has been a sore thumb all World Cup as well. In all their three games, we have seen them getting picked off on the counter. A goal-scoring drought means they throw all men up front in desperation. German fullbacks Jonas Hector and Joshua Kimmich inherently operate pretty high up and don't bother to fall back much. Germany kept the ball for so long, that it seems they don't know what to do when they don't have it.
Mats Hummels, Jerome Boateng, Antonio Ruediger and Niklas Suele have all had a crack at the centre-back position, and neither of them made a solid pairing that could be trusted. Against South Korea too, Germany conceded against the run of play, with both goals coming in injury time after 90 minutes. The second one, a tap in into an empty goal on the counter as Manuel Neuer decided to play winger, was particularly embarrassing and epitomised Germany's time in Russia.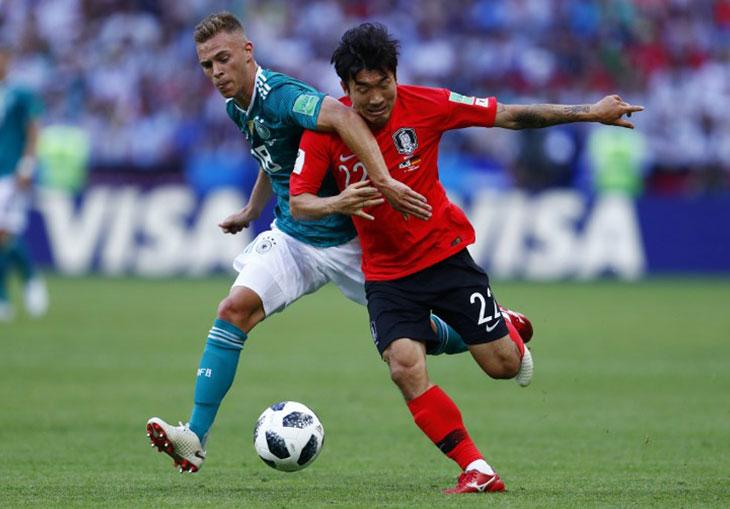 Benjamin Cremel/AFP
South Koreans outshining the Germans
It would, however, be unfair on South Korea to factor in only Germany's fallacies. They were twice as accurate as Germany with their shots with less than half as many attempts. Defensively, they were as solid as steel. They blocked nine German shots, made 16 tackles and won 93.8 percent of them, 15 interceptions and a stunning 42 clearances. South Korea showed up, even though they were already out of the World Cup. And they managed to finish above Germany, the world champions. They might be going home, but they can expect one hell of a homecoming party waiting for them.
As for Germany, it will be a grim return home. Surely, an inquisition will follow and Joachim Loew will have to give an account of himself and his decisions. After the game, he said it was hard to say if he'd even continue as the Bundestrainer. "That's hard to say. Of course, it takes a couple of hours to look into that. I'm shocked, I'm shocked because we didn't manage to pull it off," he said. Germany will see some changes, sure. But after their historic first round exit — first since 1938 — so will the world of football. One of the greatest upsets in World Cup history is bound to send out ripples and shake up the order of things. We might now see a brave new world for football.