From tsunami survivor to professional footballer - Martunis' incredible story
In December 2004, a tsunami hit the shores of Banda Aceh, Indonesia, changing the lives of millions forever. One of them: 7-year-old football fan Martunis.
Struggling to survive and with his life in tatters, a photograph of the boy wearing a Portugal football jersey made its way to newspapers worldwide.
What happened next reaffirms football's moniker as the beautiful game. Because on July 1, 2015 - almost exactly ten years after the horrific incident that destroyed life as he knew it - Martunis was signed to one of Portugal's biggest football clubs.
It happened through a series of fortunate accidents.
Weeks after the tsunami struck Banda, with the death toll over 30,000 and the city in ruins, journalists discovered the then 7-year-old boy. Alone, hungry and exhausted, he told them his story. An avid football fan from a poor family, Martunis had been playing football on the streets when the tsunami struck. Swept away by the force of the tsunami, he survived by clinging to debris. Running out of time and energy, he managed to grab hold of a floating tree trunk and was eventually washed towards shore.
With no way to find his family, Martunis survived for three weeks off puddle water and packets of noodles he scavenged. Severely dehydrated and malnourished, a rescue worker who took the boy to hospital later said he might have died had another day passed before he was rescued. His condition meant he had to be put on a saline drip. Against all odds Martunis had survived. But there was more bad news to come. After finally being reunited with his father - Martunis found out his mother and two brothers had been washed away in the tsunami and the family's home destroyed.
What he didn't know though was that at the other end of the world in Portugal, the image of him in his Portuguese jersey was about to change his life forever.
A photograph of an Indonesian tsunami survivor in a Portugal football jersey changed his life forever
Amidst the shots of devastation, the image of Martunis in his jersey struck a chord with the football-obsessed Portuguese. The local football fraternity kicked into action to help the boy. Leading the way was one of Portugal's biggest football clubs, Sporting Lisbon. On hearing of his plight the club donated money towards rebuilding his family home.
It turned out to be just the beginning.
A year after the tragedy, the Portuguese Football Federation flew Martunis to Portugal to meet the national team before a match against Slovakia.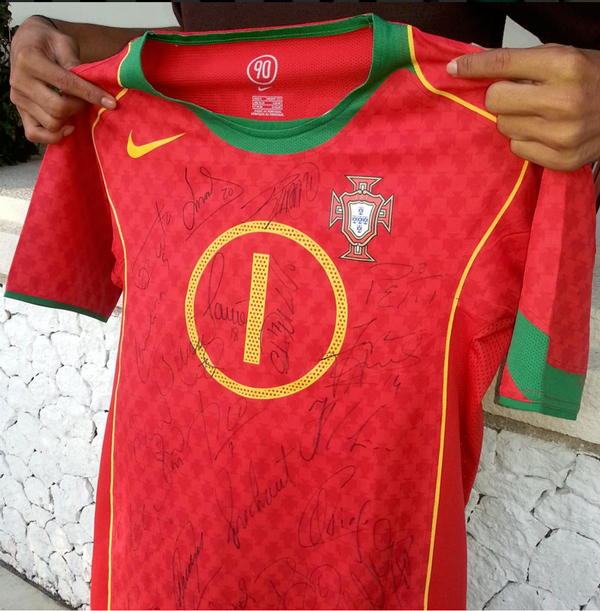 Cristiano Ronaldo - himself a product of Sporting Lisbon - heard the boy's story and was so stirred that he travelled to Indonesia to meet him, and offered to fund Martunis' education.
Unlike many celebrities who adopt a cause - in this case one little boy - it was a commitment Ronaldo stayed invested in. Their first meeting turned out to be one of many - Ronaldo and Martunis have met on several occasions since thanks to the footballer's involvement in a local charity. Their relationship has grown to the point where Martunis now uses the footballer's last name and calls himself Ronaldo's adopted son.
Ronaldo clearly spotted the potential early on. After their first meeting, he remarked, "Many adults would not even be able to deal with what he has gone through. We must respect him. His was an act of strength and maturity. He's a special kid."
So it couldn't be more appropriate that 10-odd years on from the tragedy that threatened to destroy his life, Martunis, now 17, has just been signed to Sporting Lisbon - Ronaldo's boyhood club. Not content with having come this far, Martunis intends to emulate his idol and repay Portugal's kindness by playing for the Portuguese national team. Sure it's a long shot, but given all that Martunis has been through, you can't fault him for dreaming big.