Foreign Hand: Martina Hingis is a lucky charm for Indian tennis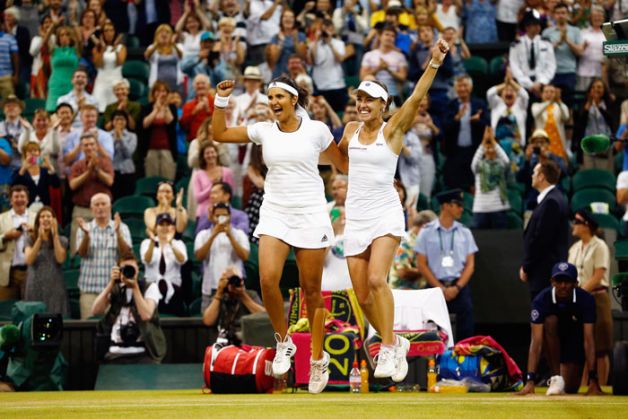 Super success
Leander Paes has reached his third mixed doubles Grand Slam final of the year at the US Open
Sania Mirza is also in her second women\'s doubles Grand Slam final this year
The common factor is that both of them are partnering Martina Hingis
Paes and Hingis have won two Grand Slams this year, while Mirza and Hingis won Wimbledon
Mutual benefit
Hingis says she shares a great off-court bond with the Indians
It has also helped her win Grand Slam titles after a nine-year gap
And so, once again, Sania Mirza and Leander Paes stand on the verge of winning Grand Slam titles. It was the same story on the grass of Wimbledon, and now, on the hardcourts of Flushing Meadows, New York, USA, they stand on the verge of history again.
Doubles success is nothing new for them. After all, Paes has won 16 Grand Slams titles - eight each in men's doubles and mixed doubles - while Mirza has won four - one women's doubles and three mixed doubles.
But a huge factor behind the Indian legends' success this year has been a Swiss legend more famous for her singles exploits as a teenager.
The Hingis factor
Martina Hingis had a tough time of it since tasting success in the late 1990s. She won her last singles Grand Slam title at the Australian Open in 1999 and, since then, her numerous retirements and returns to active tennis resulted in just one more Grand Slam - a mixed doubles title at the 2006 Australian Open.
Then, at the beginning of 2015, she paired up with Paes to win the Australian Open mixed doubles title. This was followed by the double at Wimbledon with Paes and Mirza, and now the soon-to-be 35-year-old stands on the verge of two more titles.
Hingis has won two Grand Slams titles with Paes and the Wimbledon with Mirza this year
This is not to say that the Indians don't deserve credit for their success. But somehow, combining with Hingis seems to have brought out the best in them.
The stats back up this theory. While Mirza's doubles career has been on an upswing for a while now, this will be the first time she has appeared in two women's doubles Grand Slam finals in the same year. Since she started partnering Hingis, the pair have reached six finals in 10 tournaments.
This success has also led to her climb to the World No. 1 ranking and helped her win the Rajiv Gandhi Khel Ratna back home.
Ditto for Paes. The evergreen Kolkatan never really seemed to come off his peak, but he'll still look back at 2015 as a landmark in his quarter-of-a-century-long career.
Back on top after struggles
For Hingis too, the Indian connection has meant a new lease of life in tennis. Having become World No1 in singles at the age of 17, a series of ankle injuries forced her to retire at the age of 22.
She made a return to the WTA Tour four years later, in 2007, only to be banned for two years for testing positive for cocaine at Wimbledon.
It was then in 2013 that she decided to come out of retirement once again. She has previously stated that she is looking to cap it off with a medal at the Olympics in Rio de Janeiro next year, which means she may not play for long.
Personal equation
Hingis believes that her off-court equation with Mirza and Paes has been integral to their on-court success. Speaking of Paes, she said he was a very 'giving' person, a trait she feels is very important when it comes to generating chemistry.
"He is amazing, and is always worried about me being fine. We complement each other on court very well, and I feel that with him on the court, nothing can go wrong. He is a great human being," Hingis had said.
An interview they gave together before the Wimbledon final clearly demonstrates their camaraderie.
With Mirza too, Hingis enjoys a great personal equation, which helps with the on-court understanding. They are often together during their free time on tour, as evidenced by tweets and Instagram posts by Mirza herself.
After winning the Wimbledon women's doubles, Mirza had said, "My partnership with Martina has been very compatible. Every time we enter a Slam, me and Martina enter it to win it."
Hingis might currently be the lucky charm for Indian tennis, but she also has a lot to be thankful for when it comes to her Indian partners. Long may it continue.