For Southgate's England, the past is gone and the future is theirs to write
Two years ago, when England ignominiously exited the European Championships in the Round of 16 after a shock loss against Iceland, it seemed they had reached a historic low. Not that there were any big hopes from England at the tournament; fans of the Three Lions remain staunch realists (most of the time). But, the manner of loss, the nature of the opponent was a bit too much to digest. England, the home of football, the home of the Premier League, the home of manic media coverage, comment and criticism had just been ousted by a country so small it was astounding how they had managed to assemble an international standard 23-man football team.
Manager Roy Hodgson quit the job in disgrace 20 minutes after the final whistle. Unsurprisingly, the papers ripped the English team apart. Some of the criticism was valid, some unnecessary, extreme and even racist. However, it was clear that a rebuilding was needed, especially with a young squad at disposal.
The FA, surprisingly, chose Sam Allardyce as Hodgson's successor. Always a man for the quick fix, Big Sam was hardly the right choice, for a rebuild. In his first act as England manager, Allardyce told his players it was time "to deliver". Sixty-seven days into the job, Allardyce was sacked following an undercover newspaper investigation that caught him on camera, negotiating with journalists posing as executives of an overseas firm hoping to bend FA rules and profit from Premier League transfers. The crisis had doubled down.
Weathering through the storm, the FA made a sensible, albeit rare, decision and appointed Gareth Southgate, the England Under-21 manager, as caretaker of the senior team for four games. Following two wins, two draws and much-needed anchoring, Southgate was handed "the impossible job" permanently. An obstacle-free qualification campaign followed, England topped the group and Harry Kane topped the scoring charts. England was going to the World Cup and the frenzy was to follow.
Of fixed perceptions and unimaginable pressures
There's a perception routine before England enters a major tournament. It's always the same. First, there's a period of intense pessimism. Expectations are kept at bay and people prepare for the worst. In fact, some fans say that they don't care what happens in the tournament. They know it won't be anything good. In some time, just as soon as the tournament is upon them, something shifts. A quiet optimist builds up. It isn't necessarily founded on reason. It's there because it must be there. It's there because why the heck not? Then England win one game and the quiet optimism transforms into booming belief that "football is coming home". That England are going to bloody win this thing.
Everyone knows the story after that. England loses, most likely on penalties, and the initial grief mutates into rage and denial. The entire machine breaks down and collapses upon itself until it's time to push the reset button. Currently, we are at the 'quiet optimism' stage as England prepare to open their campaign against Tunisia on Monday. However, something seems to be different this time around.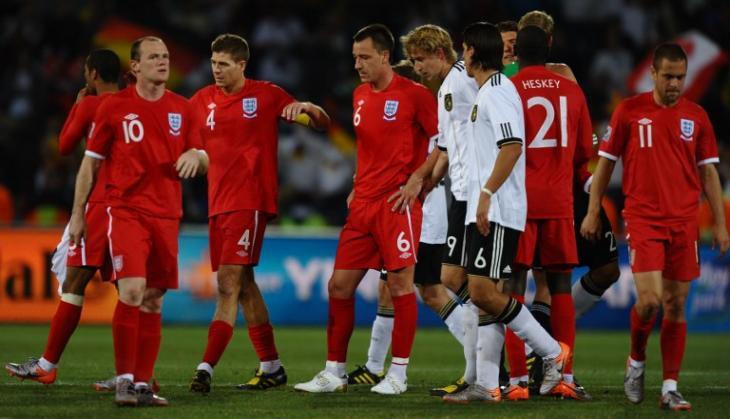 Paul Elli/AFP
The pressure over the England team is unimaginable. The collective weight of fans, media and history have more often than not crippled the team. England is hyped to the sky before a major tournament and pilloried to the ground after failure. English media only dabbles in extremes. Even a minor indiscretion makes headlines. "The pressure from the media was something I was not ready for. It shocked me how intense that was and the pressure does creep in," Ricky Lambert had said of his trip to Brazil in 2014, before advising Southgate to protect his players from the same. Repeated failure in major tournaments has become an annoying monkey on England's back. Many say it's the mentality that needs to change. That it's psychological.
Individuals and not team players
Despite having a golden generation of players in David Beckham, Wayne Rooney, Frank Lampard, Steven Gerrard, John Terry, Gary Neville, Rio Ferdinand, and Ashley Cole, England, widely considered as one of the favourites to win the 2006 World Cup, failed to make it past the quarter-final stage. Individually, the players were at the top of their games. Collectively, they looked like posh parts glued together to form a machine that did not work. Much of that was because the England team was always part Manchester United, part Liverpool, part Arsenal and part Chelsea. There was no 'one'; there was only the 'big four'.
And when you have accumulated bad blood of the last four years, with rivalries entrenched so deep within your being that you're only a Red, a Blue, a Gooner, a Scouser, it is difficult to don the same shirt and become a team. Later, as pundits, Lampard, Gerrard and Ferdinand accepted that they failed to see past their allegiances, that the golden generation English team was never even a team.
With Southgate's boys, that doesn't seem to be the case. The Big Four has long dissolved and power dynamics have shifted. Tottenham's Harry Kane and Dele Alli might have competed all year long against Manchester City's Raheem Sterling and Kyle Walker for the league title, but when they take the field for England their rivalries don't seem to matter. Southgate has also protected his players from intense media scrutiny and the pressure over this squad to deliver is considerably less than that in the past.
Right before the World Cup was about to start, Sterling faced undue, ill-informed and racist backlash for getting a tattoo of a gun on his leg. In the following days, his England teammates and manager backed him up like they were his family. England's team selection too has been based on merit rather than on names, which used to be the notorious norm back in the day. Players like Jordan Pickford, Trent Alexander-Arnold and Harry Maguire were picked over established veterans after impressive seasons for their respective clubs.
This isn't a disjointed English side
The team is not as strong or as deep as some of the other squads in the World Cup, but Kane, Alli, Walker, Vardy, Sterling, Alexander-Arnold, Pickford are in-form and the team doesn't look disjointed. England would have noticed Iceland, Mexico and Switzerland's performances. Neither of those teams were as good as Argentina, Germany and Brazil. But they all threw themselves at a common goal and got a result.
The English are in a relatively easier group, with Belgium the primary contender for top spot. If England can disregard pressure and occasion, they can put up a fight against any team. And surprisingly, it doesn't seem that this young team has let the pressure get to them. These bunch of young players don't look bothered. They don't look intimidated. There's no fear in their eyes, no burden of history dragging them down. In fact, it looks like they are having fun. They seem to be enjoying their time together. They look like mates. They indulge in banter, joke around and seem to have a shared sense of purpose. They want to win this thing together and they want to write their own history.
Shift in mentality
Much of the credit for this shift in mentality goes to Southgate, who has quietly transformed this team in the little time they get together. Himself a studios player known for his intelligence, steely nerve and no-fuss attitude, Southgate seems to have identified what the team exactly needed: a clean slate. "We are looking at things a different way," he said Friday, ahead of the opener. "You can learn from the past. But this team shouldn't be burdened with it. They're a fresh group. Most of them have very few caps. The future is all ahead of them, so they have to be thinking about what's possible. The players, and opportunities, of the past, have gone now."