Brutal knockouts and killer submissions: Super Fight League has truly arrived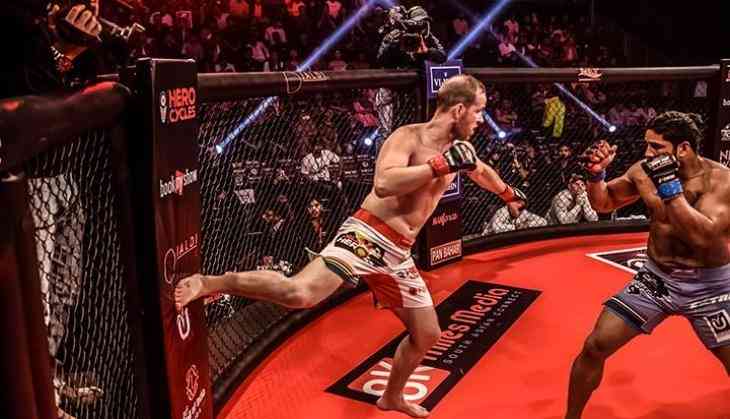 Spotlights dart around the arena creating a strobe-like effect even as a bass-heavy song pumps through the speakers. A small TV crew scrambles into position as a tuxedo-clad announcer takes to the centre of the eight-sided cage. Almost as soon as he utters a syllable, the entire crowd pops, their deafening roar filling the auditorium, ably assisted by a chorus of dhols. And, as the fighters make their way to the ring accompanied by statuesque ring girls, I have to pinch myself to make sure I'm not dreaming.

Also read - The Super-Grippers: six power wrestlers you should know

This is the atmosphere at the Super Fight League (SFL) season, currently nearing its climax at Delhi's Siri Fort auditorium. What amazed me wasn't so much the idea of an MMA (Mixed Martial Arts) event in India, but the scale at which it was being executed. Owner Bill Dosanjh and his team have spared no expense to give a nascent Indian audience a world-class MMA experience.
With six fights a night, in a league format spread across 5 weeks, Delhi crowds were treated to fight after fight of MMA brutality. Kicks flew, punches landed, bodies were tossed through the air and limbs were shattered as a roster of mixed martial artists, both Indian and foreign, put on heart-stopping fights for an audience that had, in most cases, never seen anything like it before.

While the audience was a diverse one, with everyone from middle-aged ladies in saris, babies firmly in tow, to screaming 20-something men, the night's action was lost on no one. After all, fighting is the oldest sport in the world. As crowds filtered out of the stadium, buzzing with adrenaline from the novelty of what they'd just seen, it was hard to believe the SFL wasn't new. But it isn't. The league began five years back with a splash, but never managed to stay in the limelight, even as other leagues in different sports mushroomed and grew.

Now, with all the elements for success firmly in place, and MMA growing rapidly across the globe, the SFL looks set to truly take root and thrive. Catch caught up with league owner and founder Bill Dosanjh to find out more about the SFL and the plan going forward.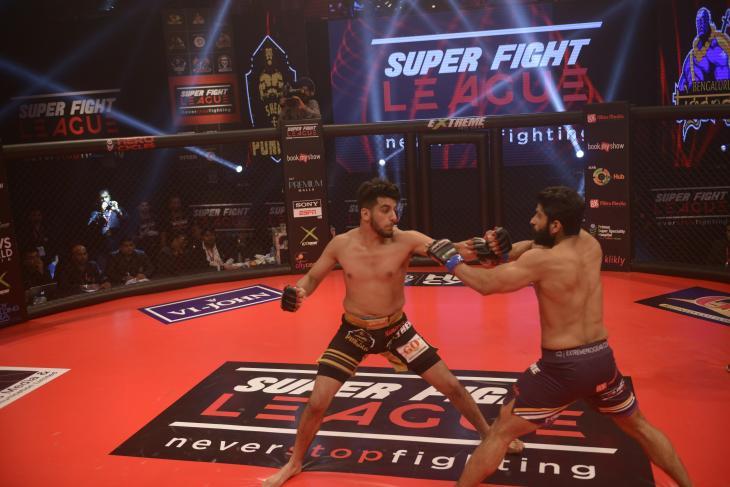 Courtesy Super Fight League
Growing the sport
While the SFL hasn't managed to truly exercise staying power yet, Dosanjh is bullish about its prospects. He sees India as the ideal market as well, pointing out that with 60% of the country's population under 25, and with a tradition of wrestling, the country is primed to be a hub for MMA.

So why then has MMA, and SFL in particular, not yet become a phenomenon in India? Dosanjh believes that the problem is awareness. "When we started the league, no one knew what MMA was. I remember sitting in the Indira Gandhi stadium for SFL 3, it was a full house with 15,000 people and people thought it was a WWE event," he recounts.
With that sort of starting point, SFL was always fighting an uphill battle, but, while it may not be as popular yet as it perhaps should, Dosanjh insists there has not been any stagnation on the SFL's part. "We have done a lot behind the scenes over the last 5 years, most of it has gone unseen, but we've put a lot of work and money into growing the sport of MMA," he explains.

The SFL has established a quality grassroots MMA training set up, with a goal to establish many more SFL gyms across the country. They've also brought in international coaches to help local talent develop.

Also read - Unlikely success: the Pro Kabaddi League grabbed more than just eyeballs

The results are already showing. Not only has the quality of the fights improved with each passing year, with a variety of styles from Brazilian Jiu-Jitsu to Muay Thai on display, but fighters have also started to gain increased recognition. It's evident when fighters make their way to the octagon, with each one's name chanted by frenzied crowds. But it's even more evident in the mainstream success some have had.

"We [SFL] have produced stars like Ritika Singh, who has gone on to star in Saala Khadoos," says Dosanjh proudly, adding that SFL fighters have even starred in movies like Do Lafzon ki Kahani and Bombay Velvet, in addition to training Bollywood stars like Zarine Khan and Shahid Kapoor.
A novel MMA format
SFL's expansion over the last half-decade has been a quiet one. However, it has already reached a position where it can almost be considered mainstream. "We are the second most watched sport online in India, by Youtube numbers," Dosanjh states matter of factly, underlining the strides SFL has taken.
And if the SFL is finding traction in a country not known for its MMA fanbase, a lot of that has to do with the SFL's unique format which serves as an easy entry point to the world of MMA.

Most MMA events are usually a collection of unrelated fights on a single fight card, and draw audiences thanks to having well known fighters on their roster. In India, a country where MMA fighters are still not mainstream enough to draw audiences on name alone, the SFL has made up for this by creating IPL-style teams that crowds can get behind.

Fighters now belong to teams which fight each other in a league format. Each team fields fighters in 6 different classes (from bantamweight to light heavyweight) with each of the 6 fights carrying between 4-6 points based on the finish. The team with higher points on the night is judged the winner and thus accumulates league points.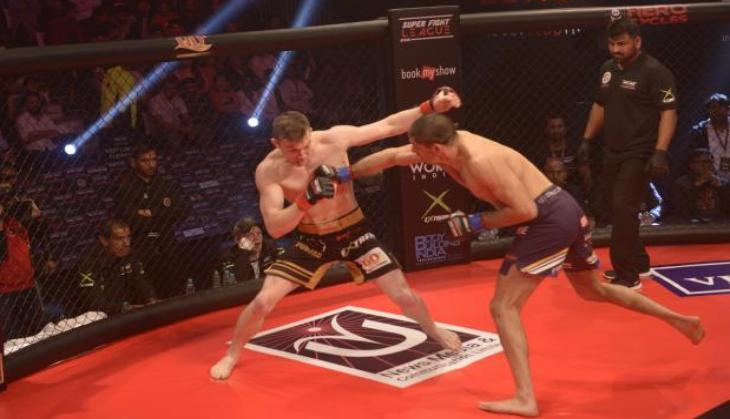 Courtesy SFL
"With the new format we're actually creating history, we're doing something that hasn't been done before in the fastest growing sport in the world," Dosanjh says, making no secret of how the format is influenced by the IPL.

The idea has definitely caught on. Every night sees crowds roaring on their respective teams, waving team flags and really getting into the action in a way that is surprising for people so under-exposed to MMA.
A weakened final weekend?
While the format is probably one of the SFL's biggest selling points, it can also be its biggest drawback. Already this season we've seen fighters knocked senseless, with limbs snapped and bones broken. As a result, in such a grueling tournament held over just a month, there's a chance that the best fighters may be injured as the tournament nears its climax.
It is a real worry, with Delhi Heroes' star Daisy Singh a certainty to miss the finals after a brutal injury in a semi-final loss to Goa Pirates' Suchika Tariyal. However, Dosanjh indicates that it comes with the territory and won't affect the final product. "At the end it's a tournament...a league, that's what makes it so exciting," Dosanjh explains, going on to recount instances where replacement fighters have shone. And he does have a point. In fact, the Tariyal-Singh fight was the perfect example, as Tariyal made her debut in the semi-finals against the more experienced Singh, only to win spectacularly.
With the finals only a week away, any fight fan worth his/her salt ought to make plans to catch the action live, or, at least on telly. And, if you miss it, worry not, Dosanjh promises that not only are there plans to start an MMA reality show in the country, but that the league will be back before the year is out.