Arvind Kejriwal felicitates Para Asian Games medalist Avnil Kumar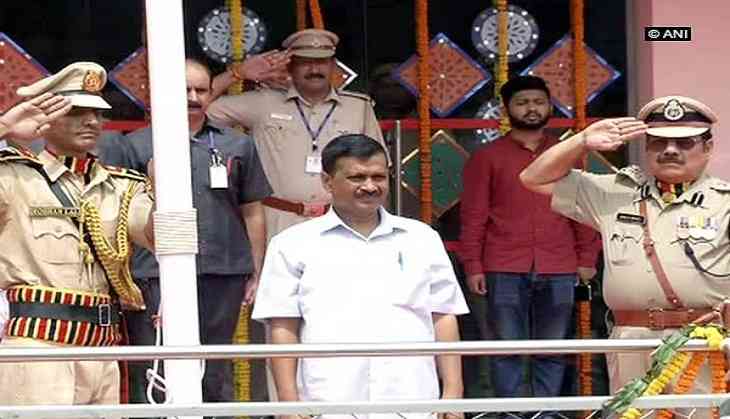 Delhi Chief Minister Arvind Kejriwal on Wednesday felicitated visually impaired para-athlete Avnil Kumar who had bagged a bronze medal in the 2018 Para Asian Games held in Jakarta, Indonesia.
Kumar, who started his training as an athlete in 2011, was awarded a prize of Rs 50 lakhs by the Delhi government for his achievement in the prestigious tournament.
Speaking to ANI after the felicitation ceremony, the para-athlete said that he is happy about being honoured and thanked the Delhi government for giving equal treatment to both able and disabled athletes.
"I am happy to be here. I would like to thank the Delhi government and Kejriwal Sir for honouring me. They treated a disabled person like the able athletes by adopting the same policy for both the categories. Thank you for that," Kumar said.
Talking about the challenges during his journey to the Para Asian Games podium, the athlete said that as a blind person it is a matter of difficulty to go to attend practice sessions and added that diet is another major challenge that they have to face.
"Challenges are diet, going to coach for practice and so on. My family is fully supporting me. I have a good bonding with my coach as well," he said.
Kumar's coach Satyapal Singh talked about the qualities of his student and hoped that they would try to win a gold medal for the country, next time.
"I have been coaching Avnil for the last six years. When he came to me during his college days, I saw that he has a lot of potentials. His physique and basic endurance were good. I found him dedicating. So I motivated him to play. I provided him with the basic facilities that he needed," Singh said.
"I was expecting a gold medal in the 2018 Para Asian Games but everything did not go our way. I hope to win a gold medal for the country, next time," Kumar added. He had won a bronze medal in the men's 400-metre race at the Para Asian Games in Jakarta.
-ANI