Xiaomi finally brought its cheap 55-inch 4K Mi TV 4 to India; it will be a tough sell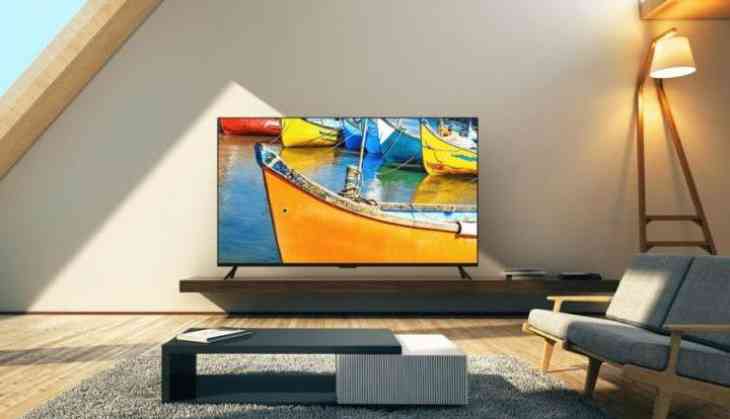 Xiaomi from 2014 till 2017, has been known purely as a smartphone brand in India. In 2017, Xiaomi overtook Samsung to become the top smartphone manufacturer in India. In 2018, Xiaomi wants to enter into other categories in the country and disrupt them as soon as they can. As we all know, in China, Xiaomi has products across a range of categories that include AI speakers, smart light bulbs, smart shoes, laser projectors and more.
On 14 February (aka Valentine's Day), Xiaomi held its first big-bang launch of the year. As usual, the company was there to bring to India, its first smartphones - Remi Note 5 and Redmi Note 5 Pro - for the year. Not surprisingly, these two smartphones are solid budget offerings and will, in all likelihood, go on to become the #1 best-seller, just like its predecessor, Redmi Note 4, last year.
At the end of the event, unsurprisingly because of all the leaks, there was a "one more thing". "It (TV) is the second biggest category after smartphones. We believe it is a very big opportunity for us," Manu Jain, vice-president, Xiaomi, and managing director, Xiaomi India, told LiveMint.
Xiaomi brought to India, for the first time ever outside of China, it's Mi TV 4. In China, the television is available in three - 49-inch, 55-inch and 65-inch - sizes but in India, it has decided to only bring in the 55-inch television.
It was a long three-year wait for Mi fans in India to get their hands on the television. "One of the other reasons why we waited for TVs is because now everybody knows us. Like, there are millions of people who have Redmi Note and before they bought it, they might have been like 'oh, I don't know about this Mi company' and now they have it. There is no catch," Jai Mani, lead product manager, Xiaomi India. "We are not cutting corners... I think, if you hit this kind of magic, screen size, quality price and we throw in what we think is a really compelling software, I think that's kind of the formula. If you look at what TVs have sold, it's something like that.
"I think it's a combination of brand, which is really quality of TV, the size & the price. Usually, people don't look at the software, cause nobody typically cares about it. But from us, that's one thing we want to add. There is also the software that is really useful."
Why the 55-inch you may ask. Here's the answer from Wang Chuan, Mi TV head, Xiaomi Global, who was present at the event in New Delhi. "Because we believe that the 55-inch TV is the highest value for money TV you can find in the market today. For example, if you want to go to 65-inch, the price gap between the two is huge.
"In China, we have already reached more than 30% market share for the 55-inch market. When I visited China and did market research, I realised that the most popular screen sizes are currently somewhat smaller than those in China. But of course, from the user experience perspective, the bigger the better. Of course, our goal is not to bring the cheapest TV to India, but the world's best TV to India."
Xiaomi will be bringing other sizes for the television in the near future.
The question now, for the Chinese company is this: How many TVs will the company be able to sell in 2018 and will it be able to make a dent in the market. By the end of 2018, will Xiaomi still be known as a smartphone manufacturer or will it have done enough to be known as an electronics manufacturer?
TVs are a harder sell
Let's just get one thing out of the way. TVs, unlike smartphones, are not one-year purchases. They are much more long-term decisions. Families rarely change TVs for three to five years. They are, carefully planned, family decisions.
One other thing is that those Indians that have the money, will splurge on known brands such as Samsung, Sony and LG and not Xiaomi. Xiaomi is entering a segment where it is unproven.
Xiaomi may have launched its 55-inch 4K smart LED TV at just Rs 39,999, but does price alone equal to success?
Not so smart
Xiaomi's Mi TV 4 is not an Android-based TV, as a lot of people were expecting. Instead of Android, Xiaomi has gone with their own custom designed in-house PatchWall interface that comes with a whopping 5,00,000 hours of content, of which 80$% is free to watch by the consumer.
Netflix and Amazon Prime Video not there
Most, if not all content, watched by Indians are consumed from Netflix and Amazon Prime platforms. Therefore, it is a shame that Xiaomi decided not to get both Netflix and Amazon Prime Video before launching their TV in India. One can sideload the apk separately, but not having official support for these platforms is a letdown.
The Mi TV 4 does have support for many services from Hungama & Alt Balaji to SonyLIV and TVF, but missing out on two of the biggest video streamers in the country is a misstep. You can sideload the apk, you can even load them up from a USB drive, but that is an extremely task, especially for those who aren't very tech savvy. Even then, there is no guarantee that the app will work.
On Xiaomi's part, they have said they are working with both Amazon and Netflix to bring them on board, but no timeline could be given.
Design
There is no doubt that the Mi TV 4 is the thinnest television available in the Indian market. It is as thin as a coin. It comes in at just 4.9mm. It is also a looker. Just take one look and you'll know that Xiaomi has taken its time perfecting the design of the television. But will design alone help thee televisions fly off the shelves? I think not.
Sound quality
In my brief time with the television, the sound quality was not up to par with most other televisions, even the Vu, another budget television manufacturer. One will most definitely need a sound bar along with the television. That is an additional investment for the customer.
Remote
There is one conspicuous absence from the Mi TV 4 remote. It's a big one as well. It is the mute button. The Mi TV 4 remote resembles the Amazon Fire's TV stick but still omits the mute button.
Import costs
Xiaomi on Wednesday confirmed that all of the TVs being brought to India will not be locally manufactured and instead imported. This has certainly inflated the price. If volumes are high then the incentive to locally manufacture will be there. At the moment, Xiaomi doesn't know how many televisions will sell in the country.
Will the television sell?
At the low cost of Rs 39,999, some early adopters will be there. Those people who want to buy it with a short-term turnover will purchase it. With the TV market growth in India, Xiaomi has positioned themselves at the forefront of the growth. But as things stand, the Xiaomi Mi TV 4 doesn't have much going for it, unfortunately. A few software updates and the addition of Netflix and Amazon Prime might change things in the near future. Also, a smaller sized television might sell more, especially with college students.
It is a compelling buy at Rs 39,999, but put in just a little bit more money and many better options are available in the market, like LG's WebOS TVs that have both Netflix and Amazon Prime support.