The world's most know-it-all teen just turned 15. Happy birthday Wikipedia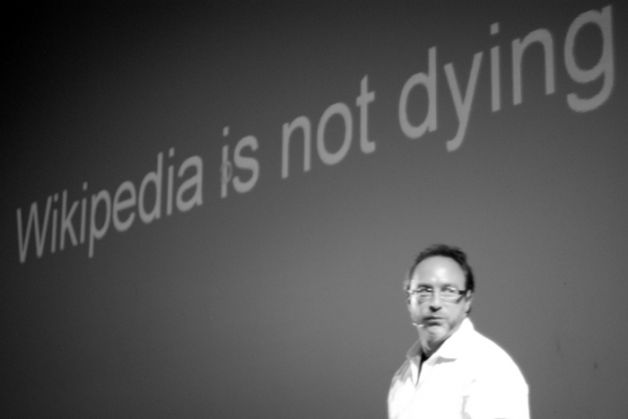 If Google has become synonymous with search, Wikipedia is synonymous with information. It's where students look for quick answers, for confirmation of what they know, and answers to what they don't. It is, in many ways, synonymous with the internet; one of the first sites you encounter when you search for what you don't know.
Of course, for every user who finds something they need is a user who makes a hilarious edit to a Wiki entry, simply because they can.
Also read - Reddit revolt: why the 'front page of the internet' went dark for 24 hours
Whatever your usage, it's impossible to deny that Wikipedia has filled a void even Google couldn't.
With Google, you ask a question and get choices. With Wikipedia, you get answers. Not always the most precise one, but one that frequently serves the purpose - or at least as a starting point. Yes, the info on Wikipedia isn't to be taken blindly - and quoting Wikipedia is a no-no (especially in academic circles) - but it makes a great place to find references to explore on any subject.
Its power and influence are undeniable - small wonder it's one of the most-viewed sites around the world, as it aims to explain everything the world wants to know.
How does it explain itself? Here's the Wiki entry on Wikipedia:
"Wikipedia is a free encyclopedia, written collaboratively by the people who use it. It is a special type of website designed to make collaboration easy, called a wiki. Many people are constantly improving Wikipedia, making thousands of changes per hour."
15 years and counting
It's hard, when one looks at the sheer scale of information Wikipedia has come to represent, to believe it's just 15 years old: this is one know-it-all teen. Launched on 15 January, 2001 by two internet pioneers, Jimmy Wales and Larry Sanger, their concept of the encyclopaedia that anyone can edit - crowdsourcing expertise long before the word crowdsourcing became a buzzworld - is today the 10th most popular site in the world, is available in 280 different languages and contains around 35 million articles.
Three things have helped Wikipedia hit this insane scale. First, people are willing to participate in community-related activities for absolutely nothing. Second, they correctly anticipated the surge in internet usage over the years. And third, they knew that the more users write articles, the more useful the site becomes.
That was always going to be a double-edged sword. On the one hand, allowing anyone to edit an article is dangerous in many ways. Take for example the 2006 incident in which several congressional members were caught editing their own Wikipedia entries (a complete no-no) to cast themselves in a more favourable light. On the other hand, allowing more users to edit enriches them with expertise outside the reach of any organisation or institution - and, equally importantly, allows it to run ad-free.
Speaking of volunteers, there are over 100,000 of them registered as editors - and more than 80,000 make at least five edits per month.
That's a collaborative exercise like virtually none other on the planet - and for all the debate about inaccuracy, it's not too often wrong either.
A 2005 study by Nature found Wikipedia's science entries came close to matching the Encyclopaedia Britannica's in terms of accuracy - with 2.92 mistakes per article for Britannica and 3.86 for Wikipedia.
As Wikipedia turns 15, here's looking back at all those years through numbers.
There are currently 5,056,838 articles on the site, which means 2,983,534,420 words, which means 17,901,206,520 characters.
The text of the English Wikipedia is currently equivalent to 2,237.7 volumes of the Encylcopaedia Britannica.
According to Pew research, Wikipedia now includes about 280 languages and averages more than 18 billion page views in a month, making it one of the world's most visited websites.
Most edited articles per year:
From 2007-2015, Deaths In [Year] was the most edited every year, so we've included the second most edited as well.
2001: Creationism (149 edits)
2002: Wikipedia's main page (449 edits)
2003: Wikipedia's main page (2,072 edits)
2004: George W. Bush (5,527 edits)
2005: George W. Bush (20,891 edits)
2006: 2006 Lebanon War (15,067 edits)
2007: Deaths in 2007 (18,089 edits). List of WWE personnel (9,825 edits)
2008: Deaths in 2008 (18,969 edits). Sarah Palin (10,429 edits)
2009: Deaths in 2009 (20,678 edits). Gaza War (2008-09) (10,490 edits)
2010: Deaths in 2010 (20,789 edits). Miss Universe 2010 (6,109 edits)
2011: Deaths in 2011 (16,283 edits). Libyan Civil War (2011) (9,311 edits)
2012: Deaths in 2012 (17,263 edits). Syrian Civil War (7,760 edits)
2013: Deaths in 2013 (22,470 edits). 2013 Pacific typhoon season (6,077 edits)
2014: Deaths in 2014 (19,957 edits). Malaysia Airlines flight 370 (10,055 edits)
2015: Deaths in 2015 (18,271 edits). Geospatial summary of the High Peaks/Summits of the Juneau Icefield (7,290 edits)
All-time most edited articles on Wikipedia: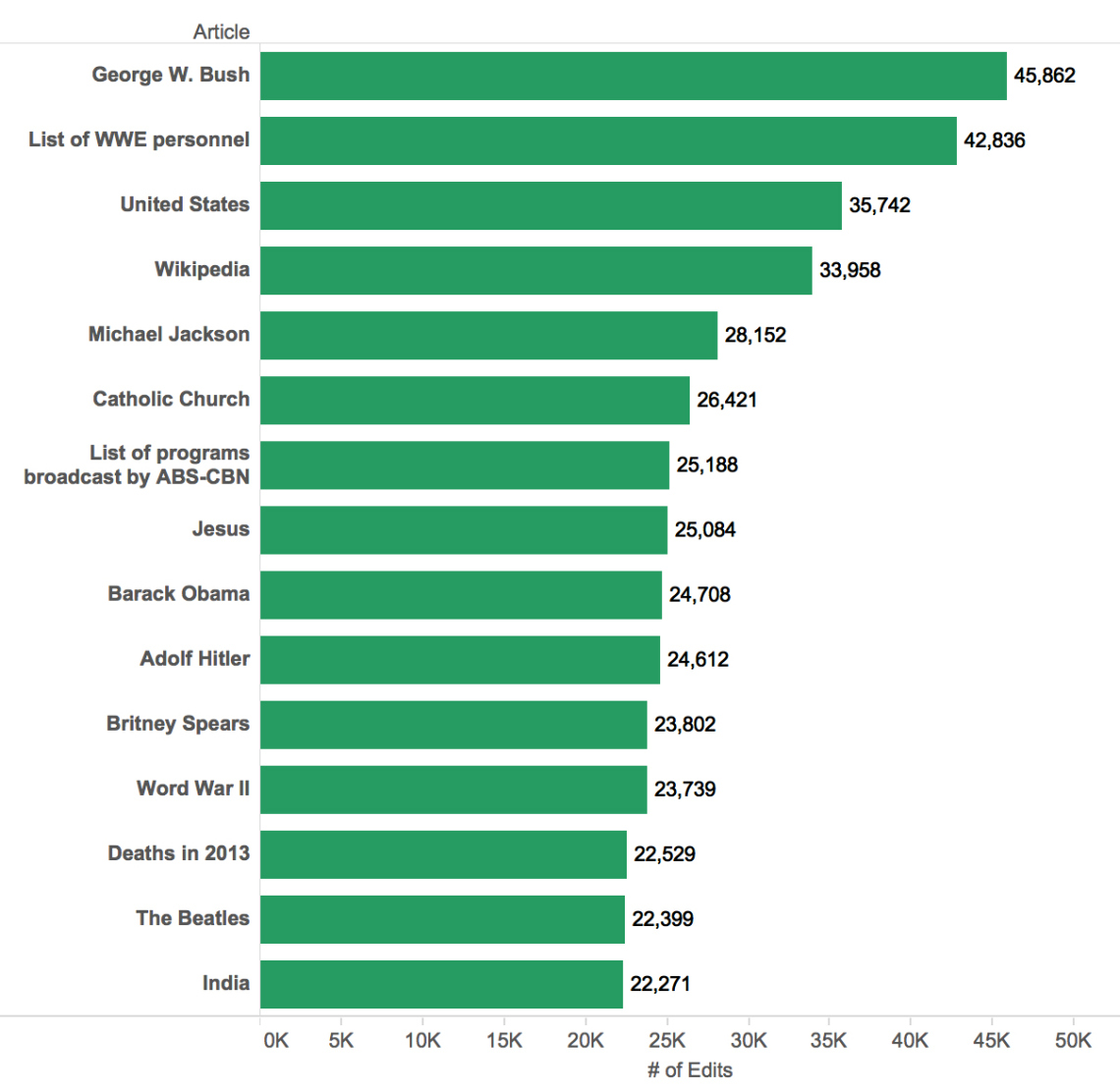 Article with longest title:
To authorize the President to extend the term of the Agreement for Cooperation between the Government of the United States of America and the Government of the Republic of Korea Concerning Civil Uses of Nuclear Energy
Article with shortest title:
There are 36 articles with titles of only one ASCII character in length: 0, 1, 2, 3, 4, 5, 6, 7, 8, 9, A, B, C, D, E, F, G, H, I, J, K, L, M, N, O, P, Q, R, S, T, U, V, W, X, Y and Z
The millionth article: Jordanhill railway station
5 millionth article: Persoonia terminalis
2015's most viewed pages on Wikipedia:
1. Deaths in 2015 - 20,686,307
2. Facebook - 10,769,172
3. Islamic State of Iraq and the Levant 0 10,376,941
4. List of Bollywood films of 2015 - 10,162,922
5. Star Wars: The Force Awakens - 9,776,057
6. United States - 9,507,671
7. Google - 9,158,202
8. Games of Thrones - 8,866,627
9. Chris Kyle - 8,715,030
10. 2015 in film - 8,607,591
More in Catch - 34 years after they stopped production, Kodak is relaunching the Super 8. And Hollywood is thrilled