Snapchat's Stories may have been cloned but the IPO still pops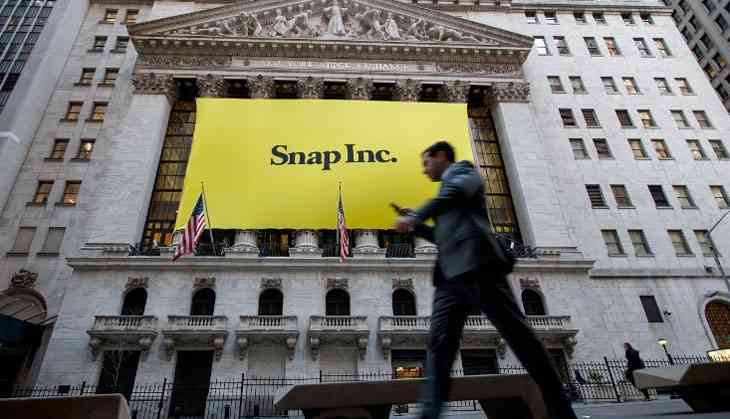 (Drew Angerer/Getty Images/AFP)
Snapchat introduced Snapchat Stories in October of 2013. Since then, alleged copycats Instagram and WhatsApp have followed suit. While Insta launched Instagram Stories in August of 2016 with over 150 million people using it, WhatsApp came up with a new Snapchat-like update to its Status feature just last week.
One can't really tell the difference between Insta and WhatsApp's 'new' features and Snapchat's Stories. Snapchat Stories are photos and videos strung together to build a chain of shared content. This content can then be viewed an unlimited number of times within a 24-hour period. In fact, Snapchat blames its slow growth, not on the competition but its issues with development on Android.
Snapchat is most popular among the younger demographic. In the under-25 category, users of Snapchat spend an average of 30 minutes on the app, opening it about 20 times a day. On the other hand, those over 25 only open it 12 times a day and barely spending 20 minutes. Snapchat's most lucrative age bracket are the consumers between 18 and 34 years old. The company made $404.5 million in revenue in 2016, up from $58.7 million in 2015. That's mindboggling. The problem comes when you look at the company's loses. On a revenue of $404.5 million, the company lost $514.6 million. That's half a billion dollars in losses.
A few months ago, Snapchat renamed itself to Snap and declared itself as a camera company. This was timed with the release of its first hardware product, Spectacles.
The IPO in numbers
Three and a half years later, Snap, the parent company of Snapchat, debuted on the New York Stock Exchange (NYSE) with their Initial Public Offering (IPO) and began trading under SNAP symbol.
Debuting at $17 a share, the stock rose 44%, ending at $24.48, giving the company a valuation of $28.3 billion. Snapchat shares jumped on the first day of trading in what is known as a 'pop'. Only LinkedIn, Twitter and Square had a better first trading day than Snap Inc.
With this, Snapchat is now worth two and a half times micro-blogging social media rival Twitter. Snap Inc. founders Bobby Murphy and Evan Spiegel sold some shares during their company's IPO. They each made $272 million. This adds to the more than $1 billion in paper gains for the duo.
In the quarter ending 31 December, Snapchat had 158 million daily active users. The biggest competitor in the social media space, Facebook, has a whopping 1.23 billion daily active users in comparison.
While Facebook's year-over-year growth at 18 percent is less than Snapchat's at 46 percent, considering its massive size, it's still quite impressive. While Facebook has a diverse age group of users, it remains to be seen whether or not Snapchat can outgrow its young demographic. That is what investors will be looking at in the near future.
Snapchat will undoubtedly be compared to Twitter and Facebook's IPO in the coming months. Twitter gained on the first day but ultimately fell. Facebook was flat on day one, went down, and ultimately flourished.
Snap's acquisitions
Over the years, Snap Inc. has acquired a number of companies to aid in its development. Here's the list of all the nine companies that have been bought:
AddLive: Live video API, real-time video calling feature.
Bitstrips: Bitmoji avatars maker
Cimagine Media: An augmented reality e-commerce startup. Could eventually add virtual objects to Snaps.
Flite: A creative-focused ad platform.
Looksery: Another augmented reality app. This has blossomed into Snapchat's selfie Lenses.
Obvious Engineering: Makers of computer vision apps.
Scan: A QR code developer. This tied into the QR codes that allow you to instantly follow people
Vergence Labs: Sunglasses with camera maker. Eventually became Snapchat Spectacles.
Vurb: Mobile search app. It's now powering Snapchat's search feature.
The unlucky ones
Chris Sacca must be the most upset man in the world today. The host of Shark Tank had invested early in companies such as Twitter, Uber and Instagram but when approached by Snap executives way back in 2012, he simply ignored the email.
I know one person who isn't getting rich in the Snapchat IPO. Hint: the guy who didn't reply to this email.

Congrats to everyone at $SNAP! pic.twitter.com/txk7SxSken

— Chris Sacca (@sacca) March 2, 2017
Eventually, Sacca did meet with executives of the company but passed up the chance to invest in the company.
"The Snapchat guys came up to me after a talk once, and I said I'm really flattered but the pics of your junk ... really? So I passed," he told CNBC last December. Actor Ashton Kutcher also reportedly passed up the chance of investing in Snapchat. Not once, but twice.
Will Snapchat be the next Facebook and be able to monetise its growth in the near future or will it fall down the wayside like Twitter has? For now, though, investors are happy. Will they be so in a month's time? Probably not.
And the super lucky ones
In unrelated news, Snap Interactive Inc., maker of dating apps such as FirstMet and some live video communication apps profited with the news of Snapchat's IPO.
At one point, their shares jumped as high as $8.89 a share - about 18% up from the previous day's close. At the end of the day, though the stock was down $0.63.
Another companies stock, Snap-on Incorporated, rose to $173.50, up 65 cents before turning lower.