Samsung' next generation 'Family Hub' refrigerator with a 21.5-inch touchscreen and Bixby support now in India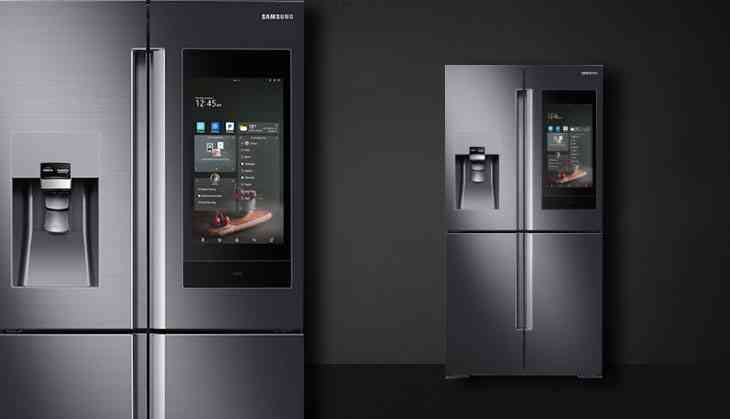 First unveiled back at CES - where it was a winner of the 2018 CES Best of Innovation Award - in January, South Korean tech giant Samsung has finally brought its IoT-enabled Family Hub refrigerator to India. The refrigerators launched on 18 July. Samsung wants to "set a new standard for connected living".
The Family Hub 3.0 is priced at Rs 2,80,000. It's packed with technology that makes it smart. To start with, the Family Hub 3.0 refrigerator sports a 21.5-inch touchscreen with built-in cameras and a whole host of sensors. It also has AKG speakers sitting right below the speaker. The Family Hub comes with Bixby and SmartThings (both Samsung's own software) to enable the fridge to have smart capabilities. Bixby can help the Family Hub recognise individual voices and provide answers to many questions and even read out recipes.
"Family Hub offers a wide range of smart features that allow consumers to do what they could not do before. These include syncing up food storage, keeping family members better connected and organised and providing enhanced entertainment," said Saurav Katyal, Director, Consumer Electronics Business, Samsung India.
The Family Hub acts like a centralised hub and with SmartThings, one can control the appliance using just voice commands. One can do things such as compiling shopping lists, reading out daily schedules, and even play music, thanks to the AKG speakers.
There is also a View Inside app where one can see the contents of the fridge without having to physically open the fridge. Consumers can then label their foods accordingly and the fridge will remind them of the items that are on the verge of expiring. Beyond this, there is also Meal Planner. The smart fridge takes the items inside the fridge and suggests recipes based upon dietary preferences and expiry dates.
High-end homes
With such high starting prices, Samsung will struggle to sell these Family Hub refrigerators to the average consumer. Instead, what Samsung needs to do is pitch these fridges to builders. Essentially, offering the fridge as a part of the apartment. A double deal, one can say.
This way, Samsung will be able to sell the fridge in bulk, without having to go to the high-end consumers one-by-one.
Samsung said the fridge will eventually come in more than one size, but couldn't commit on any timeline, simply saying that,if there is demand, only then they will launch.
For now, Samsung remains one of the only competitors in the IoT-enabled refrigerators space. One will have to wait and see if these catch on in India's price-conscious market or if the high-end consumers take the refrigerators into their new apartments.