Samsung Galaxy Note 8: Three months later, this phablet is still the best smartphone money can buy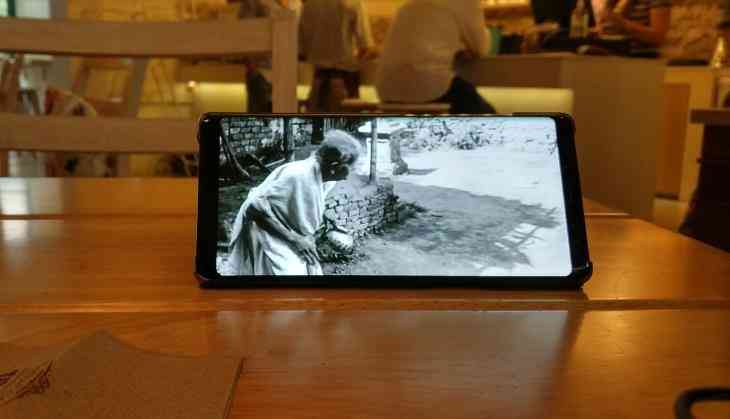 (Sahil Bhalla/Catch News)
It was 12 September when Samsung unveiled its latest flagship phablet to the Indian market. At a swanky launch event in the capital, Samsung doused the fires of its Galaxy Note 7 and brought along what seemed, at least on paper, to be a worthy successor. It had everything going for it. A much improved S Pen, the first dual-cameras in a Samsung smartphone, and a 6.3" Quad HD+ Super AMOLED display with a 2960x1440 resolution (521ppi). Above all that, it had a gorgeous edge-to-edge Infinity Display and kept the 3.5mm jack.
There were only two things going on the smartphone. First, there was a smaller battery under the hood compared to the Galaxy Note 7. Samsung did this simply because it wanted to avoid a repeat of last year's nightmares. Second, it launched at a then sky-high price of Rs 67,900. Since the Note 8's launch, Apple has launched a trio of smartphones - iPhone 8, iPhone 8 Plus & iPhone X - while Google has launched the Pixel 2 & Pixel 2 XL, both touting some camera magic. There is also LG's V30 that is set to appear on shores within a few weeks.
The 'flagship' segment of the Indian smartphone market has gotten crowded. Even the OnePlus 5T, Nokia 8 and Mi Mix 2, all 'flagship killers' launched in the backdrop of the Galaxy Note 8 phablet. The question for Samsung is whether or not the Galaxy Note 8 can still, almost three months later, light the Indian smartphone fire.
It came into the market with a bang. Can it sustain the momentum till the Samsung Galaxy S9/S9+ release early next year? Read on to find out.
The tl;dr of this review is this: If you want the best overall package in a smartphone that is available both online & offline and without any hassles, the Galaxy Note 8 is what you're going to want to buy.
Competition, you better watch out!
I've had the pleasure of using the Galaxy Note 8 as my daily driver ever since the day it launched. What a ride it has been. Samsung's Galaxy Note 8 offers bigger things at an even bigger price than the consumer is used to. Fret not Samsung. Apple and Google are here to make your money matters go away. Apple's top-of-the-line iPhone X has breached the 1 lakh mark. Google's Pixel 2 XL, the more comparable of the two, comes in at Rs 82,000 and is plagued by supply issues.
Fret not Samsung, with all that has happened in the market, you're in a pretty good position yourself vis-a-vis the Note 8. You've also got an ace up your sleeve to help you down the road. That is until you unleash the Galaxy S9/S9+ on the droves of people salivating at upgrading to the latest and greatest in the technology world.
Samsung's managed to nail down the two flagships per year release cycle, unlike most others and its been allowed to do so by differentiating enough between the two. The Galaxy S series that comes out in the first half of the year, is the more manageable smartphone of the two. It's easier on the pocket, it more 'wow' worthy and is aimed at the mass market. The Galaxy Note series is simply aimed at the enthusiast market.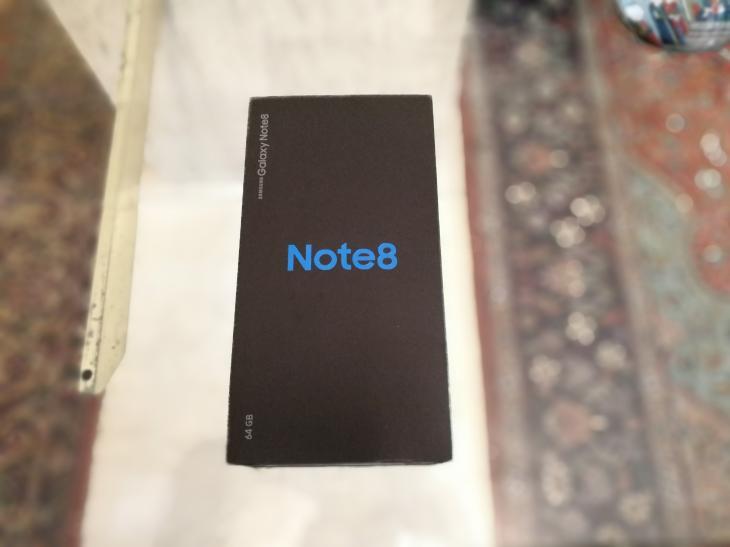 Sahil Bhalla/Catch News
A display like no other
Let's get back to the device in question; Samsung's Galaxy Note 8. Upon opening the Galaxy Note 8, one witness the utterly gorgeous Infinity Display, backed by Samsung's amazing Super AMOLED panels that are simply unmatchable on the market.
The Galaxy Note 8 is the biggest ever smartphone to come out of Samsung. It features a rich and vivid 6.3-inch QHD Super AMOLED (a resolution of 2960 x 1440). The design may have less pronounced curves - making it more of a box design - but the grip on this phone is great, unlike that of the Galaxy S8.
Unlike Apple, Samsung's Galaxy Note 8 features no notch, allowing for more space in the notifications panel and while watching videos. It's an edge-to-edge display like no other and is backed by Gorilla Glass 5. Then there is HDR10, and without going into the tech behind is, just know this. If you're watching a Netflix video, for example, it will take absolutely full advantage.
Day-to-day performance
Exynos 8895 SoC. 6GB of RAM. Multitasking like a boss. That's all one needs to say to whet one's appetite.
I've tried switching between games like FIFA Mobile, Temple Run, Asphalt 8 (even though I detest this game) and Fruit Ninja but absolutely no lag.I tried watching YouTube videos and taking videos in the middle, no lag, and no buffering at all.
I'm not going to say anything else. Just pick one up, throw anything at it, and watch it march on without a single hitch.
The almighty S Pen
The Galaxy Note 8's secret weapon hides at the bottom of the phone. It's right there beside the single bottom firing speaker on the bottom right. Push the button and a pen will come out. The S Pen.
It has the ability to allow the consumer to quickly take notes, harking back to the days when we all used pen and paper. Doodling is a fine addition and something to while away your time while you're bored at a party. All this without even having to turn the screen on, saving precious battery life.
Live Message is another nifty feature. You can draw and send in those animated messages. It merely converts your message into a GIF.
The S Pen is a relief of sorts. It's something that most smartphones lack. It comes as an extra on tablets and laptops. With the Galaxy Note 8, it is a part of the smartphone. It's inseparable.
Why I say a 'relief of sorts' is because it liberates your fingers from doing all the 'touch' work. It glides across the screen seamlessly and the hold is tight. Just don't leave it lying around on the bed and forget about it the next morning.
Dual-cameras
Samsung is late to the dual-camera game but that doesn't matter. Samsung wanted to wait and perfect the dual-camera system before jumping on the bandwagon. That wait has paid off and how. There is a primary 12MP camera and supplementing it with a secondary 12MP telephoto lens.
Both the sensors feature OIS and the telephoto lens allows for those portrait mode photos that everyone is uploading in hordes these days. This allows for the background to be blurred, and the amount of blur can be altered after the photo. The telephoto lens also enables 2x zoom without the loss of much detail. That is a gamechanger for Samsung.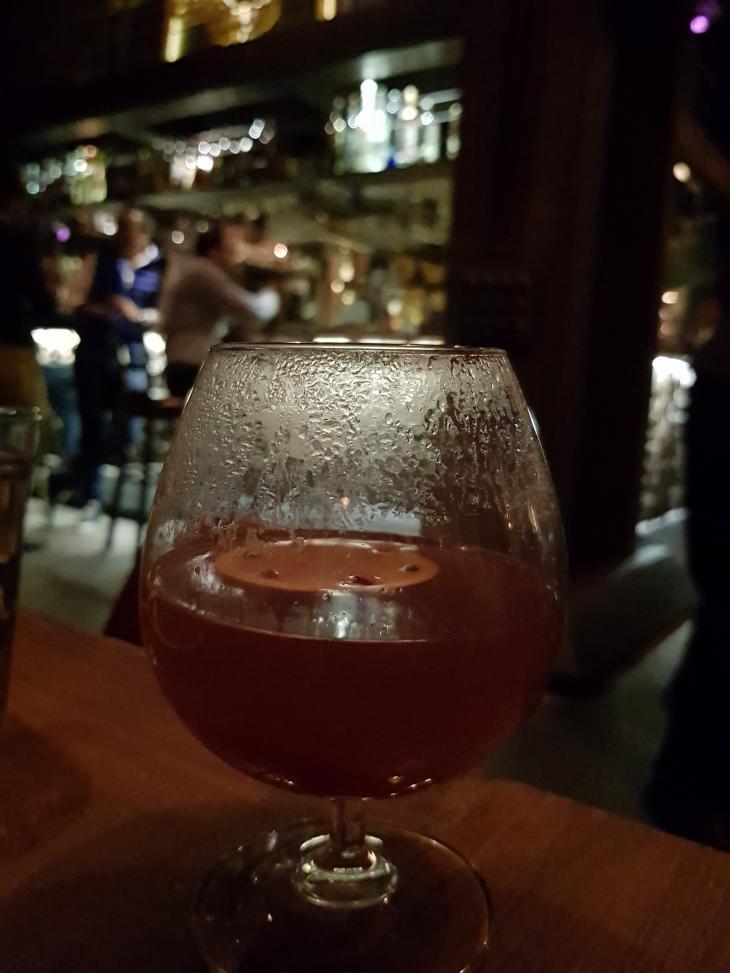 Sahil Bhalla/Catch News
The photos and videos on the Note 8 improve on the already excellent camera available in the Galaxy S8+. Photos and videos are crisp as ever and even low-light photos come out in near DSLR quality. There is plenty of sharpness and dynamic range and it is a treat to use this camera on a daily basis.
Android Nougat & Samsung Pay
Finally, the Note 8 comes with Samsung Experience 8.5 atop Android 7.1.1 Nougat. It takes a few days of getting used to, but it instantly becomes one of your favourite Android skins (except that horrible keyboard).
There are more than just a handful of features and you probably won't be using all of hem. Nonetheless, they bolster the phone and are there, in case you ever want to utilise them.
Samsung Pay has been a dream to use ever since a fellow Note 8 user forced me to jump on that bandwagon. There have been more than a couple of times wherein I've left my wallet at home. Fret not as Samsung Pay has come to the rescue. It seamlessly allows me to pay with my Note 8. All I need to do is hold my Note 8 close to the PoS machine and then magic happens.
The downsides
I have one major complaint with the Galaxy Note 8. A lot of fellow Note 8 users have told me otherwise, but for me, I'm getting abysmal battery life out of my smartphone. I rarely get more than three and half hours of screen-on-time (SOT) usage and there has rarely been a day when I haven't had to charge my phone by 6 PM. The 3,300 mAh battery on the Galaxy Note 8 is less than the 3,500 mAh battery on the Galaxy S8+.
With the Galaxy S8+, I was getting pretty exceptional battery life quality for a phone of its size. With the Galaxy Note 8, it is the exact opposite experience. The 6.3-inch display may have something to do with that. Regularly I am getting notifications from Samsung saying that some app or the other is draining my phone's battery and that is a shame.
I've also noticed days where I have gotten just about two hours of SOT. I understand why Samsung had to be conservative with its battery choices but I didn't think it'd be this bad.
Then there is the fingerprint sensor. Just like the S8+, it is placed right next to the dual-cameras. I'm not going to harp on why it is bad, but just know that I've been hitting the camera more often than that fingerprint sensor and that isn't good in the long run.
There is a single speaker at the bottom of the phone and though the quality is loud, it ain't a patch on HTC's U11 or Pixel's dual stereo speakers.
Is it really the best phone of the year?
The short answer is yes.
Yes, it may be the smartphone of the year, but just in case Samsung is reading this article, let me suggest an even better alternative. A Samsung Galaxy S8+ with a stylus and a price under Rs 60,000. That would truly take the smartphone industry by surprise.
Samsung may have lost out to the Pixel 2 in the smartphone game. Samsung may have also lost out to HTC U11/LG V30 in the audio department. Heck, it may have even lost out to many companies that are already upgrading their flagship smartphones to Android Oreo. None of that withstanding, Samsung has given us the truly grandest smartphone package the industry has ever seen.
When the Galaxy Note 9 rolls around near the end of 2018, we can expect another revolution to occur. The Galaxy Note 9 will be featuring an under-display fingerprint sensor, freeing up more room on the back. Maybe a triple-camera as well?
The bottom line is if money isn't an issue, and you're looking for the best smartphone out there, buy the Galaxy Note 8. You will not be disappointed.
Personally, I'd go for the Samsung Galaxy S8, but then you'd miss out on that S Pen, which even if you don't use daily, comes in handy when you least expect it to.