Redmi 5A Prime in China. Redmi Y1 in India. Xiaomi just launched a rebranded phone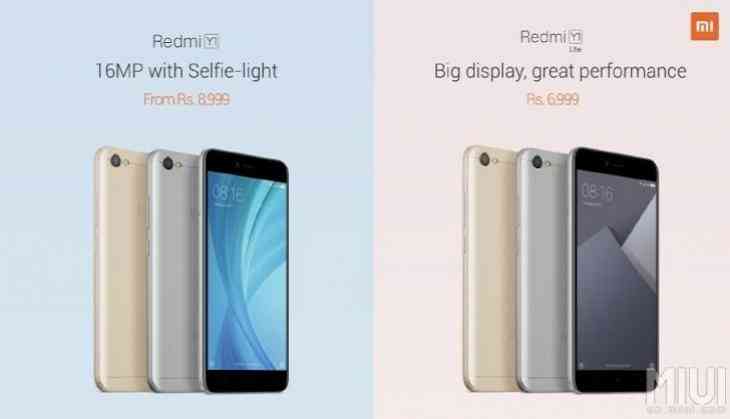 Xiaomi is the undisputed number one brand in the India at the moment. Not in total market share but in momentum. The top three selling phones are all from the Chinese company. There is no doubt in anyone's mind that when Xiaomi schedules a launch of a new smartphone, all eyeballs are on them. For the past week or so, Xiaomi has been teasing the launch of a new smartphone series.
Little did many Indians know that what they were launching is essentially a rebrand of a phone that had already launched in their homeland of China back in August. What Xiaomi had told us is that this would be the smartphone would be taking your best selfies.
There are two issues with how Xiaomi approached the launch of this smartphone. First, it essentially rebranded the smartphone. It was launched as Redmi 5A Prime in China and Redmi Y1 in India. It did this just to grab new eyeballs and get people to sit up and notice.
It wanted people to think, it's a new series, it's a new smartphone and therefore must be better than the previous phone launched by the company in the same price bracket.
This brings me to my second point. Xiaomi has given up on improving the smartphone as a whole. At least in the sub 15k price bracket. What they are essentially doing is talking to consumers and finding out what is the one feature they want to see in the next iteration of a Xiaomi smartphone. The consumers respond. Xiaomi picks up one of its old smartphones, adds that uber cool feature and releases the smartphone as something revolutionary. This time, it just followed upon selfie leaders and fellow Chinese companies Vivo and OPPO.
The Y1 comes with a standard 5.5-inch LCD with a barely acceptable 1280x720 resolution and 2.5D Gorilla Glass. It has a Qualcomm Snapdragon 435. There is 3GB/4GB of RAM and 32GB/64GB of storage, a 3,080 mAh battery and a rear fingerprint sensor. Finally, there is a 13-megapixel rear camera. The star of the show is the 16-megapixel front camera with LED Selfie-light. Sure, it probably has the best selfie camera of any phone under Rs 10k but that doesn't warrant it being marketed as a totally new phone.
The Y1 Lite is a stripped down version of the Y1. It doesn't have the amazing selfie camera, it doesn't have a fingerprint sensor and it comes at a cheaper price point.
Most of those specifications are seen on other phones that Xiaomi already has in its portfolio, namely the Redmi 4A and Redmi 4. There is also the slightly more expensive Redmi Note 4 that comes with a much more powerful Snapdragon 625.
There is just one final thing to say. Xiaomi got a product endorser. Not a brand endorser. That means Xiaomi has grown so much that it needs a celebrity to endorse it and reach those last few people who have bitten yet. The product endorser for Xiaomi Y1 is none other than Katrina Kaif.
Xiaomi is giving up its brand image in favour of pleasing a couple of fans who want one cool new feature and squeeze every last bit out of this booming Indian smartphone market. Eventually, the Indian consumer will catch up and find out what Xiaomi is doing. That day, Xiaomi better have a plan B in place!
Xiaomi needs to go back to the basics and fix what is most important for consumers. Quality of smartphones, after-sales services and faster Android updates. Maybe even more Android One devices!