Computers wrote 1 billion articles last year. Will journalists soon be extinct?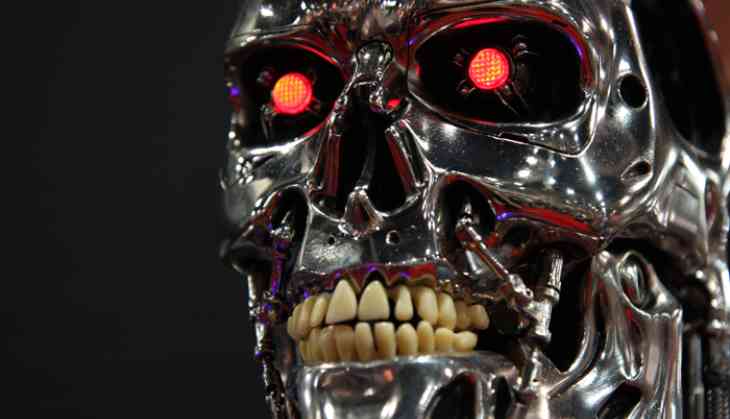 Fantastic facts
Computers just got more human.
Both news and novels are now written by computers. Algorithms are replacing journalists.
A company called Automated Insights put out one billion articles in one year. Yahoo and AP are among its clients.
An author called Philip Parker has written over a million books. Actually he\'s written a code that\'s written these books.
Anna Karenina took Leo Tolstoy four years. A Russian publisher put out a computer-version in 72 hours.
What\'s at stake
By 2030, 90% of news will be written by computers.
Readers can\'t tell the difference between news generated by humans and algorithms.
This has serious implications for who controls the way we think. Readers can spot human agendas. Programmers\' biases are invisible.
It isn't enough that computers can make billons of calculations in seconds, send missions to Mars, steer driverless cars and launch missiles.
Turns out they now want to be journalists.
Well, not want to be. Computers haven't been taught ambition - yet. But in the past 12 months a significant - almost bewildering - leap has been made in making computers more 'human'; a leap that could, potentially, be as disruptive as the invention of the computer itself.
No journalism degrees
A few months ago, Associated Press, the bastion of old-fashioned journalism, partnered with a firm called Automated Insights (it's a sign of the times that those words together aren't considered very ironic) to generate news stories with no human intervention.
They now produce 3,000 articles per quarter for news organisations. But beyond AP are clients including Yahoo, Comcast and American insurance giant Allstate, who are using the platform to generate what company officials claim are 'millions' of articles and reports per week.
Then there's Narrative Science, another big player in this space, whose CTO and co-founder Kristian Hammond has some startling predictions: by 2030, he says, 90% of the news you read is likely to be produced by computers; by 2018, computers will be writing Pulitzer-winning prose.
Take a minute to think that over.
No writer's block
Algorithms - which it's tempting but incorrect to call robots - are already writing in quantities we may not quite have registered.
Narrative Science's algorithms produce a piece every 30 seconds. Automated Insights created one billion pieces of content last year. That means there's an excellent chance something you read in the last month was written entirely by a computer.
Anna Karenina took Tolstoy four years. A Russian publishing house put out a computer-generated one in 72 hours
If that sounds warped, go to Amazon.com and search for Philip Parker. A professor at Insead Business School, he has authored over a million books - of which 1,06,000-odd are listed on Amazon - making him arguably the most prolific author you've never heard of.
The only writing he's actually done? A computer programme that generates these books; everything from crossword puzzles to estimates for the market size for a range of products (The 2007-2012 Outlook for Smoothies in India is a Parker original).
The average book takes under an hour, is primarily an act of data-crunching and prediction using formulae, and is printed on demand rather than in bulk.
Now, writers workshops for computers
That most writing is formulaic is brought home by how Narrative Science 'trained' their algorithms to write.
First, they programmed a set of rules that govern a particular event. For example, the team that scores the maximum runs in a cricket game wins.
Next, they coded algorithms to search databases to collate extra info, such as whether the last five matches were won or lost.
The final step? Using (human) journalists to create story templates for the algorithms to follow.
That model, it turns out, is replicable across domains. Using customer reviews on set parameters - service quality, food taste, pricing - algorithms can now generate lists of 'the best sushi in Atlanta' or 'the best pizza in Mumbai'.
But algorithms - or certainly those who create them - are not content with doing the functional. They're now making serious inroads into creative writing.
Competition for Shakespeare
It started back in 2008, when a St Petersburg-based publishing house published a 320-page computer-written novel based on Tolstoy's Anna Karenina, but written in the style of Haruki Murakami.
Last November, the process took a dystopian leap when programmers started writing code to help people write novels faster. This was to coincide with National Novel Writing Month in the US, when thousands attempt to finish a 50,000-word novel on deadline.
Even that, it turns out, is but one step on the ladder of automated literary ambition. In studies where they didn't know the source, people often preferred poetry written by computers - against Shakespearean sonnets.
The New York Times ran a quiz and found readers couldn't tell the difference between stories by humans and computers
And then there's Watson, the cult IBM computer that is finally moving into the realm of cognitive computing: the ability of a computer to continue to learn, not just process what it has already learnt.
Humans gone - and no one's the wiser
The final nick is this: readers can't tell the difference. The New York Times recently created a quiz with excerpts of poems, novels and news stories written by humans and computers; the challenge was to pick which was which.
My score was, let's just say, disturbing. If you're feeling confident about your abilities, take the quiz here.
There's obvious alarm bells about computers taking over human roles; what isn't immediately obvious is that the risks are far more insidious than the loss of jobs and even the ceding of control over information flow. When journalists or professional writers write a piece, their biases - intended or inherent - can be traced. You can, if you were so inclined, place their work in a context, track their affiliations, hold them to account.
Algorithms aren't immune to bias; they will reflect those of their programmers. They can be manipulated. But those manipulations would be invisible.
Most conversations about artificial intelligence eventually arrive at the Turing Test, but that obsession may be misplaced. Not all technological achievement needs to be assessed at the altar of human redundancy. It's possible, without romanticising, to argue that humanity loses something when Tolstoy is reduced to a formula. When a computer says something ironic without understanding what irony is.
It's inevitable that computers will constantly learn to do more.The thing to think about is whether that's turning us into a species increasingly content to do less.