Mukesh Ambani's Reliance JioPhone 'effectively free', but not yours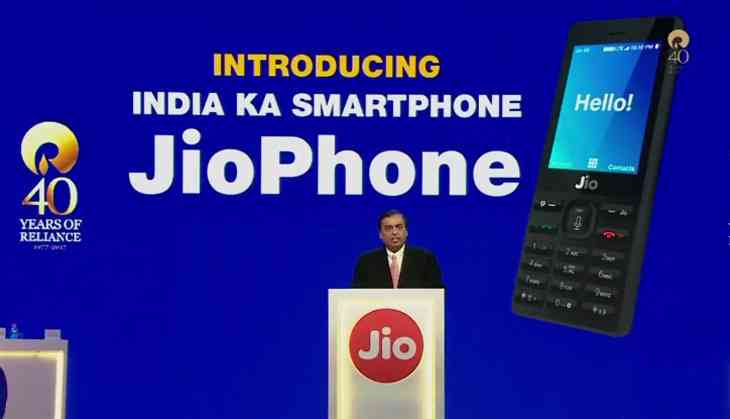 (Reliance Industries Annual General Meeting)
Reliance Jio has already been very disruptive in the telecom sector, but Reliance Industries Chairman Mukesh Ambani doesn't want this disruption to slow down. At the annual general meeting (AGM) last year, Ambani took to the stage to announce the launch of Reliance Jio services.
Until today, rival companies like Bharti Airtel, Idea Telecom and others are feeling the heat and bleeding money to compete with Ambani's grand project.
On 21 July, 2017, at the latest Reliance AGM, Ambani took to the stage to announce his next big step. A 4G VoLTE feature phone that has been priced at a cost that is 'effectively' free. The JioPhone comes with unlimited voice calling and SMS, with 'unlimited' data being priced at just Rs 153 per month.
Along side that, Reliance has a plan at Rs 309 per month wherein the customer gets an optional TV cable with which they can mirror their phone on the TV - essentially accessing the content on a larger screen. This TV cable is compatible with CRT TVs as well. There are two sachet plans - Rs 54 per week and Rs 24 for two days.
While the release date of the phone has been set for September, pre-booking for the phone starts on 24 August. The feature phone can be booked from Jio stores or the MyJio app, and all handsets will be manufactured in India. Rather symbolically, 15 August has been set as the date for the commencement of the beta test.
Specifications of the feature phone
The JioPhone comes with a 2.4-QVGA display, an alphanumeric keyboard, and a 4-way navigation pad that is a classic feature of these phones. The JioPhone comes with an SD card slot along with a headphone jack, FM radio, a basic camera and a torchlight.
Furthermore, the phone supports 22-regional languages and comes equipped with Reliance's own voice assistant that, at least during the presentation, worked flawlessly. Well, except for one instance:
HAHAHAHAHHAA. The emergency location in that 'demo' is literally at sea. pic.twitter.com/J40tXmfp2Z

— Aroon (@AroonDeep) July 21, 2017
The phone comes with all of Reliance Jio's apps preloaded, and, for the PM Modi fans like Ambani, even comes with an app to be able to listen to Prime Minister Modi's Mann Ki Baat.
Why complain when a phone is free?
Recently, Reliance has been the most disruptive company in the past couple of decades. They've added a whopping 100 million subscribers and are well on their way to launch their broadband services across the country with speeds of up to 1Gbps. Now, the company is targeting 5 million Reliance Jiophones to be made available per week.
But most importantly, let's talk about what this 'essentially free' pricing is all about. Once you know exactly what the terms and conditions are, you may not want to buy this phone. Sure, the phone has all the features one would be expecting in this kind of package, and the data to back it up, but this is a phone, that if you fully understand what's going on, may not be worth your time.
"Today, I am delighted to announce that JioPhone will be available to all Indians for an effective price of rupees zero," Mukesh Ambani said at the annual general meeting. "A JioPhone user can use the JioPhone for 36 months and can get a full refund of the security deposit of Rs 1,500 by returning the used JioPhone. Net-net, you pay nothing for the JioPhone," he added.
That last part is crucial. "by returning the used JioPhone". Essentially, you don't own the phone for the entire duration of your usage. You are held hostage for the duration of 36 months, and longer than that if you keep the phone for more than three years.
Here's why:
The phone isn't free - it costs Rs 1,500 to access for three years.
The phone isn't yours to keep, that is if you want your Rs 1,500 back.
It comes preloaded with all Reliance Jio apps and a Reliance app store.
You will, almost certainly, not be able to download Google Play, so say bye-bye to all Play Store apps.
Jio controls the networks, the apps and the device. You're therefore held hostage to the whims of Jio.
One-package-fits-all, unlike that of competing telecom services.
Jio apps have separate buttons on the JioPhone.
Jio is in the prime position to sell all their apps as end products.
Jio can charge a fixed amount for using these Jio apps on their network - essentially charging the customer X amount for accessing all the apps.
To sum it up, with these VoLTE feature phones, Reliance would be reaching a wider audience - especially those in tier 2 and tier 3 cities - than they otherwise would have. Eventually, they could bundle data plans, along with broadband plans and maybe even DTH. Jio is bundling content, data and the device to consume them on. Here's to Reliance Jio's next 100 million paying subscribers.
One important thing to note is that the Rs 1,500 - the one-time security deposit will be sitting in Reliance's account earning interest every year for three years. With an expectation to sell 5 million JioPhones per week after the launch, this will fill up Ambani & Co's coffers like nothing else.