Freedom 251: Everyone's favourite 'scam' is alive and kicking. Or is it?
Five months ago, the Ringing Bells Freedom 251 was alive and kicking. Fast forward to 8 July 2016 and that dream seems to be dead.
It all started when Ringing Bells Pvt Ltd's CEO Mohit Goel announced a smartphone at just Rs 251. The offer seemed too good to be true. However, Goel has now announced that the first batch of 5,000 Freedom 251 phones have been shipped. What's more, Goel has also announced that Ringing Bells plans to soon unveil the world's cheapest LED TV.
But before that
Before we talk about the new, let's talk about the old. Goel said that to manufacture the phone, he initially faced Rs 930 loss per handset. The parts, imported from Taiwan cost him Rs 1,180. "I recovered Rs. 700-800 from app developers and revenue generated through advertisements on Freedom 251 website. After selling the device for Rs. 251 (cash on delivery), the total loss per handset is expected to be in the range of Rs. 180-270," Goel told IANS.
The cost and loses aside, the smartphone was mired in other controversies. The re-branded united, the changed designs and the 'promise' of a shipment. The offices in Noida were raided and finally a date of shipment - 30 June - was announced.
Subsequently it has been pushed back by two days and then further on. The company promised they would ship 2,00,000 phones. That number became 10,000.
As of 8 July, they've promised 5,000 units via a lucky draw. The receiver will have to pay Rs 291 (Rs 40 as delivery charge). Remember, at least 30,000 people have paid for the Freedom 251 phone. Only time will tell if they get anything in return.
The makers are seeking Rs 50,000 crore (GDP of a small country) from the government as it faces masses losses. One can be pretty sure that the Indian government will not be giving away this large amount of money.
"We have brought 'Freedom 251' which we offer on 'Cash on Delivery' terms but we have a gap between the BOM (Bill of Materials) and the Selling Price. We, therefore, humble request government support to actualise the objective to cascade the availability and usage of smartphones all through the far reaches of our great nation," Ringing Bells said in a letter written to Prime Minister's Office dated 28 June asking for a meeting with Narendra Modi himself.
Just look at what happened to DataWind, the company behind the world's cheapest Android tablet. The Indian government had put their full weight behind it, but nothing came about it.
Simply put, Freedom 251 is dead on arrival.
On to the new
If you thought that this fiasco would discourage the company, think again. Ringing Bells, in a glitzy press conference in New Delhi on 7 July, announced six new smartphones - two Android smartphones, four feature phones - a few power banks and the world's cheapest LED TV.
The four feature phones are HIT (Rs 699), KING (Rs 899), BOSS (Rs 999), and RAJA (Rs 1,099).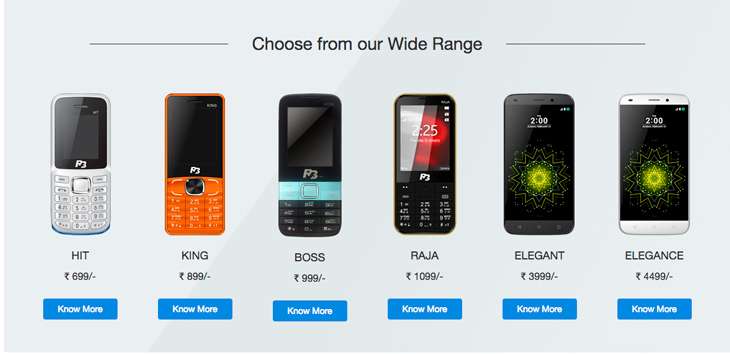 Ringing Bells
The two smartphones, Elegant and Elegance, cost Rs 3,999 and Rs 4,999 respectively and look like they were re-branded LG G5's. As for the specs, they feature 5" IPS 720p displays and 1.3GHz quad-core processors. RAM is 1GB. Camera comes in at 8MP for rear and 3.2MP for front. Both come with 8GB of expandable storage and run on Android Marshmallow. The difference is in the connectivity. The Elegant tops at 3G network connectivity, while the Elegance has support for 4G VoLTE.
One can be certain, going by history, that the phones design will change with time. Prices may be more plausible everyone in the industry, but who trusts Ringing Bells anymore?
India's cheapest LED TV
Ringing Bells also announced a 31.5-inch LED TV for a mind-boggling Rs 9,990. It's simply called Freedom. The TV comes with two USB and two HDMI ports. The resolution stands at 1344 x 786. It also includes two 3 watt speakers. Booking are open and delivers will start from 15 August. Goel added that a total of 1 lakh units of the TV are ready to be shipped.
The punchline
The kicker? Goel has announced that Ringing Bells will be giving away 95% of its profits to charity.
Here's how Pranav Dixit, journalist with FactorDaily summed it up:
But they are LOSING money on each phone according to his own admission?? What is the deal with #RingingBells?

— ¯\_(ツ)_/¯ (@PranavDixit) July 7, 2016
All in all, something fishy is definitely going on. The right thing to do? Keep your money, turn on the news and watch this company spiral into nonexistence.
Edited by Blassy Bobben