Flip phones are back in fashion; meet Samsung's smartphone clamshell W2018
Catch Team
| Updated on: 21 November 2017, 13:57 IST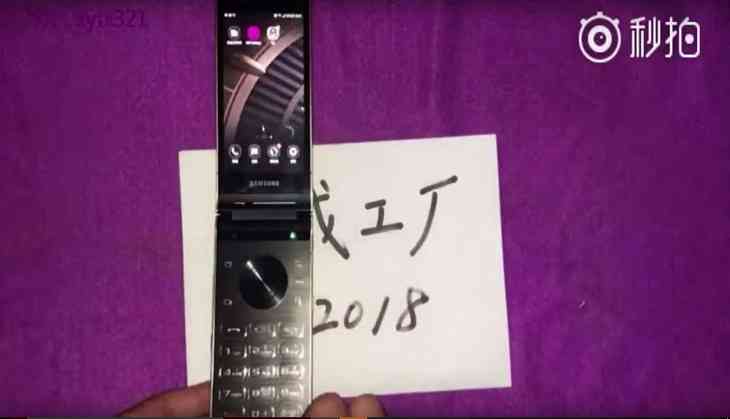 It's 2017 and Samsung are going back in time to upgrade one of the old favourites: flip phones. Yes, you read that right. Samsung is about to release a flagship -tier flip phone.
The W2018 will be releasing in the Chinese market on 1 December.
The poster indicating the release date features posh looking individuals and Samsung's range of feature phones. The soon-to-be release phone has been left out of the photo, but as we all know, photos leaked not too long ago. Instead, there is a question mark at the end of the lineup.
It's surprising that a major manufacturer will release a flagship flip phone but it is not being done without understanding the market. Samsung has to have done their research and seen that there is enough demand for a flip phone in 2017.
Here's a hands-on video:
The phone will come with features mostly on par with Samsung's flagship smartphone, Galaxy S8. It'll boast 6GB RAM, 64GB storage, and the latest Qualcomm Snapdragon 835 processor.
The two screens – outer and inner – are 1080p and provide an intense 524 pixels per inch. Only thing is, they measure 4.2 inches diagonally.
The clamshell smartphone features 12-megapixel rear camera and a 5-megapixel front shooter. There is a small 2,300 mAh battery under the hood and the phone will run on Android 7.1.1 Nougat. There is hope that the device will be upgraded to Android Oreo soon.
One thing that is disappointing is the lack of a 3.5mm headphone jack. If one is bringing out a phone of the past, then surely a headphone jack must be present. At least we can happily report that this phone will be housing a USB Type-C port.
This phone, ultimately, is an upgrade to Samsung's Snapdragon 820 processor powered W2017.
Not the first of 2017
In fact, earlier this year, Samsung released the Folder 2. A full-fledged Android smartphone that had decent specs under the hood. Flip phones have been seeing a quiet resurgence in many markets across the world.
Most flip phones, till date, have been feature phones and those that are smartphones come with middle-of-the-line specs.
It is refreshing to see a brand like Samsung cater to the small minority demanding a clamshell phone and filling it with flagship specifications.